Talking with realist painter and furniture designer, Bob Timberlake, is like having a conversation with an old friend. In his welcoming North Carolina accent, he tells fascinating stories about a lifetime of creating art and furniture inspired by the people in his day-to-day life
It was those very people who helped Bob take his creativity and turn it into a full time career. From the time Bob was a young boy in North Carolina, he would build whatever came into his mind; whether that be a chest, automobiles, or houses. His family was the backbone of his success. "I always followed my brother; he carried me everywhere. Also, my mother and father were positive thinkers," Bob explains, "They told me there wasn't anything I couldn't do."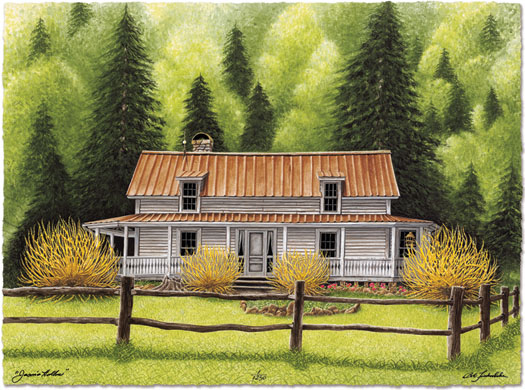 Jason's Hollow by Bob Timberlake. Image via bobtimberlake.com.
Part of Bob's entrepreneurial spirit came from working with his father, who ran five businesses, including a furniture store. After Bob graduated college, he had a hand in helping his father with operations at all of the businesses.
It wasn't until Bob turned 33 that he decided to start a career in art. His career transition began after a serendipitous encounter with a woman in a parking lot who knew the realist painter, Andrew Wyeth. Bob reached out to the artist, who then invited him to his house. "I went and carried six paintings [to Wyeth's house], Bob describes, "He said I had a talent and that it would be a shame not to use it." Soon afterward, Bob began his artistic career, with Wyeth mentoring him along the way.
Bob's success in his painting career opened opportunities for other creative endeavors, including a licensed line of American-made furniture, rugs, building products, and apparel. "I have 600 designs I want to do at a given time," Bob exclaims. "I have so many things I want to do that I couldn't live 10 lifetimes to do it! I end up doing whatever is at the top of my mind."
Bob Timberlake Furniture. Photo courtesy of Gabberts.
Many of Timberlake's ideas come at random points during the day. He could be sketching a concept of a rug for 10 minutes while watching evening television, or thinking up new ideas when he's in the shower or driving in the car. Bob explains, "When I'm by myself, [ideas] are like butterflies in my head."
Bob attributes his success to all of the people who have helped him learn along his journey: "I am nothing but a piece of woven fabric, woven from people, places, things, and memories," he explains. "These people are tied into all aspects of his work. Almost every painting is a story. Even the furniture. The names go back to people, or the places that remind me of people."
Bob Timberlake Furniture. Photo courtesy of Gabberts.
Bob is an example of an artist who has stayed true to his roots. He is proud many aspects of his life and career; including painting images of what he most loves and ensuring that all production of his furniture stays in the U.S.A. Ask him what he's most proud of? It's his family; his three children, two in-laws, seven grandchildren, and his wife. The same individuals who have stayed by his side giving him support and helping him lead a happy life. He wouldn't have it any other way.
Meet Bob Timberlake at a special fireside chat at Gabberts in the Galleria on October 2 from 6-8 p.m. The conversation is the last installment of the Galleria's Wine and Design series. Enjoy appetizers from the Good Earth and wine sampling by Chateau Ste. Michelle. All proceeds from the Galleria Wine and Design series benefit Bridging. Tickets are $15 in advance and $20 at the door.
Facebook Comments