In the woods of southeast Wisconsin, Camp Wandawega's 25 acres harken back to an era when cars had fins and bathing suits provided more coverage. Its lakeside grounds evoke a world (soundlessly) preserved on super-8 film: herky-jerky scenes of kids splashing in the water, riding bikes, and catching fish, of wieners cooking on the grill, and mothers shielding their faces from the camera. From the lumpy mattresses to the scratchy towels, Wandawega's accommodations are so faithful to the camp experience that guests might almost expect to fall asleep in a cabin (or tepee or tent) and wake up decades younger, having returned to an idyllic childhood.
Photo by Bob Coscarelli
The property's origins aren't so wholesome: Wandawega was first a speakeasy that drew folks up from Chicago for drinking, gambling, and other sorts of activity that sometimes necessitated quick escapes through the lodge's trap door. The bunkhouse once operated as a "bawdy house of ill fame," according to a newspaper of the period. Its two floors are laid out with a hallway down the center, bathrooms on one end, and rows upon rows of bedrooms. When the madame went to prison in the 1940s, Wandawega became a family-run lake resort. In the 1960s, it became a retirement home for Latvian priests and, subsequently, a Latvian Catholic church camp.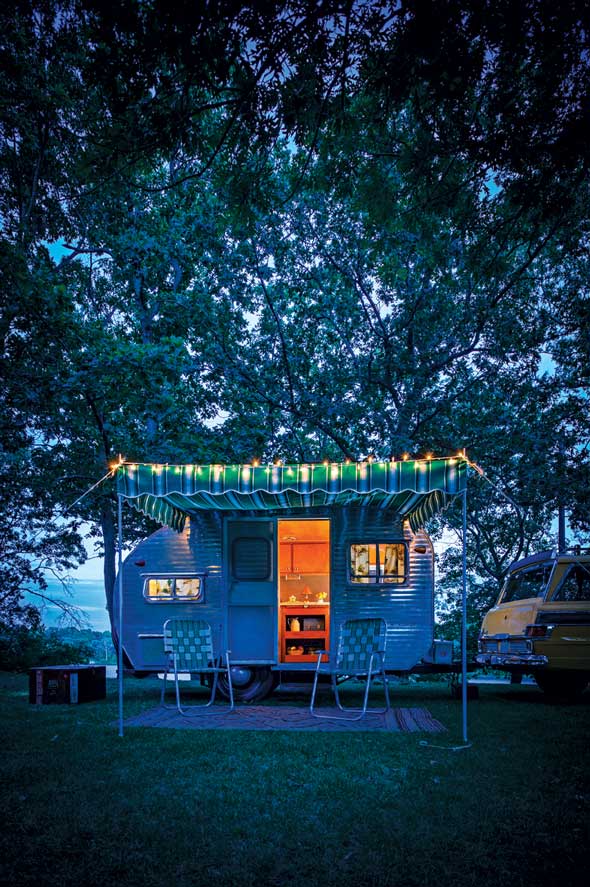 Photo by Bob Coscarelli
David Hernandez, who currently owns Wandawega with his wife, Tereasa Surratt, (pictured at right) enjoyed the property during this period, when his family spent summers at the camp. (Hernandez, his parents, brother, and uncle all squeezed into one of the bunkhouse's tiny bedrooms.) When the couple purchased the place a decade ago, they promised the church that they'd continue to host its Sunday morning Mass in the Grass at the camp's plein-air chapel: pews lined up between two rows of cedars.
Photo by Bob Coscarelli
Hernandez and Surratt, who are both creative directors at a Chicago advertising agency, wanted to keep the camp from being parceled out and populated with private lake homes. And so they began repairing the buildings and decorating them with antiques, mostly from the 1950s and '60s: from taxidermy to tea towels to kitchen tools to tennis racquets, along with snow skis, waterskis, fans, oars, and pendants. Some items were unearthed in the renovation (including a whole shelf of period Fiestaware that had been paneled over), others picked up on the cheap. Surratt documented the process of collecting and displaying these artifacts of postwar Americana in a book called Found, Free & Flea. The couple populated the grounds with old Boy Scout platform tents and tepees, acquired a vintage fire engine, an IH Travelall, and a travel trailer shaped like a canned ham. They hauled in a roadside motor court cabin and built a treehouse for grownups, lit by a shed-antler chandelier. Camp Wandawega became a world unto itself, a real-life Moonrise Kingdom.
Photo by Bob Coscarelli
Hernandez and Surratt originally thought they'd use the property to host family and friends, but soon they began receiving rental requests. Cabins can be booked via Airbnb or the whole property occupied for weddings or retreats (they can sleep up to 50 "with a butt in every bed," Surratt says). Since the couple never intended to be in the hospitality business, they ask every visitor to read Wandawega's guest pact: The Manifesto of Low Expectations. "Expect ladybugs on your pillow, a cricket if you're lucky," it warns. It also alerts guests to the communal kitchens, bathrooms, and concrete-floor camp showers. ("Be prepared to share them with toads; they were there first.") Basically, it's one step up from camping outdoors.
Photo by Bob Coscarelli
There's been enough demand for the Wandawega experience, Surratt explains, to command what are closer to four-star prices to the admittedly "quarter-star" accommodations. But the rental funds are intended to offset the cost of hosting retreats for enthusiasts of creative pursuits. (The author of Whole Larder Love's weekend workshop in butchering small game, smoking fish, and other back-to-the-lander culinary skills, for example.) Dovetailing with the couple's advertising work, Wandawega has served as a photo-shoot location for companies including The Land of Nod children's goods, Penfield outdoor apparel, and clothier Lands' End (which brought in a cow, baby goats, and fake snow to create images for its holiday catalog).
At Wandawega, even corporate executives, Michelin chefs, movie stars, and supermodels have been known to let down their hair. "They step into a different time, era, and mindset," Surratt says. They understand that the camp is among those rare, disappearing places where one can take advantage of old-time pleasures from the pre-digital age—and that the thrill of its perilous rope swing would be impossible to replicate in pixels.
---
Read more:
Product Design; Red Wing, MN
Textiles; Faribault, MN
Architecture; Wisconsin Dells, WI
Product design; Kohler, WI
Interior design; Elkhorn, WI