Sometimes a room calls for something light, frilly, feminine, and fun, and I know just the place to get it. Rose Mille in Stillwater practically gives cavities its so sweet, filled to the brim with lighting and gifts with an antique French or Italian sensibility. Right now, store owner and designer Michelle Rose Jorgensen has four covet-worthy light fixtures on sale from two of my favorite vendors, Rosie NYC and Canopy Designs—but it won't last. The sale only goes through March 31.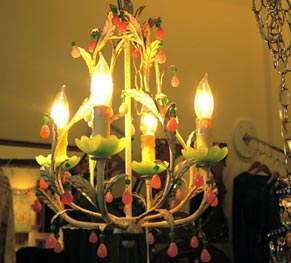 From Rosie is the "Pear" 4-light chandelier (Right) with vintage cups, apple green antiqued finish, and blush-pink drops, originally $869, and now $434.50. This fixture—like everything from the Rosie NYC line—is handmade in Italy.
Or, there's the "Globe Branch" (Pictured Above) with soft-colored leaves winding around a smokey glass orb. $630 from the manufacturer, or $271 from Stillwater.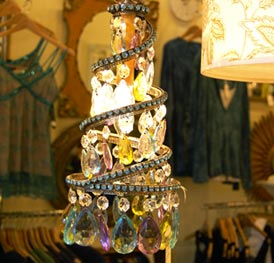 From Canopy Designs, look for "Mosaic" a 4-light chandelier with swags of beads criss-crossing across the frame and teal drop crystals and cups. Originally $1,035, and now $445.50 (!) 
Or, "Swirl" covered in light blue, light pink, yellow, and clear drop crystals; it's $1,172 from Canopy, or $438.50 from Rose Mille.  All Canopy Designs fixtures are handmade in Long Island. 
Facebook Comments