Hidden within a beautiful natural setting in Wayzata, home #4 stands out with a classic all-white exterior. Charles Cudd de Novo Architects & Builders designed every detail of this contemporary Norwegian countryside home to marry the indoor with outdoor. All homes within the neighborhood must have a definable European influence and this home showcases a long, gabled roof capturing the detail in classic older homes. The outdoor scenery is invited into the home through the simple and open floor plan, making this home whimsical and unique.
Home #4 by Charles Cudd de Novo Architects & Builders 
Sarah Nettleton Architects combined 18th century design with modern Swedish aesthetics in home #9. This Golden Valley home is treasured by its owners whose passion for books inspired bookshelf-themed window seats. Envision white-washed floors, ceilings and cabinetry blended with cool gray tones and large windows. A variety of Swedish elements are incorporated with Swedish weavings in reds, greens, and blues, plus vibrant furniture, Swedish quotes displayed on walls, and polished concrete floors. Architect Sarah Nettleton encourages people to visit to fully understand the beauty of the home and explains, "Standing in the space makes it real in a way that photos and words just can't do."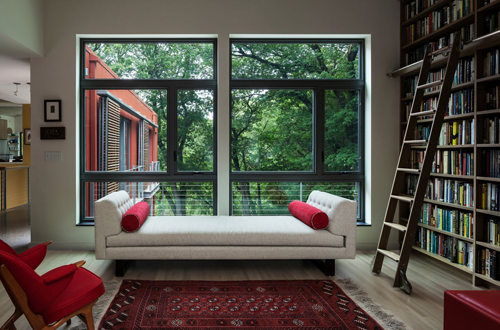 Home #9 by Sarah Nettleton Architects 
For more information on these homes and others on this year's tour, please visit www.homesbyarchitects.org. 
Facebook Comments