Understated Elegance
Designed by Todd Pinzuti, owner of Bungalow 6 Design
Upon first glance, this design might seem far from understated. But if you compare it to the overdone trend of gold glitter and sequin embellishments, it's a different and more refined take on the look. Inspired by the pairing of gold and mint green, this contemporarily opulent design contains layer upon layer of elements from Linen Effects, together forming a tabletop to suit the sophisticated bride. Ideally you'd find this inside a venue with a somewhat urban vibe, such as Calhoun Beach Club, Aria, or 514 Studios.
An oval table shows a different type of configuration, one that could work for the head or guest tables.
If budget allows, spring for stationery or a menu card, like these provided by Bartlett Design.
---
Modern Whimsy
Designed by Pete Nelson, designer at Event Lab
For the bride looking to veer away from more traditional soft hues and make an impression with a big, bold pop of color, this design exemplifies how a tabletop can be unique and contemporary but at the same time beautiful and memorable. The vision started with a color that's making a comeback for weddings, red, and to get that playful "pop," was paired with a contrasting lime green against a stark white. Perfectly well suited for a head table, you could also choose to move away from the typical rounds and have this be your guests' seating, creating a more communal feel and eliminating seating arrangement hassles.
Although craspedia are naturally yellow, they were dyed red to match the chosen color palette. 
Instead of traditional vases, red glass orbs were used, each holding a single bud of a cymbidium orchid. 
Natural wood boxes were used to house the floral arrangements, contrasting the overall modern feel.
"What I'm seeing is that [brides] want [weddings] to be really unique. If they're going to do centerpieces, they want them to be memorable."
— Pete Nelson
---
Urban Garden
Designed by Jennifer Braun, owner of Festivities
Just like the Twin Cities marries city and nature, this design was meant to walk the line between urban sophistication and contemporary chic, while also paying tribute to our green state—a symbolic version of a secret garden you'd find pocketed in the city. Perfect for the bride who works in the concrete buildings of downtown but also enjoys time by the lake or the couple whose relationship blossomed during lunch breaks in the park, this theme, like today's couple, balances multiple needs and interests.
For the centerpiece, a wood disc was juxtaposed with a mirrored base, mimicking the trees you see planted alongside buildings downtown.
For a bit of on-theme wit, guests would receive ear buds as favors, tucked inside a case labeled "serenity in the city."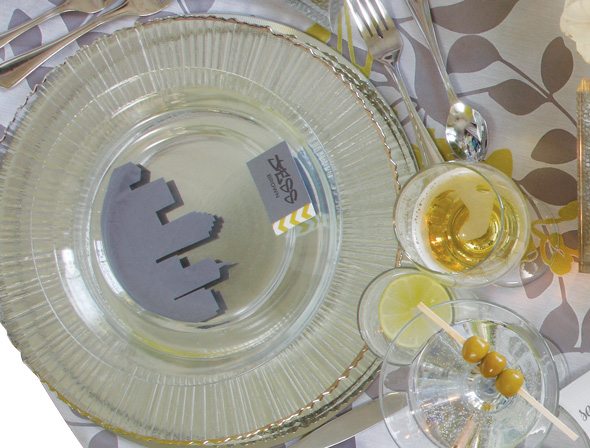 A grey cutout of the city skyline is a subtle way to pay homage to the couple's home or host city.
"It has a lot of sophistication and balance. It would be great for a romantic evening dinner reception, but also a neat way to do an outdoor wedding but give it more of an edge of formality."
— Jennifer Braun
---
Red Carpet Glamour
Designed by Shereé Bochenek, creative director at Aprés Party and Tent Rental
Intending to create a setting worthy of a red carpet dinner, the idea was taken literally with red chosen as the most prominent color. To prevent it from becoming too overwhelming, silver and black were added to the linens, tableware, and vases, creating a very Hollywood-esque look. And if budget allows, a mix of rectangular and round tables is suggested to create even more visual interest.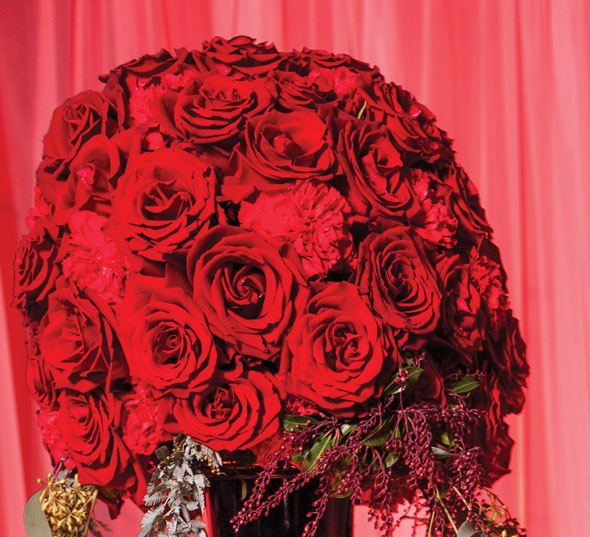 Wisteria Design Studio chose a large ball of red roses for the centerpiece, and smaller floral arrangements that mixed varying red and green tones.
It's been trendy to steer away from clear vases, and instead use something like this large black vase with a pedestal base.
Chiavari chairs were covered with chair caps, an easy and economical way to add interest to your seating.
Two different but complementary linens create interest while avoiding a look that's a sea of one color.
Facebook Comments