SPECIAL ADVERTISING SECTION

Photo by Kate McGough of Perspective Studio
The Making of a Vineyard Wedding Experience
> > Preview more of Trend Wedding 2007 online at www.twincitybridal.com
The media is abuzz with wedding trends; from what fashions celebrities are wearing down the aisle to unique destinations couples are choosing to celebrate their commitment. Everyone seems fascinated by the most elaborate affairs, but only a select few know what it takes to pull them off.
Enter The Wedding Guys®, Matthew Trettel and Bruce Vassar of Twin City Bridal Association, known best as the design team for The Wedding Fair™. Each year they set out to define wedding trends for Twin Cities couples. Their signature Trend Wedding™ event is the most publicized wedding in the area, garnering attention from local and national media.
---
Reverend Patricia Drury of Rites of the Heart performs the ceremony under the 100 year old elm tree at the Chateau St. Croix Winery & Vineyard. Unique portions of the ceremony included love knots and aisle arrangements created by Sassafras Floral & Garden Design and specialty linens, swaging, fabric aisle runner and gold chiavari chairs from Après Party & Tent Rental. Sonic Sound Entertainment played soaring classical choral pieces to enhance the ceremony.
---
After last year's Trend Wedding 2006–valued at $200,000–Trettel and Vassar saw a new focus. With a trend toward smaller, more intimate experiential weddings, they set out to plan Trend Wedding 2007, dubbed the "Vineyard Wedding Experience.†The elegant affair would feature a unique ambiance, a fine-dining experience, a ceremony-and-reception venue all in one, and offer a memorable collection of moments for the guests. Additionally, The Wedding Guys envisioned the event as black tie with refined details, with each guest seated at one large table. The price tag? Slightly under $150,000.
Each year Trend Wedding is the place to find what's new in decor, colors, fashion, culinary, stationery, and just about anything wedding-related. Trend Wedding offers an opportunity to showcase innovative concepts that can be incorporated by brides and grooms into their own wedding plans. This year The Wedding Guys partnered with the Twin Cities most celebrated wedding experts to design a gorgeous, over-the-top wedding embodying the romance of a 1920s vineyard wedding, with a modern twist.
Part of what makes Trend Wedding so unique is that one lucky couple wins the wedding everyone will be talking about. Plans started evolving almost a year in advance, long before the bride and groom are selected in a live drawing at The Engagement Partyâ"¢, produced by Twin City Bridal Association each November. The Wedding Guys host this talk show-style event, featuring the latest in wedding trends. The highlight for many attendees is when one lucky couple is drawn as the winner of Trend Wedding, an all-expense paid wedding created in dynamic style.
Photo by Kate McGough of
Perspective Studio
Although 6,000 couples had hopes of their names being drawn, it seemed to be almost fate that Samantha Kemming, a project manager for Digital River, and Nate Flaherty, a business analyst for United Health Group, became the lucky couple. When The Wedding Guys consulted the couple about how they envisioned their dream wedding, they provided a description with striking commonalities in line with both Trettel and Vassar's vision. The Wedding Guys had already decided that the rolling hills of the Chateau St. Croix Winery & Vineyard in St. Croix Falls, Wisconsin, was the picture-perfect backdrop for Trend Wedding 2007. The Chateau features a Great Hall for dinner, an art gallery (that would double as the ballroom), a quaint courtyard (perfect for cocktails) and a stunning 100-year-old elm tree that would provide a pretty setting for the ceremony.
Within a few weeks of winning this all-inclusive wedding, Samantha and her maid of honor, Katherine Racine, were escorted by limousine, provided by Sonic Limousine, to Mestad's Bridal Salon in Rochester. The Wedding Guys tagged along with champagne and petit fours. Along the way they surprised Samantha with a selection of linen swatches from Après Party & Tent Rental that were to be used for the cocktail reception and dinner table.
Photo by Kate McGough of
Perspective Studio
The entourage had a private appointment at Mestad's Bridal Salon allowing Samantha to try on two gowns from the celebrity design team of Michelle and Henry Roth. Two of the latest gowns had been pre-selected by the designers, and Samantha loved them both. The first, called Mania, was from Michelle Roth's couture "Smoldering Bride Collection.†The strapless ball gown featured a beaded corseted bodice, synched at the waist, with a pleated skirt of organza shimmer lace flowing into a chapel train.
The next gown was from Henry Roth's collection, a completely different look with ivory lace lightly embellished with crystals, fitted through the waist with a flare going into a sweep train. A café-colored rhinestone studded streamer sat at the drop waist, giving the impression of a belt. The best part was, she was actually going to wear both! The first gown for the ceremony; the second for the reception. According to The Wedding Guys, the two-wedding-gown trend has grown in recent years, providing undecided brides with the best of both worlds–a grand gown for the ceremony, and something a little more party/dance friendly and glamorously sexy for the reception.
Exquisite shoes were selected from Grace Footwear. The Amare, a closed toe silk satin with a sling back and crystal embroidered trim, would be Samantha's ceremony shoe. For the reception, she would wear the Aria, a silk satin sandal featuring a jeweled buckle and single crystal beaded strap.
Katie also had a chance to try on dresses, from an amazing selection of Amsale bridesmaids' gowns. With the help of both Samantha and The Wedding Guys, the final selection was a striking full-length camel color silk strapless gown with a rouched waistband tied in the back.
The next task for Samantha and Nate was pairing down their guest list. As they whittled the numbers down to 75 guests, The Wedding Guys worked with Bridgette Hanson of Cain Wedding Stationery to create a suite of stationery personalized for the couple. The design played off the décor for the reception and the overall vineyard ambiance, with rich colors of midnight blue and copper.
Photo by Kate McGough of
Perspective Studio
The invitation would be placed in a wooden box that featured a slide-out lid. Wine corks featuring a fleur-de-lis motif lined the box. This motif was carried throughout the pieces. Bridgette's concept was a series of enclosures that included the invitation in rich blue, the response card in two-toned copper and blue, the map in a soft ivory, and the ceremony seating card in a warm copper–all placed upon a bed of corks. The Wedding Guys added a brown satin ribbon around the pieces and a custom wax seal, again featuring the fleur-de-lis.
To seal the box, Cain Wedding Stationery created a cigar-box label with the guest's names hand lettered by Crystal Kluge Hand Lettering and Illustration. The beautiful calligraphy, finished in brown ink–along with a series of six postage stamps and another wax seal–gave the invitation box a nostalgic look.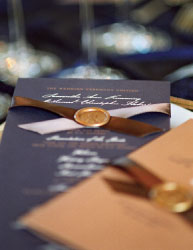 Photo by Kate McGough of
Perspective Studio
Vassar spent most of the wedding day morning and afternoon accompanying Samantha. At the Chateau St. Croix Winery, Trettel was busy orchestrating the final details of the ceremony and reception décor, working with Lettuce Cater to ensure that the eight-course dinner would be orchestrated perfectly. The wait staff, provided by Hire A Host, had to be at the top of their game to serve 75 guests eight courses in just over two hours.
Samantha arrived at The Saint Paul Hotel where her bridal gown was displayed on a dress form within the Ordway Suite. Pampering was the rule of the day for this glowing bride. The Saint Paul Hotel generously provided champagne mimosas and a catered lunch.
Greta Olson of New-York based MG Hair and Makeup was eager to begin the hair and makeup session. Samantha's makeup consisted of a smoky brown look on her eyes, complete with full lashes, and a lighter color on her lips. Greta highlighted Samantha's cheekbones with blush and bronzer. MG Hair and Makeup created a sophisticated half-up, half-down style for the bride's hair. Samantha wore a true French silk netting cage veil, 18 inches in length, stunningly created by the award-winning couture design team of Che Bella.
Nate and his brother James, his best man, arrived shortly after noon at the Ambassador Suite at The Saint Paul Hotel. Nate dressed for the ceremony in a three-button Tuscano tuxedo by designer Joseph Abboud from Savvi Formalwear. The tuxedo featured a notch lapel crafted with a rich tone-on-tone stripe in luxurious wool. To complement the bride's gown, an ivory microfiber laydown collar shirt and Ivory Marquee vest and Windsor band tie from Joseph Abboud were selected. Black Celebration shoes from After Six featured a classic look with raised stitching, providing a distinct accent on a square-toe style. James was wearing the same tuxedo with a Champagne Solid Fusion vest and tie from Savvi Formalwear, in colors to complement Katie's bridesmaid gown.
Photo by Kate McGough of
Perspective Studio
Kate McGough of Perspective Studio captured photojournalistic shots of Samantha getting ready, and the special moment when Sam and Nate saw each other for the first time, just prior to the wedding. Kate then spent the day documenting the events and details with artful images evoking true depth and style.
By mid-afternoon guests began arriving at a local hotel in St. Croix Falls, Wisconsin. Every guest was given custom wooden crate welcome baskets, designed by The Wedding Guys, containing brochures of local attractions, Minnesota Monthly magazine, gourmet nuts in a clear wrapper, tied with a chocolate-colored satin ribbon, chocolate dipped pretzel sticks, personalized water bottles (matching the wedding invitations), gourmet tea and hot cocoa, and fresh grapes to go with the vineyard theme.
From the hotel, guests were shuttled to the vineyard in a white Cadillac Escalade Limousine, provided by Sonic Limousine. Friends and family passed through the entrance gates of the Chateau to witness a live polo match being played. Stately lion statues were adorned with magnolia leaf garland from Sweet Peas Floral. Lime bengaline linens with sheer apple leaf overlays, provided by Après Party & Tent Rental, draped tables of various heights. White chiavari chairs with lime sashes offered seating with exotic flower centerpieces. Six spiral evergreen trees and a three-tiered center fountain, featured Asian honeysuckle, blue cornflowers, green miniature cymbidium orchids, and roses also ornamented by Sweet Peas Floral.
Photo by Kate McGough of
Perspective Studio
Guests were greeted by courteous and well-groomed Hire A Host wait staff, dressed in black tails and white gloves, courtesy of Savvi Formalwear. The wait staff served cool refreshments of lemonade and iced tea in the outdoor courtyard before the ceremony began. Guests signed the matte of a black and white candid engagement portrait, shot by photographer Kate McGough from Perspective Studio, a trendy alternative to a traditional guestbook.
Guests, dressed in black tie attire, were directed down a hill and along a path surrounded by a wide-open pasture, complete with horses grazing in the tall grass. At the path's end, the sound of contemporary classical music, played by Sonic Sound Entertainment, filled the air. A visual masterpiece towered before them.
Sassafras Floral and Garden Design had taken the 100-year-old elm tree and festooned it with love knots reminiscent of 1920s bridal bouquets. Each made of thick champagne, ivory, and copper-colored satin ribbon, the bouquets trailed from the lower branches, providing a truly dramatic display. Each love knot was embellished with a cluster of blooms in rich tones including copper cymbidium orchids, heather, roses and trailing amaranthus foliage. Après Party & Tent Rental created an altar with rich champagne satin linens and overlays of hand-beaded embroidered sheer tulle, framed by an ivory chiffon drape suspended in the tree. Upon the altar, Sassafras created a lush asymmetrical arrangement grouping deep colors together, from oranges to reds to deep plums, finishing with burgundy-black feathers for maximum impact.
At the entrance to the aisle was a custom birdcage containing two white doves from Wings of Love. A champagne damask aisle runner ran between the rows of gold chiavari chairs from Après Party & Tent Rental. With each alternating row, Sassafras created aisle markers from rusted metal pipes (salvaged from a local metal scrap yard) serving as a frame along the path to the tree. Atop the pipes sat a lush combination of cymbidium and gladiolus blossoms, fresh plums, roses, dahlias, tritoma and miniature calla lilies, framed with textural draping accents of andromeda heather, diabolo ninebark, red bud and maple seedpods, hanging amaranthus, dates, feathers, and locally-grown grape vines.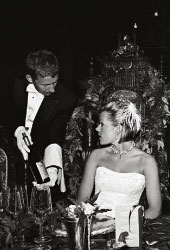 Photo by Kate McGough of
Perspective Studio
Samantha, wearing her couture strapless Michelle Roth ball gown with organza shimmer lace embellished lightly with crystals, and Katherine, wearing a camel-colored Amsale strapless A-line gown, both provided by Mestad's, rode in style from the Chateau to the ceremonial pasture in a horse-drawn carriage, provided by Petersen's Carriage Service.  The bride and maid of honor both wore stunning Tacori necklace and earring sets from Arthur's Jewelers. Their jewelry truly glistened in the sunlight. Samantha wore a choker from Tacori's Vintage Pearl collection, handcrafted with sterling silver, freshwater pearls and Swarovski crystals. Her earrings were genuine freshwater pearl with sterling silver, white topaz, and Swarovski crystals.
Samantha carried a dramatic trailing bouquet in rich tones of coppers, plums, and reds. Flowers included copper cymbidium orchids, plum and burgundy dahlias, tritoma, 'curiosa' 'black baccara' and 'freedom' roses, black, plum, copper and apricot miniature calla lilies with textural accents of andromeda heather, scabiosa pods, dates, leucadendron, and burgundy hanging amaranthus. Six-foot-long trails of thick copper satin ribbon were twisted into love knots with thin copper wire. Phalaenopsis orchid blossoms were tied into the knots.
Katie carried a more compact version of Samantha's bouquet, with colors graded from coppers to reds to plums, framed with twisted true copper metal 'ribbon,' also from a local metal salvage yard.
Photo by Kate McGough of
Perspective Studio
Arriving in the carriage, and perfectly on cue with the music, each stepped onto the ivory aisle runner to "And All The People Rejoiced†from Zadok the Priest by G.F. Handel played by Sonic Sound Entertainment. Samantha met Nate under the elm tree with hundreds of floral love knots dangling delicately around them.
Officiant Patricia Drury from Rites of the Heart performed the ceremony with a personal touch. The ceremony peaked when the bride and groom released two white doves from Wings of Love into the sky while Nate's father sang "In My Life†by the Beatles. The ceremony ended when the newlywed couple exited to "Hallelujah†from Christus Am Olberge by Beethoven. They climbed into the horse-drawn carriage for their departure, decorated with a "Just Married†sign, swag constructed of curly willow and red bud seedpods, and clusters of gladiolus, roses, tritoma, and calla lilies supplied by Sassafras.
MDR Video captured the dramatic events of the ceremony with four cameras, including one mounted in a tree and one on a crane for sweeping panoramic views of the landscape. MDR Video was present throughout the day with a five-person camera crew carrying hand-held broadcast quality cameras. This allowed them to capture Samantha and Nate's most intimate moments without the hassle of taking the focus away from the bride and groom's wedding day experience. Log onto www.twincitybridal.com to see wedding video highlights.
All parties congregated in the Chateau's art gallery and courtyard for champagne and hors d'oeuvres served by the Hire A Host staff. Lettuce Cater had created a selection of Beef Roulade, Artichoke Parmesan Puffs and Bacon Wrapped Water Chestnuts, elegantly butler-passed on mirrors.
Table linens, courtesy of Après Party & Tent Rental, were switched out to Italian Truffle–complementing others done in mocha and black Hydrangea. The beautiful three-tiered wedding cake, created by Jessica's Cakes, was displayed in the center of the room. Rich chocolate and ivory chiffon fabrics cascaded down from the ceiling to the floor. The trio of cakes was wrapped in alternating layers of rich cream and chocolate brown fondant. The elegant scroll design, matching Après' table linens, played against the chocolate brown with bronze luster dust, while the cream tiers were adorned with poured sugar leaves varying in shades from crystal clear to deep amber. The cake was cut with a platinum and mother of pearl Baroque style handle cake knife and server, supplied by Che Bella.
Photo by Kate McGough of
Perspective Studio
The Four Voices String Quartet played in the open-air courtyard, enhancing the mood during the cocktail hour. They moved inside the hall and continued playing during the sumptuous dinner. Inspired by the "Old World†setting, their cocktail set featured lively European Baroque classics by Bach, Handel, and Vivaldi.
After enjoying cocktails in the gallery, Samantha and Nate changed into their dinner attire. The Wedding Guys worked with Sheree Bochenek of Après Party & Tent Rental to create a chiffon-draped changing room, cleverly set up in the wine cellar. This gave Samantha a place to change into her Henry Roth reception gown, and provided a room for Nate to change into a custom-ordered ivory shawl collared dinner jacket by Tallia, from Savvi Formalwear.
The Wedding Guys introduced newlyweds Samantha and Nate in the Chateau's great hall. The bride, groom, and their guests anxiously anticipated the eight-course dinner and wine pairing experience. The tables, covered in rich, midnight soutache linens (provided by Après) were arranged in a "U†shape. At the base of the tables, copper taffeta linens peaked through the blue.
Table centerpieces, designed by Sweet Peas Floral, included a series of eight matching arrangements atop a 36-inch pilsner vase. The arrangements were designed with fuchsia dendrobium orchids, orange zinnias, blue thistle, orange dahlias, orange mokara orchids, 'Moonshade' carnations, green cymbidium orchids, 'Razzmatazz' roses, purple Fuji mums and dark purple trachellium. These gorgeous arrangements were further accented with green amaranthus, salal, maple leaves, pine tree branches, and bear grass. To help incorporate the 'winery' feel, Sweet Peas Floral added fresh grapes to the base of each arrangement. 
Photo by Kate McGough of
Perspective Studio
The bride and groom's chairs and fireplace mantle were adorned in a greenery garland of cymbidium orchids, 'Razzmatazz' roses, dark purple trachellium, blue thistle, blue cornflowers, and orange zinnias. Sweet Peas Floral placed two chocolate brown urns, placed on their side, with maple leaves spilling forth onto the table directly in front of the bride and groom. Chocolate sunflowers, hanging green amaranthus, and dark plum colored miniature calla lilies were incorporated into the greenery, as well as fresh green, purple, and black grapes.
Placed throughout the table, was an assortment of cork-covered and square-shaped votive holders. Some of the votive holders featured tea lights and some had loose green hydrangea blooms. In addition, there were clusters of magnolia leaves, fresh red, green and black grapes, and green and purple artichokes.
There was a cork with a copper-toned name card, written in beautiful hand calligraphy by Crystal Kluge, at each place setting. There were also interchanging chargers of square silver leaf and round baroque styles. Atop these sat white lotus china in a modified square shape with delicate silver trim, compliments of Après Party & Tent Rental. The table was set with contemporary silver Zenith salad forks and demitasse spoons, matching the five forks to the left of each place setting. Four knives and one spoon were placed to the right.  In addition to the eight-course dinner, guests were treated to a wine pairing during each course, with each type of wine made locally at the winery. The table was filled with beautiful Pure Stemware, also from Après, to accommodate the pairings.
The wedding favor chocolates, provided by Chocolat Celeste, were placed at each setting. The artisan bonbon flavors included "Celestial Sweetie†and Passion Fruit made with the best European dark chocolate, fresh whipping cream, and butter. The four pieces of chocolate stenciled with "Thank You†scripted in gold cocoa butter were presented in a clear acrylic box with silver edging and tied with a chocolate satin ribbon. A small card with Sam and Nate's names and their wedding date was attached.
 
The unique service requirements of an eight-course dinner required the professional help of Hire A Host. Thanks to a highly trained staff, the complicated service requirements appeared effortless. Each server presented the food, creating the ambiance of a five-star restaurant. They performed an impressive service approach to each course, dubbed by The Wedding Guys as "waiter ballet,†where they appeared from the kitchen en-masse and in one fluid movement placed one plate, and then the second, in perfect sync.
Chef Brian from Lettuce Cater truly outdid himself with the delightful eight-course meal. The first course, or Amuse, was escargot in a mushroom cap with Parmesan toast point. The second course was delivered in a frosted shooter glass brimming with cold cucumber soup, garnished with a sprig of dill and a dollop of crème fraise. An inverted martini glass set atop another Zenith salad plate presented the next course, a salmon Napoleon with rye bread, chopped egg, and onion, with a rosette of cream cheese. Throughout the divine two-and-a-half hour dinner, Four Voices String Quartet provided musical entertainment of old French and Welsh folk songs, Italian arias, and Hungarian dances. By dessert, contemporary American melodies were on the menu. For the fourth course, Lettuce Cater presented Brie wrapped in puff pastry–made to resemble a gift–alongside a swirl of blueberry coulis with a small wedge of bleu cheese. A Concord grape sorbet was the fifth course, served in a square shot glass. The sixth-course arrived well into the second hour of the dining experience. The wedding party was presented with a four-ounce filet mignon atop a portabella mushroom and Yukon gold mashed potatoes, drizzled with a demi glaze and toped off with sweet potato straws. Chef Brian presented the second-to-last course in French style–a frisée salad on a log cabin stack of asparagus and egg wedge drizzled with balsamic vinaigrette. 
Photo by Kate McGough of
Perspective Studio
Before the final course was served, guests were ushered outside to view an outstanding display of fireworks above the hills, courtesy of Hollywood Pyrotechnics. The Four Voices String Quartet finished with Moon River from Breakfast at Tiffany's as guests exited the hall to watch the spectacular fireworks show beneath a full moon. The display mesmerized guests for a full ten minutes.
Once back inside the Great Hall, the last and final course–a cake flight by Jessica's Cakes–was served. Similar to a wine flight, guests enjoyed three different cake flavors: a star anise cake with pear custard and ginger mousse, a coconut cake with orange custard and coconut buttercream, and an orange flower cake with blackberries and ginger mousse. The cake was plated with each of the three pieces of cake toped with a custom sugar grape leaf in various tones of gold, on each was piped "Samantha and Nate†in decadent chocolate.
While the guests were wined and dined, Trettel and Vassar were busily transforming the art gallery from a cocktail lounge to a dance reception area. The Minnesota Jazz Orchestra, a disc jockey from Sonic Sound Entertainment, and ballroom dancers from Cinema Ballroom arrived for the grand finale.
Dressed in full costume attire, professional Cinema Ballroom dancers performed the cha cha, tango, and waltz for all the guests to see. The newlyweds, who had taken dance lessons from Cinema Ballroom, then took the dance floor for their first dance, "At Last,†followed by Samantha's heartfelt dance with her father to "My Girl,†performed brilliantly by The Minnesota Jazz Orchestra. Samantha didn't have to worry about stepping all over her dress thanks to the flawless alterations done by the Wedding Gown Care Specialists. After the Minnesota Jazz Orchestra performed, Sonic Sound Entertainment followed with a great mix of today's modern hits.
As guests said goodnight, they picked up custom-made lanterns complete with lighted tea candles inside. A fleur-de-lis symbol embossed the glass sides of the lantern, and a tag was attached with chocolate satin ribbon stating, "Let Love Light The Way.†The same ribbon was attached to the four-piece box of truffles from Chocolat Celeste inside their gift bag, along with a custom labeled bottle of "Thoroughbred Red†wine from Chateau St. Croix Winery & Vineyard. Sonic Limousine brought guests back to their hotel to call it a night.  Samantha and Nate enjoyed a chauffeured ride in an Ivory Chrysler 300 series, provided by Sonic Limousine, back to The Saint Paul Hotel, where they stayed in the lavish Ordway Suite.