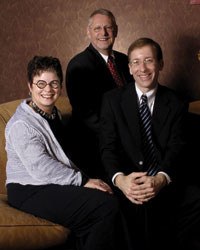 Concentration: Adoption, Marriage Dissolution/Divorce, Custody and Third Party Custody, Paternity, Parenting Access, Domestic Abuse and Harassment, Juvenile Delinquency, Child in Need of Protection or Services (CHIPS), ARTS/Surrogacy Agreements, Family Law and Juvenile Mediation, Antenuptial, Postnuptial, and Co-habitation Agreements, Licensing Board Issues, Minnesota Tribal Court Family Law, Appellate Practice, Estate Planning and Wills.
Years of experience: Walling – 34. Berg – 26. Debele – 19.
Set apart from the competition: Creative, respectful, assertive client-oriented approach; integrity; depth of experience in family law at all levels of state courts, tribal courts, federal courts, administrative tribunals, and appellate courts.
Free advice: Be a good consumer by gathering information about available services. Don't be afraid of lawyers; ask questions to fully understand the legal issues and your options. Seek resolution with a cool head; minimize anger, acrimony, and emotional disruption whenever possible.
Walling, Berg & Debele, P.A.
121 S. 8th Street, Suite 1100
Minneapolis, MN 55402
612.340.1150
800.730.9101
www.wbdlaw.com
Facebook Comments