If your husband, father, or grandfather are anything like mine, they purchase what they need, when they need it. Because Father's Day is just around the corner, I'm still contemplating what to get my Dad-who-has-everything. While he swears all he really wants is a handmade note and a new batch of his favorite black socks, I want to give him something he didn't know he wanted. Easier said than done, right?
I pulled together a few of my favorite products that combine thoughtfulness, functionality, and uniqueness to help make Father's Day a little more stylish.
10 Gift Ideas: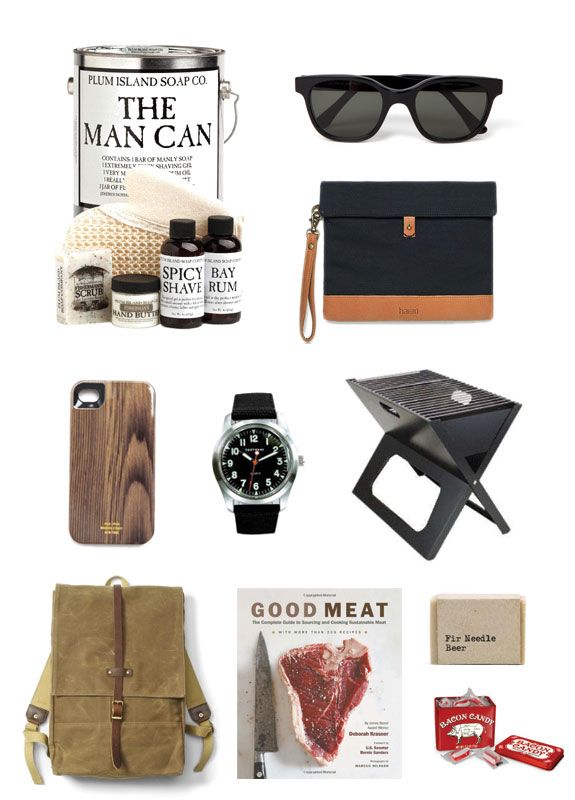 The Man Can
This paint can arrives stuffed with 100% natural skincare and shaving products. The playful package hold a bar of Fisherman's Scrub Soap, Spicy Shave Gel, Bay Rum Oil, Fischerman's Hand butter, and Really Scratchy Bath Mitt.
Jack Spade Sunglasses
The iconic shape of frames look great on almost everyone and will be in style for decades.
Woody iPhone 4 Case
The look of this retro wood grain patterned iPhone case is stylish and a trendy alternative to the standard basic black case.
Hasso iPad Case
Hasso's designs mix canvas and leather making their cases both durable and classic.
Club Monaco
This rucksack is both rugged and stylish in design and functionality. Great for weekend hikes or carrying his laptop to work.
Good Meat
The grill gets even better when the food is better for you. Good Meat is a comprehensive guide to being an eco-conscious meat eater without sacrificing flavor.
Folded Grill
This grill is light, portable, and good-looking. Great for a an impromtu picnic in the park or grilling brats at summer baseball games.
Bacon Candy
These red-and-white candies look like they'd be peppermint flavored, but they actually taste like sweet and smoky bacon!
Basic Watch
This classic watch goes with everything. It's casual enough to be worn with jeans and a tee, but refined enough to wear with a slacks and a tie. A great everyday piece.
Fir Needle Beer Soap
These small batch handmade soaps are made with essential oils of organic coconut, organic palm oil (sustainably harvested), organic castor oil, Guinness, and fir. Smells great and feels luxurious, too.