The past two years has seen a trend toward online subscription services. Minnesota has been no stranger to the trend, with several startups launching over the past year alone. These services typically includes a mystery box of curated goods based on a customer's style preferences, delivered on a monthly basis. There are subscription services for just about everything imaginable, from menswear (Trunk Club and Five Four Club) and women's clothing (Stitch Fix) to shaving kits (Dollar Shave Club) and beauty products (Birchbox)—and the list goes on.
Here are Minnesota-based subscription services with local ties worth checking out:
Minny & Paul
While technically not available by subscription (i.e., not available via subscription), this new start-up has a similar model, offering curated boxes of locally made goods for purchase with the click of a button. Minny & Paul will launch with three gift box options, including sets for the home, brides, and personal care featuring products ranging from beeswax candles by Old Mill Candles and artisanal nuts from Isadore Nuts to Dead Sea Salt-infused bath soaks by Nell's Remedies, hand-dyed scarves by Martha McQuade, and dpHUE's clarifying, exfoliating apple cider vinegar rinse and detangler. Unlike many other services that offer mystery boxes, you can see exactly what goes into these boxes before ordering one. Each package of goods arrives in a custom wood keepsake box creative by local maker WAAM Industries. (Launches in August) • minnyandpaul.com
MN Box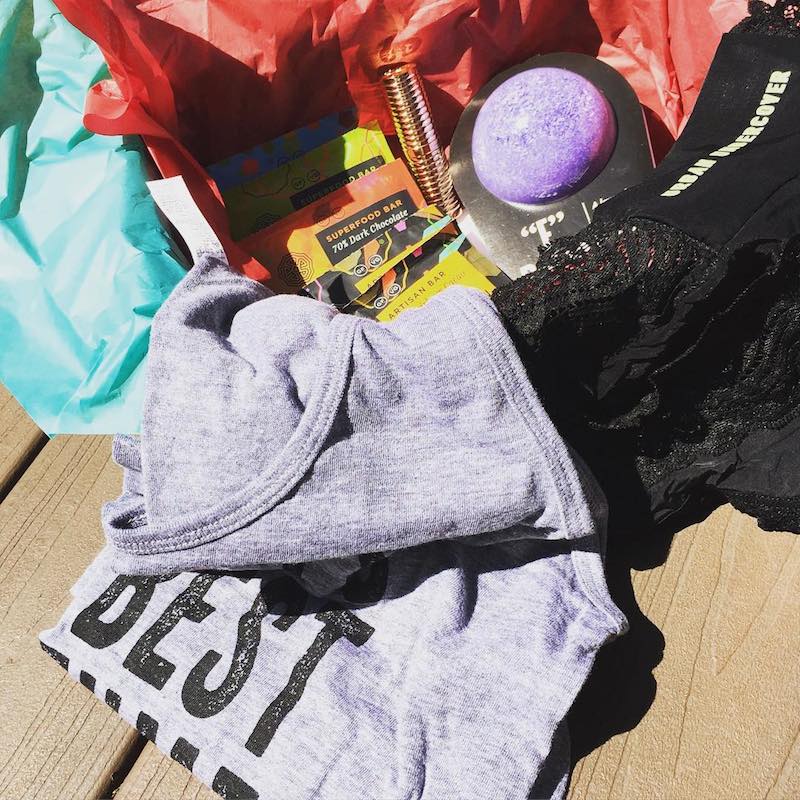 courtesy mn box
Nearly identical in concept to Minny & Paul, MN Box—which launched in June—features curated boxes filled with Minnesota-made goods. However, MN Box offers more options than Minny & Paul and various subscription levels—and boxes are randomly filled based on your personal preferences, so you never know what you're going to get (which is part of the fun of it, right?). A box I received included lace panties by Urban Undercover, a message tank by MBMB Michelle Brusegaard, Da Bomb Bath Fizzers' F Bomb, 5 bars of K'ul Chocolate, and a tube of Elixery's "Devious" lipstick (a very-on-trend, creamy '90s brown shade with hint of plum). Boxes ship on 15th of each month and shoppers can choose a level ranging from $50 to $1,000 a month—three to 12-month subscriptions are available. You can also shop a "beyond-the-box" selection for limited quantities of some other Minnesota-made items, or purchase individual boxes. Bonus: Five percent of each purchase goes to Minnesota charities. • mn-box.com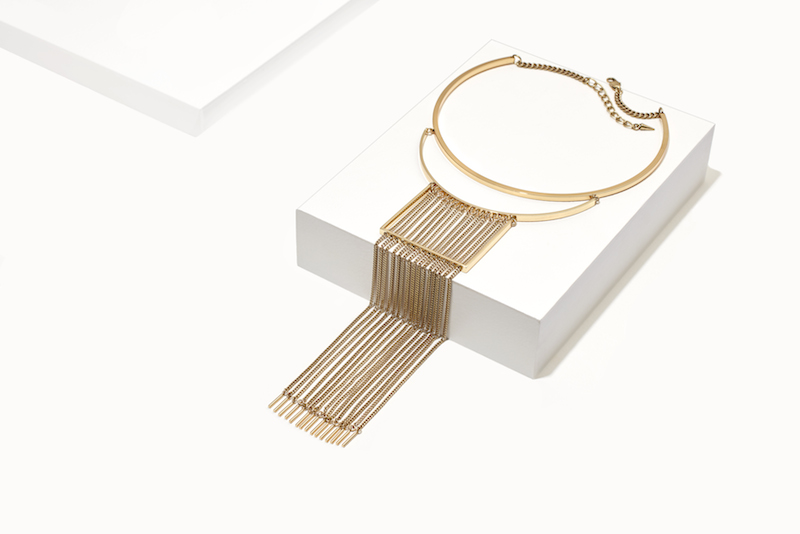 jenny Bird necklace from Flash & Bang. Photo courtesy Flash & Bang
Flash & Bang
With the recent debut of Minneapolis-based startup Flash & Bang, you can now get the latest jewelry trends on your doorstep each month with the click of a button. Like clothing service Stitch Fix, Flash & Bang subscribers fill out a style quiz and receive a box of gems for a monthly fee of $24, purchasing what they want and shipping back the rest. • flashnbang.com
Boka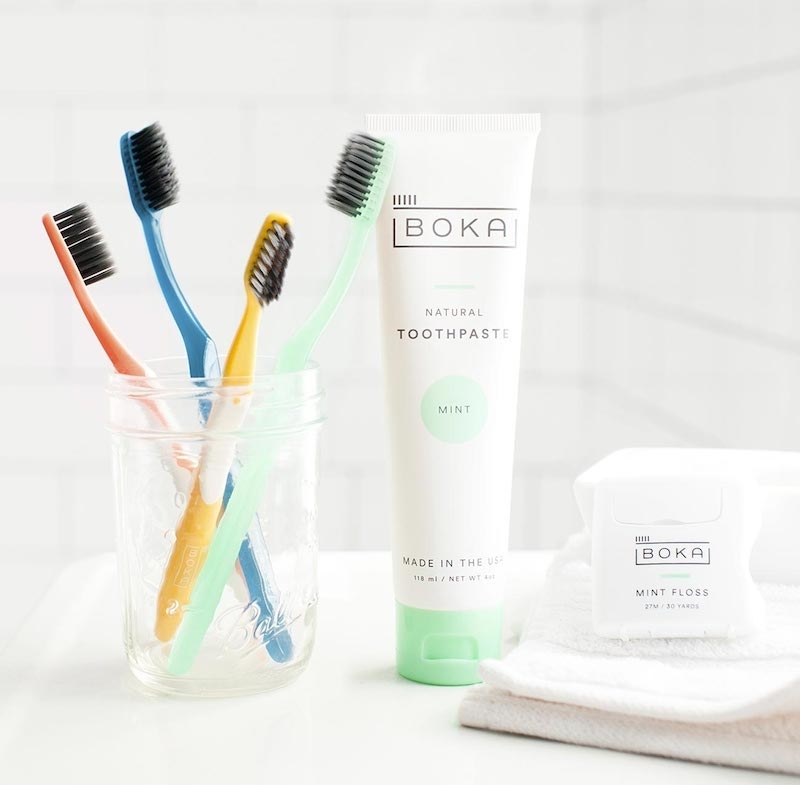 courtesy boka
When it comes to toothbrushes, many of us just use what the dentist gives us. But why shouldn't our toothbrush be just as special as our favorite lipstick? That's the idea behind Boka, a new dental hygiene brand founded by local creative agency Zeus Jones and Minneapolis entrepreneur James Hagen, which launched late last year. The shapely Boka toothbrush's soft charcoal bristles naturally kill bacteria; its Teflon-and Petroleum-free dental floss is wrapped in beeswax and expands between teeth, and its minty toothpaste contains no fluoride, no sulfates, no parabens, and no artificial ingredients. Best of all, the trio of products is delivered to your door via a monthly subscription every three months. • boka.com.
Trendsend (Evereve)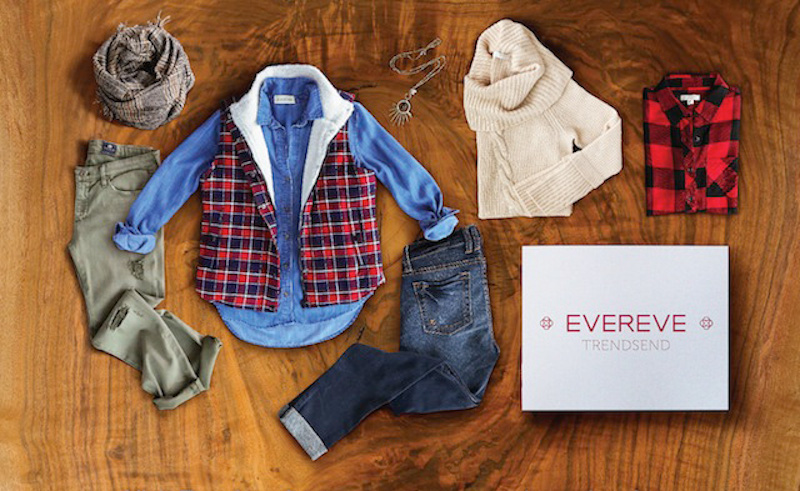 courtesy evereve
Minnesota-based casual contemporary women's retailer Evereve (formerly Hot Mama)—which boasts more than 70 stores across the U.S.—launched its Trendsend subscription service last year in the Twin Cities and Chicago markets. Earlier this year, they furthered their reach, expanding across the U.S. Orders are curated by an Evereve stylist based on a client's style profile. The customer has five days to choose what she wants to keep and return unwanted items with a free shipping label. Services are available either at regular intervals or on-demand. • trendsend.com
The Cooper Kit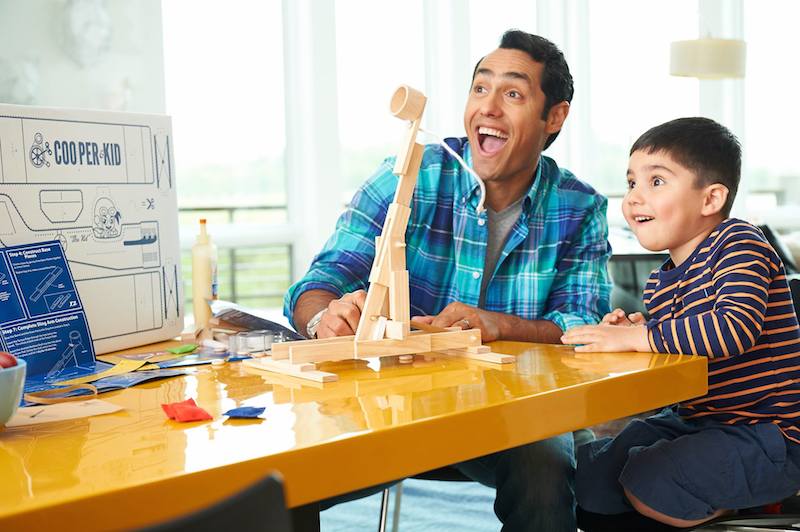 courtesy cooper & kid
Another package deal created with dads in mind, the Cooper Kit (created by Minneapolis-based startup Cooper & Kid) is a subscription service that's available year-round, though it makes for a great Father's Day gift. Geared toward dads with kids between the ages of 5 to 9, a kit contains multiple, curated products and activities that are geared toward dads spending time with their kids, including an activity book, a bedtime story, a themed dinner menu with recipes, and a shipping box that turns into a toy, plus a website of related digital resources, links to more theme-related activities beyond the box. The cost for a box is $65 (with contents valued at $100+) plus shipping; upon signing up at cooperandkid.com, a box will be delivered every three months, and can be discontinued at any time. • cooperandkid.com
Facebook Comments