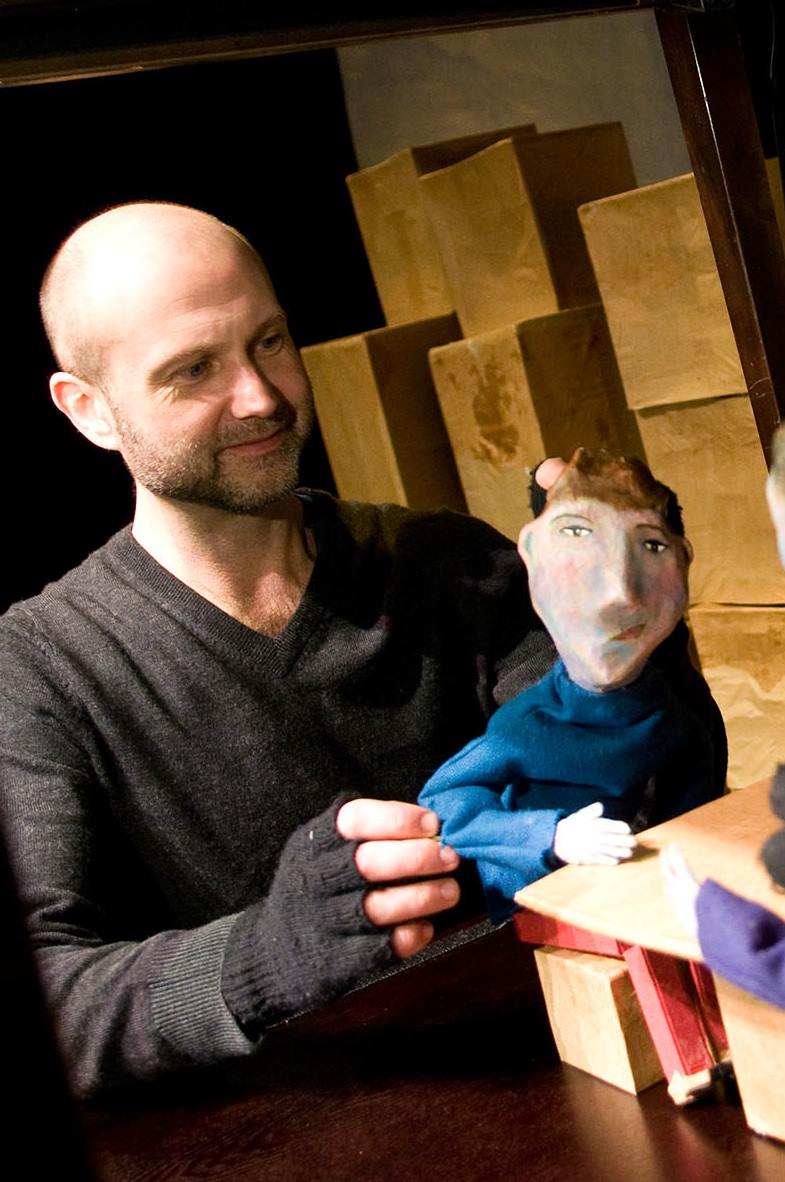 Photo courtesy of Bart Buch
Bart Buch of In the Heart of the Beast Puppet and Mask Theatre brings his career-defining play Ode to Walt Whitman back to Minneapolis this November. Based on Federico Garcia Lorca's poem, the show envisions an unspoken dialogue between Lorca and Whitman in an online chat room and features original music by Martin Dosh alongside live puppetry from Buch and his ensemble. Buch discusses the inspiration behind his play and how the dialogue-free production ultimately conveys its message.
Minnesota Monthly: How did you first come across Lorca's poem, and what about it made you think it would make a good play?
Bart Buch: I started reading Walt Whitman voraciously after 9/11 to find some hopeful visions of "America." I also wanted to read responses to Whitman and found Lorca's "Ode to Walt Whitman." He expressed disdain and even disgust for [American] commercialism, capitalism, and casual yet serious social ills he saw. Whitman saw a nation full of lovers and comrades while . . . Lorca wrote of the commodification of people and land. I saw similarly that LGBTQ people were being herded into certain . . . acceptable "marketplaces" where we are forced to connect, hidden away from the culture at large. Addressing [this concept] artistically was trying to deal with it, not ignore or run from it.
MNMO: Because there is no spoken dialogue in the play, Martin Dosh's music comes to the forefront. How did that collaboration come about?
BB: I was sitting at my favorite coffee shop, working on the development of the show and the barista was playing this music that I felt was this perfect balance of acoustic and electronic, optimistic and embracing of technology but based in pure rhythm and beautiful melody. It fit perfectly with what I was envisioning for the show. I asked the owner and barista of the coffee shop and they said, "Oh, that's my friend Marty. Here's his number. You should give him a call. He's a really nice guy." So I called him. I found out he was a great guy and fan of Walt Whitman. He was excited about the project and we began getting to know each other artistically.
MNMO: In what ways does Whitman's work speak to issues still relevant to the LGBTQ community today?
BB: Whitman speaks to everyone. I think he was a prophet of sorts. He saw that [LGBTQ people] are very instrumental in the acceptance of love in many forms, and that lovers and comrades are a very strong root of democracy. His vision was of the common person, the common place and yet tied to the cosmos, interconnected with everything. I believe he would embrace technological connections . . . to further [his vision].
MNMO: How do the different kinds of puppets and projections you use relate to the "dialogue" between Whitman and Lorca?
BB: I spent three years developing the show, so I made a lot of time to explore with different forms. I believe using multiple forms of puppetry can convey different aspects of the same characters. So, in Ode to Walt Whitman, Lorca and Whitman's characters are embodied as masks, hand puppets, bunraku-inspired puppets, shadows and toy theatre. I needed all these forms to enter this dialogue into visual and movement mediums. Also, I really think of the online avatars as virtual puppets, with keys, screens and trackpads as controls instead of rods or strings.
MNMO: In what ways did you go about conveying the writers' connection without using spoken words?
BB: One main way is that I spliced their poetry together as an online chat that the audience reads sometimes for up to three minutes between puppet scenes. The physical puppet movement and visual imagery is another way I keep the conversation going. The enveloping musical language Dosh provides is crucial to the emotional dialogue. I also came out as an artist in poem-form so this greatly influences my style. I have been calling my work puppet-poems for the last few years and feel it's the most accurate description of what I make.
MNMO: Does this play have a general message? If so, is it optimistic or cynical? What do you want theatergoers to take away from it?
BB: Well, it's an ode to Walt, not Lorca so [I agree with Lorca's] frustration, yet I'm following Whitman's vision for the country. I would like to inspire some reflection on how we connect, especially at this time in history where we are being heavily inundated by [social media]. Is this connecting us or isolating us? Both could be true, but I think some reflection time at a puppet show or reading Walt Whitman's poetry might be a good thing for us right now. And I would like people to carry forward this quote I use of Uncle Walt's in the show, "I wish to infuse myself among you 'til I see it is common for you to walk hand-in-hand."
Ode to Walt Whitman runs November 5-7 at Intermedia Arts, 2822 Lyndale Ave. S., Minneapolis. Purchase tickets here.