Miniature horses and one-of-a-kind jewelry join forces for a one-of-a-kind event this Thursday. Twin Cities designer Stephanie Lake is opening up her home for a rare sale of her ornate, eclectic jewelry designs, the proceeds of which will be donated to This Little Horse, a division of This Old Horse, a nonprofit sanctuary for retired, rescued, and recovering horses in Hastings, Minnesota. The event will also feature two of the organization's miniature horses, which are trained therapy animals, for the occasion. 
This Old Horse serves as a lifelong sanctuary for unwanted and special needs horses, ranging from blind and starving stallions, including a group of wild Spanish mustangs that were saved from slaughter as part of a headline-making rescue from a neglected ranch in South Dakota, to a descent of the Triple Crown winning racehorse, Secretariat. The miniature horses, also saved from slaughter, act as the ranch ambassadors. The gentle horses are trained to provide literacy, therapy, and goodwill visits to school, libraries, and long-term care facilities.
If you haven't heard of Stephanie Lake, you should: The fifth person to hold a pH.D. in decorative arts, design history, and material culture, Dr. Lake's eclectic designs are influenced by historical ornamentation and more akin to a sculpture or curio than a traditional fashion accessory. Each piece is assembled from vintage and antique elements, so no two are the same. (She also is the owner of the archive of influential U.S. fashion designer Bonnie Cashin, and authored the seminal book on the designer's life and career, Bonnie Cashin: Chic Is Where You Find It, published by Rizzoli last year.)
Designer Stephanie Lake with her daughter, Odette, and a miniature therapy horse from This Little Horse (wearing a Ruby3 by Anna Lee fascinator)
Courtesy Stephanie Lake
Lake credits her young daughter, Odette, with turning her on to This Old Horse's mission when they attended a Kentucky Derby party earlier this spring that featured This Little Horse's miniature horses. "She is the reason we fell in love with all they do," she says. "Spending time with the miniature therapy horses is not only every little girl's dream come true, it is also teaching her how to care about, and care for, anyone and anything that cannot survive without support, and how to use one's life and work to contribute to a greater good. It is an honor to support their extraordinary work." 
To attend Thursday evening's event, guests must RSVP for admittance and address. For those who aren't able to attend, proceeds from online sales of Stephanie Lake Design jewelry now through Thursday at noon will also be donated to the organization. If you're interested in learning more about This Old Horse and This Little Horse, visit thisoldhorse.org or visit the sanctuary during one of their public events, including the annual "Release the Beast" event on June 17 at 10 a.m., during which the horses will be let out of their pens for a run into the surrounding fields for 10 glorious minutes. 
Thursday, June 8 from 4-8 p.m. RSVP to lake@stephanielakedesign.com (required for admittance; address provided upon RSVP); stephanielakedesign.co
Miniature therapy horses in Stephanie Lake Design jewelry
TONI THOMAS
Miniature therapy horse in Stephanie Lake Design jewelry
TONI THOMAS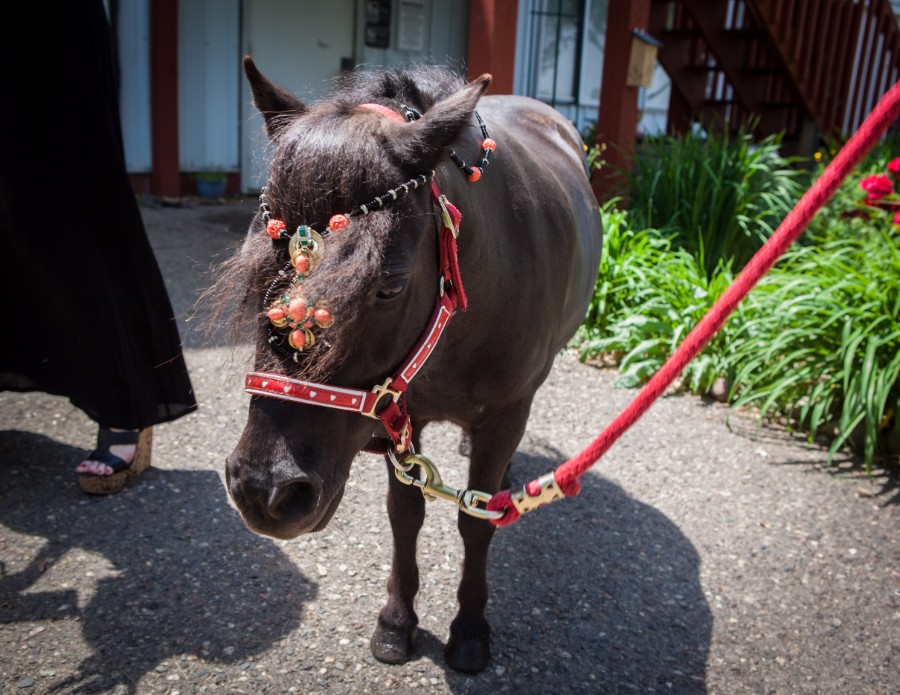 Miniature therapy horse in Stephanie Lake Design jewelry
TONI THOMAS
Miniature therapy horse in Stephanie Lake Design jewelry
TONI THOMAS
Miniature therapy horse in Stephanie Lake Design jewelry
TONI THOMAS
Miniature therapy horse in Stephanie Lake Design jewelry
TONI THOMAS
Miniature therapy horse in Stephanie Lake Design jewelry
TONI THOMAS
Miniature therapy horse in Stephanie Lake Design jewelry
TONI THOMAS
Odette and a miniature therapy horse from This Little Horse (in a Ruby3 by Anna Lee fascinator)
courtesy Stephanie Lake