The Scoop Crafty Rooms
Handmade craft, from textiles to furniture, is now more a lifestyle than mere room bauble. Which is why the latest iteration of the American Craft Council Show in St. Paul, the annual bazaar of artisan wares, will feature Make Room, a collaboration between interior designers and artists. (In the room shown here, Walsh Design Group used furniture from local woodworker Scott McGlasson, sculpture from a Maine artist, and a rug from a Colorado weaver.) The result: 10 model rooms totally outfitted with craft, and all the inspiration you need to create your own. American Craft Council Show, April 19–21, St. Paul RiverCentre, craftcouncil.org
Photo by K. Smith/Sidecar
Tie One On
These classic-looking, Japanese-cotton gems aren't your dad's ties. They're the newest additions to Pierrepont Hicks' menswear line, the stripes and dots right on trend with spring's pattern frenzy.
All ties $85, pierreponthicks.com
 
A New Bouquet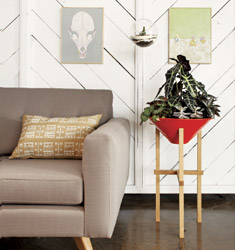 Photo by A. Steinberg/Sidecar
Give mom a gift that will grow alongside your love for her this Mother's Day with lush plants in a bright planter, available at Forage Modern Workshop.
Clockwise from left True Modern Luna Sofa, $1,759; Bark Hand-printed Throw Pillow, $40; Original Acrylic/Graphite Paintings by Jennifer Davis, "Skull with Kittens" and "Story Time," $450 each; Emily Ruth Designs Hand-blown Glass Globe Terrarium, $60; Steel Life Matchstick Planter, Tall, $178; all @ Forage Modern Workshop, 4023 E. Lake St., Mpls., 612-886-3603, foragemodernworkshop.com. Plants provided by Bastian + Skoog, 310 N. Second St., Mpls., 612-333-6450, bastianskoog.com.
The Scoop
Vino, Straight Up
Photo Courtesy of Vetrina Del Vino
Wine lovers will swear they chose that Merlot over the Malbec due to their refined palate, but everyone knows what actually got them: the label. While most wine racks stack bottles horizontally, hiding their gallery-worthy jackets, the vertical designs of Vetrina del Vino (Italian for "showcase the wine") put them on display. Tom Ramy and Michael DeGrood started their business in 2011 out of necessity: DeGrood wanted to store and showcase his collection in a narrow dining-room space. But their handcrafted racks do more than meet a need. They double as functional art—a stage for a rotating cast of Chardonnay and Pinot Noir. vetrinadelvino.com
 
Facebook Comments