Lizzo rocked Soundset's main stage in 2016 at the Minnesota State Fairgrounds
photos by Darin Kamnetz
---
In front of thousands of hyped music fans crowding the hill next to the Walker Art Center, Dessa picked up the mic and took over. In a white tank top and sporty black shorts, the member of Minneapolis-born hip-hop collective Doomtree dug into her set—crouching, bobbing, weaving across the stage—and the summer crowd gave her the day's loudest response yet.
That was four years ago. But Rachel Joyce, public relations associate director for the Walker, still points to Dessa's 2014 solo performance at Minneapolis' Rock the Garden music festival as a "pivotal moment." Women had performed at the fest before, but witnessing Dessa's stature, her bravado—"I was like, 'Yes, women can do this, too,' " Joyce recalls. "They can command a whole stage."
If women can, many today ask: Why don't more of them get to?
Music-festival lineups appear skeletal with male-led acts removed, despite increased media coverage calling out the nationwide lack of female leads and the fact that women comprise 51 percent of festival goers, according to Nielsen data. Last year, women were represented in only about 260 of nearly 1,000 acts at 23 major fests, Pitchfork.com reported. Far fewer headlined. After #letwomenheadline trended on Twitter in January, 45 international fests and conferences pledged to achieve gender parity—in other words, lineups that are half-female—by 2022.
Some organizers argue that quotas stress quantity over quality and overestimate supply (since many genres skew male). Others link male overrepresentation to a biased music industry. Either way, festival lineup scrutiny is not going away. And in the Midwest, reactions run the gamut.
Right Place, Right Time
80/35, a two-day July indie-music fest at Iowa's capital, has stood out in its 11-year history for attracting talent that often skip flyover country (think: The Flaming Lips, Nas, Run the Jewels). This year, organizers slated all-women headliners for the first time. Pop star Kesha, electronic duo Phantogram (led by Sarah Barthel on vocals), and indie rocker Courtney Barnett get top billing.
Meanwhile, a smaller fest, the 3-year-old Hinterland, takes place a month later on farmland 30 miles southwest of Des Moines, Iowa, expecting a crowd of some 14,000—roughly half the size of 80/35. Organizer Sam Summers, conscious of putting women in the lineup, says he tries to wrangle Alabama Shakes and HAIM nearly every year, though their touring schedules interfere. "It's not a quota," Summers says, "it's just trying to fill it in where it needs to be. It can be difficult, though, because in Iowa, we have to work with what is available to us."
Beau Seeger, who helps organize hard-rock fest Moondance Jam in Walker, Minnesota, describes how some overestimate organizers' power. "You generally cannot just call up a band and say, 'We'll pay you X dollars to play here,'" Seeger says. "It's more like [playing] Tetris."
Bookers first identify which artists happen to be touring close to the fest—though not so close that playing would cut into their tours' ticket sales. Then it's all negotiating, balancing the budget, and planning for backups—and backups to backups.
Mid-conversation, Seeger learns that Moondance secured Lita Ford to join Joan Jett as a headliner this year. Still, there's no guarantee of a representative lineup. Last year, Moondance bucked hard rock's aggressively masculine stereotype—and the fest's own history of male-dominated sets—with eight woman-led acts out of 17, including roots rocker Melissa Etheridge and an all-girl tribute band to AC/DC. But Seeger says this owed to the luck of availability more than to any agenda of inclusivity.
White Guys with Guitars
If genre is the issue, many point to a male-favoring music industry as the cause, and lineups as the symptom.
"As with most indie/alt festivals, WGWG (white guys with guitars) will continue to be dominant," Rock the Garden curator Doug Benidt says. One of the nation's biggest country-music festivals, WE Fest in Detroit Lakes, has the same problem, landing only two solo-woman headliners in the past 10 years—Miranda Lambert and Carrie Underwood (who reprises that role this year).
For the Twin Cities' Soundset Music Festival, the largest one-day hip-hop fest in the country, co-founder Jason "J-Bird" Cook tries to tap diverse styles for an interesting weekend—from fresh (Tyler, the Creator) to classic (Wu-Tang Clan). Still, recent lineups skew about 80-percent male. Erykah Badu sits at the top this year—with Lauryn Hill last year, and Dessa (with Doomtree) and Lizzo in 2016. Cook says women have always shaped the genre, although history reveals an attrition rate. Today, we call Cardi B and Nicki Minaj our superstars, but the '90s brought TLC, Queen Latifah, MC Lyte, Eve, Salt-N-Pepa, Lil' Kim, Missy Elliott, Foxy Brown, and others to the forefront. Cook says he does what he can to include women in the lineup as well as on staff, in breakdance battles, and in graffiti demos.
Last September, the first FEmnFEST, in Duluth, offered an answer: a lineup comprised entirely of women and non-binary artists. Lending non-male musicians visibility means helping them break into—and change—an industry that has historically shown bias against them.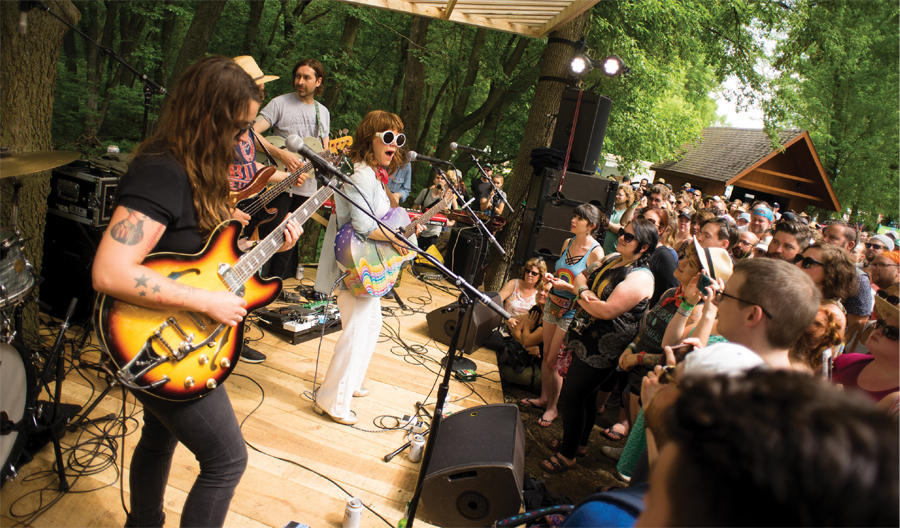 Jenny Lewis, front and center, performs with a band of white guys with guitars at Eaux Claires in 2017
For mainstream fests, though, promoting non-male artists is not so straightforward. Some women warn against treating "female" as a genre in itself. When curating multi-genre fest Eaux Claires, in Eau Claire, Wisconsin, organizers Justin Vernon (Bon Iver) and Aaron Dessner (The National) focus on a start-to-finish experience. There's no lineup poster this year, to discourage attendees from cherry-picking acts. Their emphasis on cohesion over individual performers echoes a critique made by music news site Fuse, which questioned whether a poster touting female performers could turn promotionally self-serving. Artist Caroline Polachek dropped out of this year's Moogfest because she says the North Carolina festival had not informed her she was chosen to round out a "female, non-binary, and transgender" set list. Polachek said via Twitter, "This speaks not to the artists or their music, but to the politics of the festival and self-congratulatory PR."
Starting From the Bottom
Smaller fests that draw from local talent—such as FEmnFEST and the indie-centered Square Lake Film & Music Festival—have an easier time arranging diverse shows, fussing less over tour schedules. But they also consider it a type of neighborly responsibility.
FEmnFEST co-producer Melissa La Tour works as the executive director of the popular Homegrown Music Festival in Duluth and Superior, Wisconsin, too. "We have a significantly larger number of men apply," La Tour says of the eight-day fest's 200-some regional acts, "so we try to spread the word to get more applications from women and non-binary artists."
The Basilica Block Party—a two-day Minneapolis showcase of local and national names—is booked by Sue McLean & Associates, an all-women concert-promotions business based in Minneapolis. CEO Patricia McLean says she aims for 50 percent (or more) women on the bill every year. She dismisses the theory that female artists are sparse and stresses the need for women decision-makers in a business where the gatekeepers are often male.
Meanwhile, on a hobby farm near Stillwater last year, Square Lake bested the 45-fest pledge toward 50/50 gender parity, in a sense. Out of eight acts, four were women-led, with another featuring women among a group. Attendees asked creative director Paul Creager, "Is this a 'women performers' year?"
When planning Square Lake, Creager weighs many factors: recommendations from friends, whether sounds fit morning versus night, even phases of the moon. He prioritizes diversity to accurately represent the Minnesota scene, but he hadn't realized the lineup spotlighted women more than audiences were used to. He had simply slated "amazing musical groups," including Gramma's Boyfriend (led by singer-songwriter Haley), all-female alt-pop band Tony Peachka, and garage rocker Monica LaPlante.
Creager adds: "No one had ever come up to me and asked, 'Is this your 'men performers' year?'"
---
The Midwest's Summer Fests
Northern Invasion
Somerset, WI, 5/12-13
This hard-rock fest grew from one to two days to fit 40 acts. About 45,000 attendees, many camping, absorb more than 12 hours of metal a day.
Playing this year: Avenged Sevenfold, A Perfect Circle, Tool, Alice in Chains
Soundset
St. Paul, 5/27
Among the Midwest's biggest music events, this hip-hop fest drew 35,000 people—the most yet—to St. Paul's State Fairgrounds last year for its 10th anniversary.
Playing this year: Logic, Migos, Atmosphere, Erykah Badu
Music in the Zoo
Apple Valley, June-August
On select dates throughout the summer, the Minnesota Zoo's Weesner Family Amphitheater hosts an array of big-name musicians—from jazz and reggae to hip-hop and classic rock.
Playing this year: Trombone Shorty, St. Paul & The Broken Bones, Buddy Guy, Son Volt
Rock the Garden
Minneapolis, 6/16
The Walker Art Center and radio station 89.3 the Current team up to hold this indie-music blowout next to the Minneapolis Sculpture Garden.
Playing this year: Father John Misty, Feist, Kamasi Washington
Twin Cities Jazz Festival
St. Paul, 6/21-23
The multi-block jazz fest teams with 20 bars, clubs, and studios throughout Lowertown to bring in more than 100 performers, from youth musicians to national headliners.
Playing this year: Tia Fuller, Houston Person, Nayo Jones, Dee Dee Bridgewater
Northern Lights
Venues Across Iron Range, 7/1-21
The Iron Range breaks forth in orchestra and opera concerts. World-renowned guests play with local musicians in historic venues of Ely, Chisholm, Aurora, and other cities.
This year's opera: The Barber Of Seville
Basilica Block Party
Minneapolis, 7/6-7
The two-day fest erects three stages by the Basilica of Saint Mary in Minneapolis. Some 20 local and national indie artists rock against the skyline.
Playing this year: Jason Isbell and the 400 Unit, Cake, Fitz And the Tantrums, Børns 
Eaux Claires
Eau Claire, WI, 7/6-7
Co-founded by Bon Iver's Justin Vernon, this multi-genre fest encourages artists to think beyond "greatest hits" sets and make surprising collaborations with one another.
Playing this year: Lineup won't be announced in advance, organizers say
80/35
Des Moines, IA, 7/6-7
I-80 and I-35 cross near this two-day rock fest, where more than 30,000 descend on Des Moines for more than 50 acts.
Playing this year: Kesha, Phantogram, Courtney Barnett, Atmosphere
Lakefront
Prior Lake, 7/13-14
With one evening for country and another for classic rock, Lakefront Park draws about 20,000 for one of the metro's biggest outdoor fests.
Playing this year: Hunter Hayes, Thompson Square, Gretchen Wilson, Chris Hawkey
Moondance Jam
Walker, 7/19-21
For more than 25 years, this three-day camp-out event south of Leech Lake has tapped some of the biggest, most nostalgic classic-rock acts.
Playing this year: Kid Rock, Joan Jett And The Blackhearts, Kansas, Ace Frehley, Lita Ford
Reggae & World Music
Duluth, 7/21
Bayfront Festival Park's open-air stage in Duluth fills with food and music from around the world, particularly the Caribbean.
Playing this year: TBA
Square Lake Film & Music
Stillwater, 8/11
In the St. Croix Valley, this gem highlights state talent and screens independent films in a barn-turned-theater between sets. 2018 features a live film score by famed drummer Dave King. Bike in on the nearby Gateway State Trail for a discount on tickets.
Playing this year: TBA
WE Fest
Detroit Lakes, 8/2-4
One of the nation's biggest country-music festivals is on a ranch in Detroit Lakes. Drive in, camp out, and this year enjoy an enormous, centrally located bar.
Playing this year: Carrie Underwood, Jason Aldean, Florida Georgia Line
Hinterland
St. Charles, IA, 8/3-4
Attendees pitch tents in rural Iowa to see 14 acts take the mainstage. Nighttime sets get a smaller stage beside the woods, where, this year, an '80s-era arcade is hidden.
Playing this year: Sturgill Simpson, Band of Horses, Nathaniel Rateliff and the Night Sweats, Chvrches
Pizza Lucé Block Party
Minneapolis, 8/11
Outside Pizza Lucé in downtown Minneapolis, an eclectic lineup leads a full day of music, local beer, and, of course, 'za.
Playing this year: TBA