Every spring, Art-A-Whirl cracks open Minneapolis' arts district for curious, self-guided browsing of "the largest open-studio tour in the country." How big is it? More than 70 locations and over 1,200 participating artists, galleries, and businesses show off northeast Minneapolis' bohemian character. This is the 28th year of the Northeast Minneapolis Arts Association's sprawl. Check it out May 19-21 (and consult the online map for guidance).
Here's another up-and-coming artisan to visit this weekend: Lina Adjogble. (Yesterday, we featured candlemaker Emma Remer.)
Lina Adjogble // Chosen and Free
Lina Adjogble designs jewelry through her brand Chosen and Free (@chosen_and_free) and works primarily with polymer clay. Originally from Togo, West Africa, she grew up in Gabon, Central Africa, before coming to the Twin Cities in 2006. "It was an exciting time," she recalls, "as I reunited with my family and quickly dove into school to continue my education." Today, Adjogble lives in Brooklyn Park with her husband and three boys. This is her first year at Art-A-Whirl.
Where to find Lina Adjogble during Art-A-Whirl: Studio Q (1310 Quincy St. NE, Minneapolis)
1. What makes you excited about art, when making and/or viewing it? I believe that art is a gift to humanity. It provides us with a window into the artist's heart and mind, capturing a beautiful essence of their thoughts and emotions at a particular moment in time. It takes great courage to invite the world to witness and experience one's art.
2. Is there a theme, feeling, or quality that you pursue in your work that you can recognize in all or most of your pieces? Joy. It's what I strive for and infuse into my work. Beyond creating wearable art, my ultimate goal is to craft wearable joy. The feedback I receive from my customers is incredibly fulfilling, as they express how my pieces give them confidence and effortless style. For me, it all comes back to the intention I set when I create. If a finished piece doesn't make me want to break into a happy dance, then it's simply not complete in my eyes.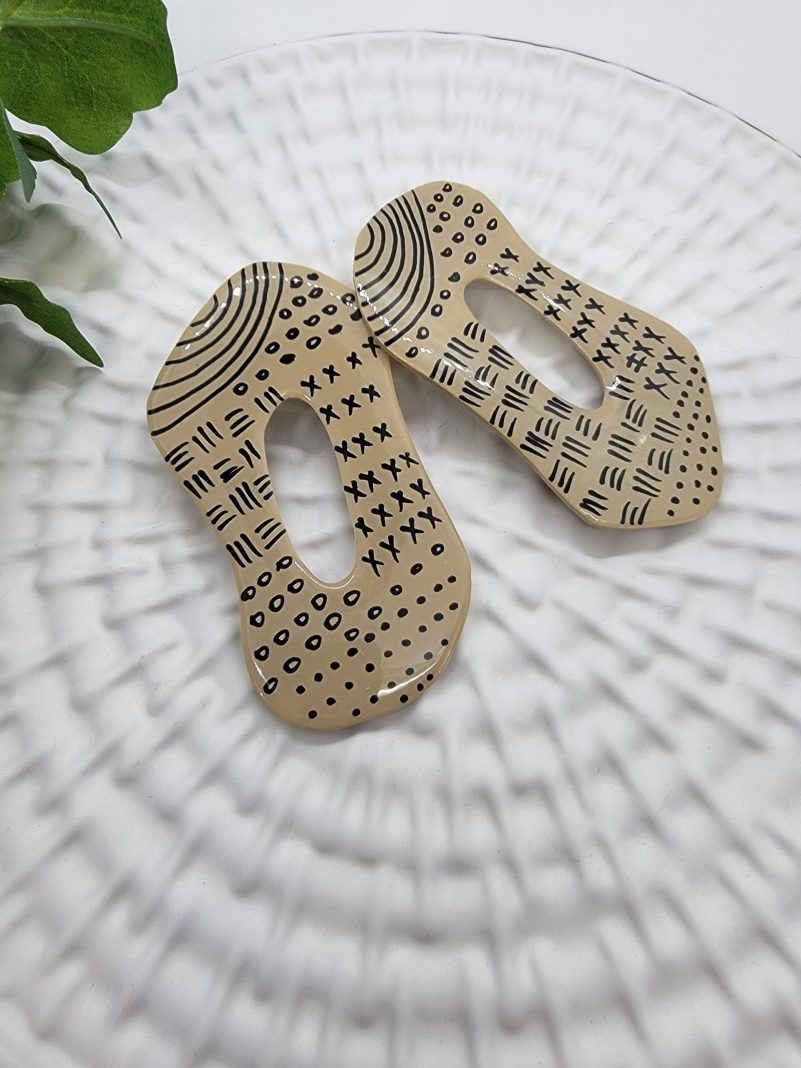 3. Can you explain the inspiration behind one of your pieces? Certainly! I'd like to highlight the Amara earrings (above). These earrings are hand-cut and feature hand-painted prints, ensuring that each pair is truly one-of-a-kind. The inspiration behind these earrings comes from my desire to create wearable art that blends elegance with individuality. The organic shape of the Amara earrings holds a special significance. It serves as a reminder that imperfections and rough edges have the potential to come together harmoniously, resulting in something truly distinctive and beautiful.
4. What is inspiring you right now? What is inspiring me right now is the world of textiles, bold color pairings, and abstract shapes found in nature. Textiles have an incredible ability to tell stories through their intricate weaves, patterns, and textures, which fuel my creativity.