Barnes & Noble has long been known as a place where bookworms can plop down on a comfy armchair with a coffee and a book in hand. Its newest concept, which debuts in the Twin Cities with today's opening of its new Galleria store, expands on its heritage of hospitality while incorporating technology and modern design.
The store is one of four of the new concept stores the national bookstore chain is opening in the U.S. in the coming months. It's most prominent feature is a full-service restaurant and cafe—instead of the usual Starbucks—dubbed "The Kitchen," as well as an expanded number of lounge areas. The new single-level Galleria store, situated on the opposite side of its former two-floor space within the Edina shopping center, is located within the spaces formerly occupied by Len Druskin, California Closets, and Bang & Olufsen. The fully remodeled space takes a page from the modern-industrial design trend, with its high ceilings, modern lighting fixtures, Mid Century–inspired wood furnishings, concrete floor, and café counter outfitted with white subway tile.
The Kitchen features a chef-driven, locally procured menu, with offerings such as lemon-ricotta pancakes, salmon a la plancha, mushroom ragú with creamy polenta, and slow-cooked beef short ribs, with a craft beer list featuring local brews from Summit, Indeed, and Surly. And for the laptop set, there's tabletops outfitted with power outlets and free wi-fi, plus a lounge area and a seated dining area. It's part of an effort to bring customers into the store and encourage them to kick back and stay awhile, says David Deason, Vice President of Development at Barnes & Noble. "I want people to show up for a cappuccino in the morning before going to the office, come for brunch on Saturday and hang out, or come and grab a quick lunch or dinner with a friend," he says. "It's sophisticated yet approachable."
In addition to its locally sourced food and brews, the store also has sections dedicated to Minnesota authors, history, and culture. Upcoming book signings with local authors include Nora MicInerny Purmort's It's Okay to Laugh (Crying Is Cool Too) (7 p.m. Dec. 6) and Daniel Corrigan and Danny Sigelman's Heyday: 35 Years of Music in Minneapolis (11 a.m., Dec. 10).
While Barnes & Noble has long emphasized customer service, Deason admits it's been somewhat lacking in technology until now. The new store remedies this with the addition of kiosks that not only tell the customer if a book is in stock, but pinpoints exactly where the book is located within the store. It also offers an easy-pay option to check out via a digital tablet with a bookseller anywhere in the store. "We want the focus to be on hospitality throughout the space," he says. "It was really purposeful to make the experience seamless and pleasant."
Opening 9 a.m. Tue., Nov. 29 @ 3230 Galleria, Edina, 952-920-2124, barnesandnoble.com
all photos Courtesy Barnes & Noble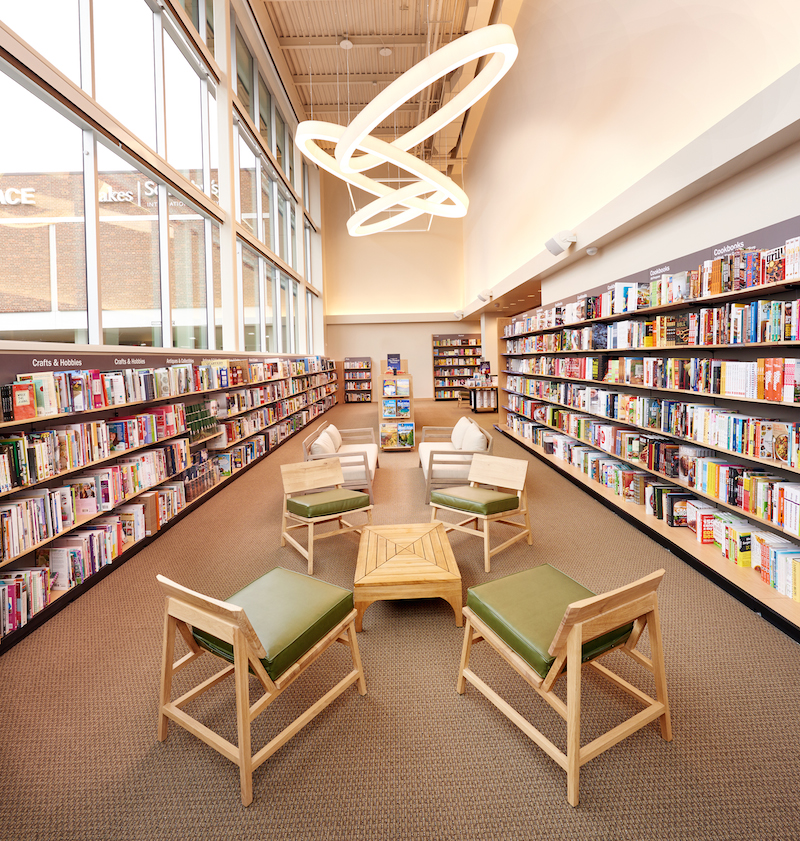 Facebook Comments