Over the past few years, a trend has surfaced among Twin Cities fashion designers as more of them are turning their focus from clothing to accessories. Kerry Riley, who designed clothing under the label Red Shoe Clothing Co., launched her new company Needle & Black in 2010 to focus on small leather goods. Niki English, a Minnesota native now based in New York, has moved on from clothing design to launch a line of leather handbags last year. And Amanda Natzel has put manufacturing her ready-to-wear clothing line, Amanda Christine, on hold to focus on small-batch, handmade knitwear with her recently launched line Ode.
[Read More: Local designer Amanda Natzel launches knitwear line Ode]
[Read more: Minnesota native Niki English Kickstarts new handbag line]
Now, local fashion designer Sarah M. Holm has changed her focus from clothing to made-to-order leather accessories with today's launch of her new brand, Black Spoke Leather Co. The designer known for her edgy, sculptural clothing designs was inspired by her experiences as a bicyclist who was tired of bumping into people, art, and drinks while wearing a big, bulky messenger bag. It led her to design what would eventually become her leather hip bag—something that would hold all of her necessities including a bike lock while remaining small and hands-free.
The Black Spoke Leather Co. shop launches with the unisex leather hip bag in two colors (black and ink-blot brown). As each product is made-to-order, customers will have to wait three to four weeks for delivery. Following today's launch, the designer says she plans to release a new product every week, with upcoming products including leather suspenders, small leather satchels that attach to a bike frame, leather wallets, and leather smartphone cases. Though geared toward fellow bicyclists (pun totally intended), the stylish line—which features hand-dyed patterns and studded accents—has broad appeal. And made with natural, vegetable-tanned leather and dyed using a traditional method for coloring leather, the leather is as soft as it is durable. Those who sign up for the mailing list will be notified when new products are made available.
Now available, blackspokeleather.com:
Black Spoke Leather Co. Deluxe Hip Bag in Midnight, $295 @ blackspokeleather.com
Black Spoke Leather Co. Deluxe Hip Bag in Ink Blot Brown, $325 @ blackspokeleather.com
Additional products coming soon to Black Spoke Leather Co.:
Black Spoke Leather Co. Cardholder in Inkblot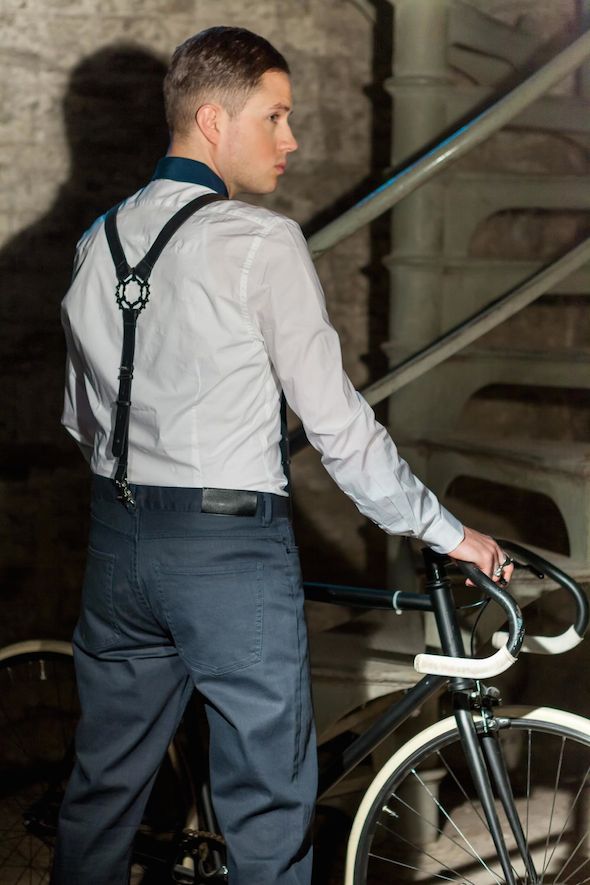 [Lookbook photos by Sasha Landskov]
Facebook Comments