Keno Evol sits at a small, bistro-style table in a spacious, sunlit room. In front of the 28-year-old poet, essayist, and educator are two books: a biography of French iconoclast Michel Foucault, and an academic text on how to rebuild the world around you without depending on the forces that be.
At the moment, the world around Evol is a 1,800-square-foot building. In south Minneapolis' Howe neighborhood, he and his small team have rebuilt this former window repair shop into an arts cooperative and refuge for Black creativity.
Open since February 2021, it is a place where Black folks can collaborate, work on projects, hone their artistic skills—or simply grab a coffee, answer emails, exist. Across the hall, a donation-based bookstore stocks Black authors. Audio equipment is available for recording music or podcasts. Events bring in Black writers and organizers. Several co-working and reading rooms invite rest and cogitation, and there's a patio out back. The rooms bear the names of Black visionaries: Suzanne Césaire, Octavia Butler, Lorraine Hansberry. In the Toni Cade Bambara conference room, a phrase written on a whiteboard (left there by a graphic designer, Evol tells me) reads, "Follow what fuels you."
Evol, the Chicago-born, Twin Cities-raised founder of Black Table Arts, says he first saw this building in June of last year. "It was completely gutted," he recalls. No ceilings, no floors.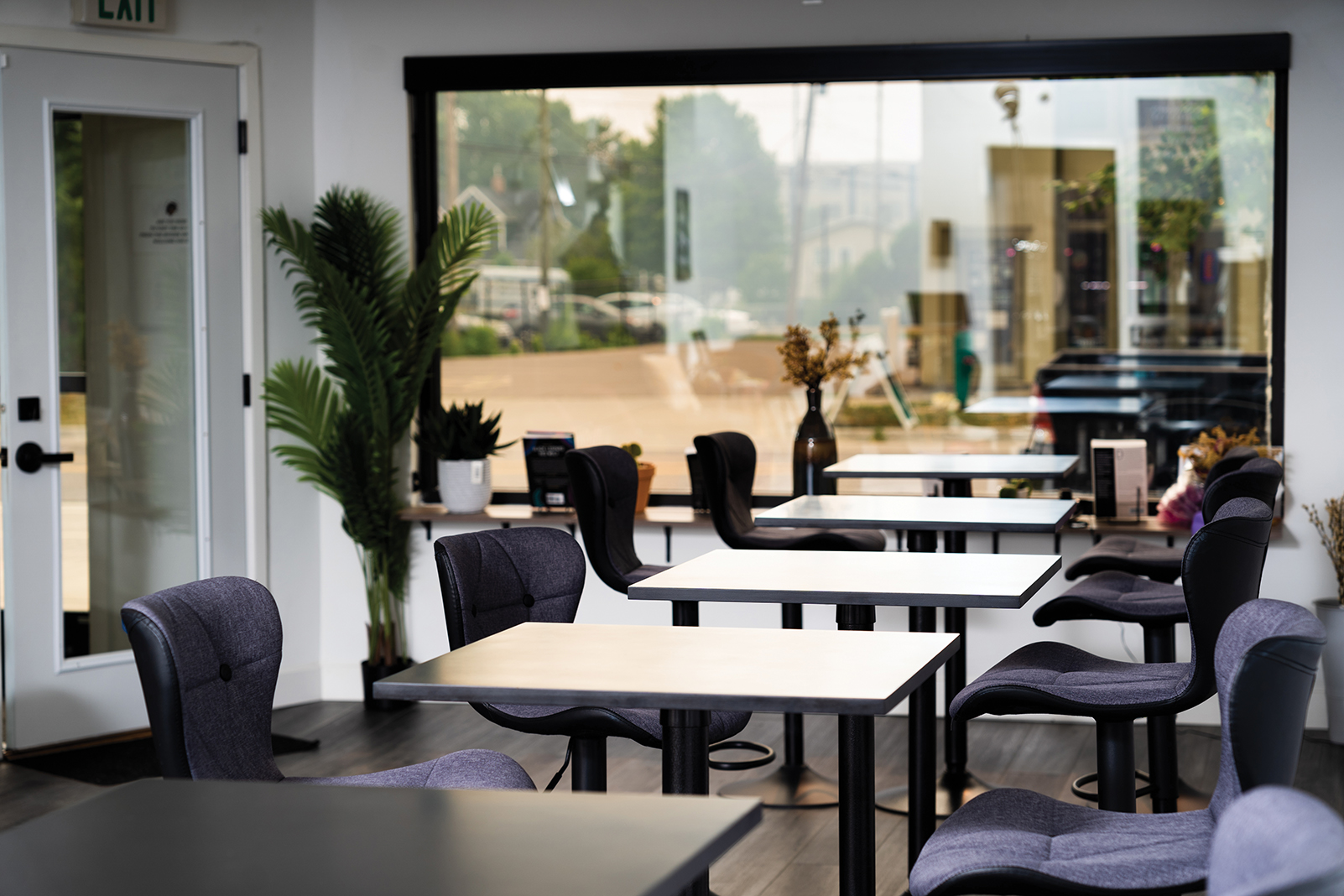 In December of 2015, he had launched Black Table Arts as a multi-stemmed series of events, planting seeds in various venues. Open mics flowered at theaters like Illusion, Mixed Blood, and Phoenix. The biweekly Black Lines Matter workshop brought Black and queer writers to the Loft Literary Center. The Because Black Life Conference lined up issue-untangling discussions on race and well-being at the University of Minnesota.
After George Floyd was murdered, Black Table Arts raised roughly $400,000 in donations, even getting a boost from Hollywood writer and actor Issa Rae. People asked Evol about a permanent space—a milestone he says he saw at least 10 years out.
Soon, he was reading up on the local history of cooperatives. "Cooperatives are formed, historically, from people pooling together their resources, usually to survive a crisis in the economy," he tells me. Going back to the 1970s in the Twin Cities, "it really started on people's back porch, you know?"
In the planning stages, Evol says he heard discouragement. Co-working spaces are on a downturn, some advised, because of the pandemic. "But sometimes, Black joy is a roll of the dice," he says.
After working with a real estate advisor, plus six months of talks between Black Table Arts' three-person team and a landlord, he says the building became exactly what he had imagined.
Not far from where he sits, a small memorial holds space for George Floyd and Daunte Wright, a Black man killed during a traffic stop by Brooklyn Center Police. "A lot of this is rooted in political education," Evol says, after mentioning Black Table Arts' writing workshops and community discussions. "We write about what our opinion is about George Floyd Square, what our opinions are about Daunte Wright, about food deserts. What does it mean to live in a state with wide disparities in income?"
The Last Word
Evol grew up about two miles west of the Black Table Arts building, not far from the intersection that is now George Floyd Square—and part of the reason he says he chose the location.
Back in high school, Evol discovered the Twin Cities' spoken-word scene via programs like TruArtSpeaks and Quest for the Voice. From there, he moved into the nonprofit sector, working with south Minneapolis' Pillsbury House Theatre on writing workshops, a youth theater program, and arts literacy campaigns.
Two gutsy influences have steered his work: Gwendolyn Brooks' "verse journalism" (to "capture what's actually happening to us, that might differ from what the police are saying, from what the mayor is saying," he says) and Surrealism, a feisty arts movement that probed the fissures between WWI and WWII. "We think about Surrealism as the emancipation of the imagination," Evol says, adding, "Let's speak about a world as if it can come true."
At press time, the cooperative had 80-plus members as part of its pay-what-you-can model. If you're not Black, you can still sign up to financially support members who may lack the means to pay the recommended $10-per-month minimum.
For Evol, Black joy seeps through all that Black Table Arts does. Black joy is "a perpetual newness in spite of the circumstances," he says—an answer to a quote he attributes to theologian James H. Cone: "We cannot let the lynchers have the last word." As a form of expression, Black joy liberates, he continues: "In the context of a people that have been subjugated and that have been oppressed, that's subversive, right?"
He adds that he wants the building to house Black joy "without the anxiety or the paranoia of violence … without thinking about, you know, when the police are going to arrive."
The staff—now up to seven—have kindled bonfires and hosted karaoke. The building opened as a drop-off site in April for Daunte Wright's family, and as a space of solidarity after a violent June conflict in Palestine. Alfred Sanders, director of operations, recalls a Pride event on Juneteenth full of line dancing and singing. "We have a big sign that says, 'I love all Black people,'" the singer and music producer says. "It's limitless, right? People can come as they are. They don't have to conform."
Carolyn Holbrook, a Twin Cities-based organizer and author of last year's earth-churning memoir Tell Me Your Names and I Will Testify, tells me she is working with Evol on a monthly speaker series about local Black history at Black Table Arts. "It's highly important to have a space where you can be with people like yourself," she says by phone, "where you don't have to explain yourself—which we often have to do when we're with white people."
This isn't the first time an alternative arts space has formed in the Twin Cities. Holbrook led a similar project in the '90s, called SASE: The Write Place. The group promoted literary arts accessibility to underserved communities. "Keno is providing one of the major opportunities for the younger people coming up now," Holbrook notes, adding, "Being able to tell your story, whether you do it through music, dance, poetry, is vitally important for healing and health."
In that, Black Table Arts isn't alone. Since last year, other Black-led organizations have sprouted brick-and-mortars, or are trying to (see below). Like many of them, Evol's effort has emerged from the uprising.
In fact, a bold Surrealist stripe runs through an addition to the organization's programming: a five-month fellowship that enlists artists to envision a police-free future. Participants were not declared at press time, but the Uprising Black Futures project intends to grow three artists' organizing abilities and their "programmatic imagination." "There's work to be done, if we're going to throw out these ideas," Evol explains.
In Holbrook's view, that's how progress has tended to work. "The rest of the world catches up with the artist," she says. "It's not the other way around."
Look for the Because Black Life Conference toward the end of 2021, follow Black Table Arts on Instagram (@blacktablearts) and Twitter (@BlackTableArts), and learn more about Black Table Arts here.
---
New Black-led Centers for the Arts and Healing in the Twin Cities
This virtual concert venue serves as a safe space for all in the music industry and aims to "present performance and knowledge amplifying the BIPOC and LGBTQIA+" folks.
Check out the online fundraising campaign for what is intended to become a center for Black-led art programs here.
This Black- and queer-owned bookstore has a brick-and-mortar at 2836 Lyndale Ave. S. in Minneapolis.
This healing and wellness center focused on Black women and women of color is planning to open a physical space in the Longfellow neighborhood. Learn more and donate here.
Launched last year by Dr. Joi Lewis, this center aims to provide various forms of healing support, education, and mutual aid.
The legendary theater-arts bastion in St. Paul is expanding into a racial healing center. Read more about the reasoning behind the transformation here.
Facebook Comments