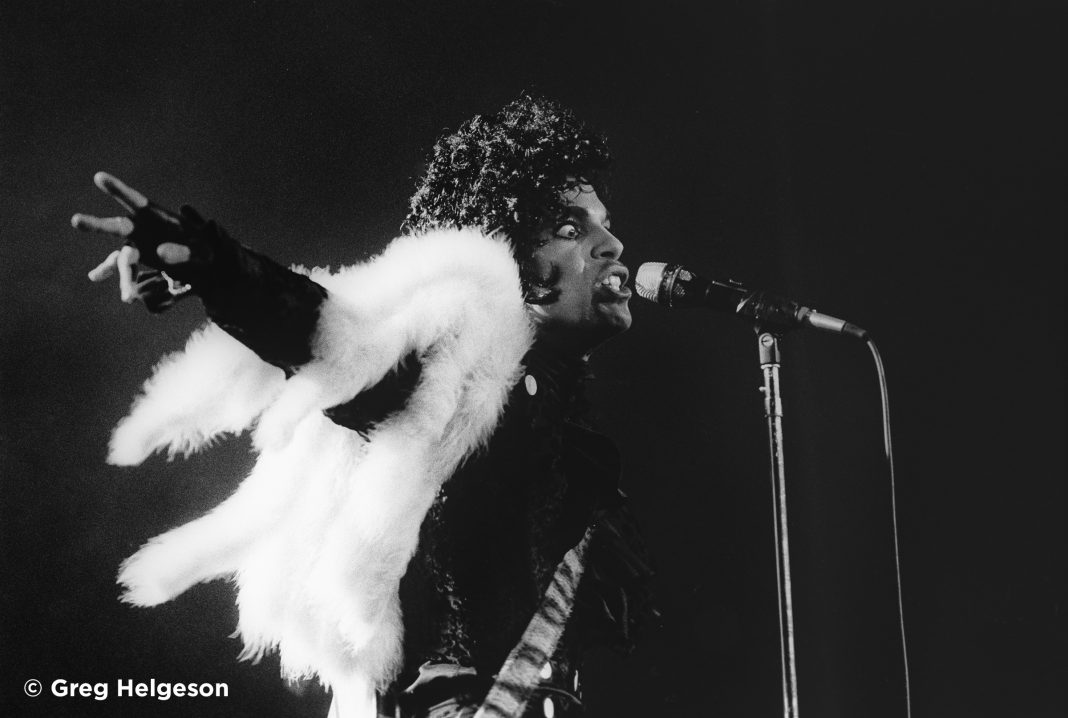 Prince left us three years ago this month. This weekend, the Twin Cities host many events in his honor—including both intimate and danceable musical shows, a concert screening, new books, Celebration 2019, and more.
Paisley Park Performances
What: Celebration 2019
When: April 25-28,
Where: Paisley Park, 7801 Audubon Rd, Chanhassen
Paisley Park, in Chanhassen, has become possibly even more of pilgrim's destination than it once was. Live musical performances fill the recording studio/home/venue this weekend, although the complete schedule is not on the Celebration 2019 website. Names in the lineup include Jesse Johnson, guitarist and original member of the Time; Prince's group the Revolution, with Bobby Z, BrownMark, Lisa Coleman, Wendy Melvoin, and Matt Fink; and Funk Soldiers, a supergroup joining the New Power Generation with former collaborators. Read through a slate of guest speakers here.
Prince Tributes throughout the Metro
Across the Twin Cities, musicians and former creative partners are paying tribute in their own ways.
Shelby J.
What: "After Hang"
When: April 25; 7, 10 p.m.
Where: Capri Theater, 2027 W. Broadway Ave.
When Prince performed his first solo concert, at the Capri Theater, tickets were $4. Forty years later, the Capri is about to undergo some serious renovations. So, this is one of your last chances to catch a performance in the original space—and you couldn't ask for much better than Shelby J. She sang with Prince for years, including at the Super Bowl, and, on Thursday, takes the stage for a show where the tickets are—yep, $4. Proceeds go to the renovation. Learn more.
The Jellybean Johnson Experience
What: "Nothing Compares 2 P"
When: April 25, 7 p.m.
Where: Minnesota Music Cafe, 499 Payne Ave., St. Paul
Jellybean Johnson—a songwriter, guitarist, drummer, and producer for Prince's band the Time—leads a celebratory show alongside musicians Marva King, Ken Valdez, Danny Kusz, Jeffree Mak, and others. Learn more.
Mina Moore
What: "A Celebration of Prince and the Minneapolis Sound"
When: April 26, 10 p.m.
Where: Dakota Jazz Club, 1010 Nicollet Ave., Minneapolis
Local singer-songwriter Mina Moore released an album last year, Amongst Ourselves—and she's also been lending her emotive, soulful tones to covers and tributes around here for a while. (We talked with her when she covered Amy Winehouse last summer.) At the Dakota, she interprets Prince and Minneapolis' legacy of funk. Learn more.
DJ Larry Peace
What: "Prince Rooftop Celebration: A Purple Dance Party"
When: April 26, 10 p.m.
Where: Union Rooftop, 731 Hennepin Ave., Minneapolis
Event organizer Flip Phone's Prince drag brunch already sold out, but they're also working with former Prince DJ Larry Peace for their Union rooftop party this Saturday—to play the best-ofs and the deep cuts. Learn more. 
LP Music
What: LP Music at Icehouse
When: April 26, 11 p.m.
Where: Icehouse, 2528 Nicollet Ave. S., Minneapolis
This duo of Prince collaborators—Eric Leeds and Paul Peterson—help mete out the music, live, during a screening of Prince in concert, at the Armory (see below). Afterward, they head over to Icehouse for a show. Learn more.
Collins Love Mpls
What: "Love 2 the 9's"
When: April 27, 11 p.m.
Where: Parkway Theater, 4814 Chicago Ave. S., Minneapolis
Prince keyboardist Tommy Barbarella, vocalist Julius Collins, percussionist Peter Janjic, and guitarist Jeremy Ylvisaker tell their best Prince stories and play the music at Parkway Theater. Learn more.
DJ Dudley D
What: "The Dance Electric: Ol' Skool Company"
When: April 27, 11 p.m.
Where: Icehouse, 2528 Nicollet Ave. S., Minneapolis
Since 1997, DJ Dudley D has facilitated hundreds of late-night parties at Paisley Park, and toured with Prince worldwide. He once again captures Prince's sound at Icehouse on Saturday. Learn more.
The NPG with Támar
What: The New Power Generation
When: April 27, doors at 9 p.m., music at 11 p.m.
Where: The Fine Line Music Cafe, 318 N. First Ave., Minneapolis
As part of Celebration week, Prince's New Power Generation backing band plays a tribute show at the Fine Line Music Cafe, with Grammy-nominated vocalist Ashley Támar Davis. Davis sang co-lead on Prince's 2006 album 3121, and now she's lending her pipes to the NPG for the first time in the U.S. Learn more.
Prince on the Big Screen
What: Prince: In Concert on the Big Screen
When: April 26, 8 p.m.
Where: The Armory, 500 S. Sixth St., Minneapolis
On Friday at the Armory, remastered footage—plus previously unreleased audio—of Prince in concert gets a cinematic showing. Providing the soundtrack, an ensemble of musicians, who have performed with Prince throughout his career, take the stage. It's the second annual event of what feels like a communal new tradition. (VIP ticket holders—a sold-out crowd, who each paid at least $1,049—attend an exclusive dance party at the Armory afterward.) Learn more.
Book Clubbing
Lately, we've had no shortage of fresh reading material to unpack Prince's legacy.
On Saturday, April 27, an author panel at the Hilton, in Minneapolis, pulls together three authors for the Purple Paisley Cocktail Party & Panel: Chris Riemenschneider (First Avenue: Minnesota's Mainroom), Allen Beaulieu (Prince: Before the Rain), and Jim Walsh (Gold Experience: Following Prince in the '90s).
Afterward, at 9 p.m., Beaulieu will sign copies of his book at the free Party Uptown, at Moxy in Minneapolis, along with Kim Berry (Diamonds and Curlz—which looks at Prince from the POV of his L.A. hairstylist) and Andre Hollingsworth (Prince Coloring Book: A Tribute to His Musical Genius). The event features DJ Wae Fonkey as well as the YouTuber behind the "Prince's Friend" channel.
Reading Itinerary
If you can't make the events, here are some new, locally authored books about Prince—ahead of this fall's release of an unfinished memoir, The Beautiful Ones (Random House).
Prince: Before the Rain (Minnesota Historical Society Press) goes deep into the visual lore—as photographer and author Allen Beaulieu worked with Prince throughout the late '70s and into the early '80s.
Jim Walsh covered Prince for the Pioneer Press, and he compiles reporting from the '90s in new book Gold Experience: Following Prince in the '90s (University of Minnesota Press). Walsh captures the Warner Bros. feud, the parties, the musical influences, the long Target Center lines before concerts, and more.
In First Avenue: Minnesota's Mainroom, music critic Chris Riemenschneider takes us behind the scenes of Minneapolis' premier music venue—so you better believe Prince plays a big part. The book comes out in conjunction with a new exhibit at the Minnesota History Center, where you can see Prince's Purple Rain suit.
In his new book Hijinx and Hearsay (Minnesota Historical Society Press), author Martin Keller tells the local pop-music tales that only a scenester of the late-'70s to early-'90s could. As an early media supporter of Prince, Keller talked to the quiet, closed-off 21-year-old; the philosophical married man who wanted to reflect on busing into Kenwood for school; and the mysteriously spiritual, anti-rockstar pop guru. Keller dishes on early impressions of "Purple Rain," Prince's monastic commitment to Chanhassen, and why, maybe, he threw all those Paisley Park pajama parties. (Catch the release party May 1 at the Electric Fetus.)