Club Purple, Courtesy of the Minnesota Vikings
Presented by: 
Have you been past the new Minnesota Vikings stadium lately? Construction is moving right along, getting ready for its 2016 opening. With the addition of the stadium to the city's landscape comes new and exciting ways to view its games and events. One such way is Club Purple, a club within the stadium that promises to be a first of its kind experience for spectators. 
We had the chance to talk with Jon Barthelme, director of new stadium premium sales for the Minnesota Vikings about the innovative new area that gives football fans a whole new way to watch the game. 
Tell me about Club Purple. What is it?
Club Purple is the latest dynamic club within the new Minnesota Vikings stadium that features several unique seating products for companies and individuals.
First, we designed what we're calling our lounge boxes. These will include sofa-lounge seating and Vegas-style table service. Instead of a fixed stadium seat, you'll have a comfortable sofa which will seat anywhere from six to 12 folks, depending on which spot you select.
We also have eight-person loge boxes. There will only be eight constructed in Club Purple.
Additionally, we'll have drink rail seating right where you enter the club at the top, as well as individual club seats.
Each of these products will be all-inclusive, so whether you have an individual club seat or you have one of the sofas or loge-style products, everybody will have the same amenities and benefits of being in the Club. Beer, wine, and high-end food is all included in the club's price.
It sounds very posh, being able to relax and kick your feet up, take it easy, and take the game in almost as you would in your own living room. 
Absolutely. We've had tremendous success and high interest in this new club being it's so unique. No other stadium has this type of seating. It's been very well received right out of the gate.
Another distinctive feature is the outdoor deck, looking out from the northwest corner of the stadium. It has an amazing drop-back view of downtown Minneapolis. This is the only area in the stadium that you'll be able to go outside. So on a beautiful, sunny September or October day, you'll be able to head out at halftime, hang out, and enjoy a cocktail with some friends or clients while watching the game.

Club Purple Floor Plan, Courtesy of the Minnesota Vikings
Tell me a little about what sort of fan would enjoy this experience.
There's something for every type of fan in Club Purple. I think it gives you an amazing view of the game as it's a mezzanine view, so you're high up enough for that fan who wants to see every play of the game. It's also perfect for companies who want to entertain in a social setting that gives you the opportunity to shift around and not be in a fixed seat.
It allows the opportunity to entertain, mingle, stand up, go into the club, or come down and relax and watch the game in your lounge sofa. You are able to be more fluid in your entertainment experience and not necessarily be in one place for the entire game.
Technology also will be playing a big role in Club Purple. Tell us more about how the online experience and the real-life experience of being at the football field will be intermixed.
This is going to be a truly interactive club. We'll be implementing tablets throughout, both in the club and the sofa lounge areas, so folks who have access to the club will be able to check their fantasy lineups and action around the league.
Club Purple will also have numerous video screens, so you're going to have the opportunity to see live replays and different things that are going on around the league. There will be opportunities everywhere to see what's going on live in the game.
Additionally, it's going to be the location where reporters will give live and halftime updates and different pre-game shows will be based.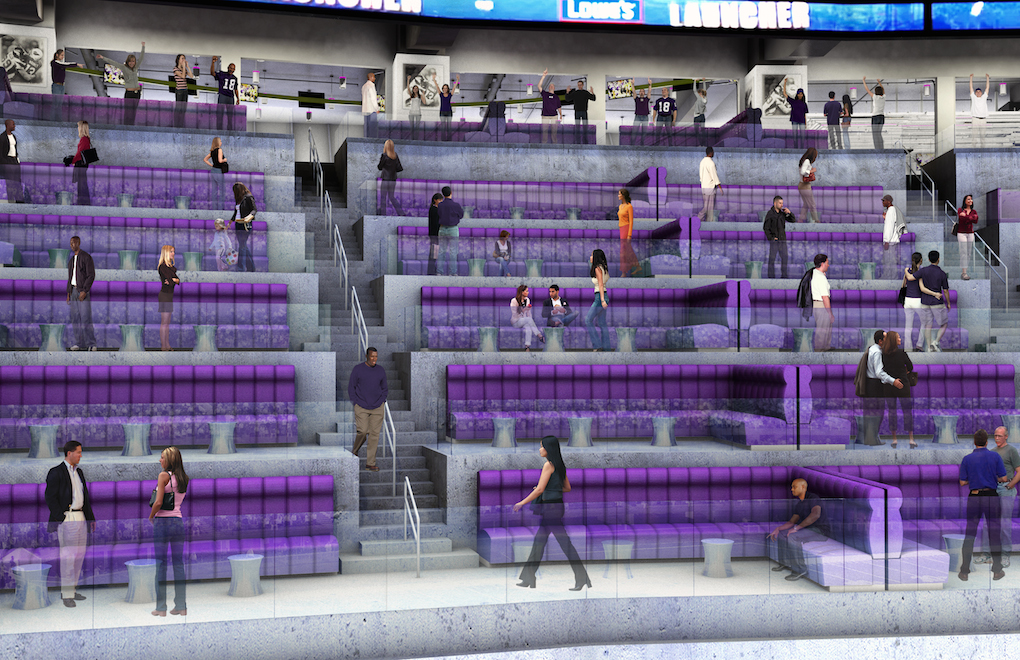 Club Purple, Courtesy of the Minnesota Vikings
It sounds like there's a lot of excitement happening in Club Purple. It's not going to be necessarily a sit-back experience, but an area where people can move around and get the full, immersive experience of the game. With that being said, where and how do people get more information about this suite?
You can get info in a number of different ways. The website is newminnesotastadium.com. It features videos and renderings of the club, but in my opinion, the easiest way—and best way—is to come down our new stadium preview center, which really brings the new stadium to life.
We have interactive TV screens with videos and views from every single seat, suite, and club in the stadium. It represents the ability to visualize what you will see when you sit down in your seat.
The No. 1 way to really learn more about what's going on with this new club and get all the facts is to come down to our 8,000 square foot preview center and take a tour. We'll also be starting hard hat construction tours of the new stadium in the coming months.
If you are interested in visiting, you can request more information online and we will contact you to set up an appointment or give us a call at 952-918-8552.