On your balcony above or on the beach below, there's nothing better than a good book and a good beer in the summertime. Nobody knows that better than Kacey Hruby Wyttenhove and Katie Terhune, co-owners of Cream and Amber. Their Hopkins bookstore, which opened in February, brings these two essential elements of Minnesota culture together for a community space for both books and beer. They also serve coffee, tea, kombucha, and soda.
Named after the poem which, according to urban legend, helped Edgar Allen Poe settle a tab, Cream and Amber clearly puts its roots in both literature and lagers. So what book and beer pairings do Hruby Wyttenhove and Terhune recommend this summer?
The Lager Queen of Minnesota by J. Ryan Stradal paired with Mexican Honey Imperial Lager from Indeed Brewing Co.
Mark July 23 on your calendar because that's the day that The Lager Queen of Minnesota, by local author J. Ryan Stradal, hits the shelves. Set in Minnesota, this novel follows three women of the same family, one of whom owns a light brewery famous for its lager. As the craft beer scene blossoms, the industry falters. The family and the industry must adapt to the new challenges that face them or risk splintering their finances and their family.
The Honey Imperial Lager from Minneapolis's Indeed Brewing Co. will be the perfect match to this reading material. While Mexican Honey would be slightly bigger and bolder than one found in Stradal's book, it's a lager all the same. The aroma hints of honey and graham cracker while it goes down dangerously smooth for its high ABV. This award-winning beer will give you a sweet taste of what the Lager Queen of Minnesota is so worried about.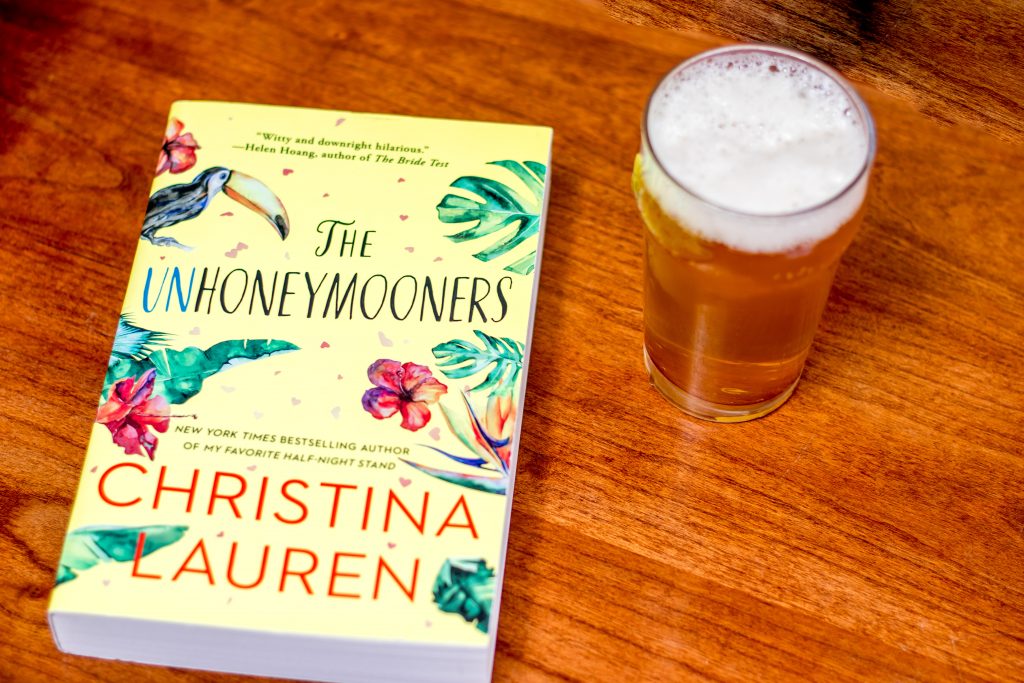 The Unhoneymooners by Christina Lauren paired with Short Pants Lemon Shandy from Bauhaus
Written by best friend collaborators Christina Hobbs and Lauren Billings, The Unhoneymooners is the perfect read for the romantic. Unlucky in life and in love, Olive Torres is dreading spending her twin sister's wedding with best man and nemesis Ethan Thomas. However, when food poising leaves the rest of the party out of commission and a free honeymoon trip up for grabs, she isn't about to let Ethan enjoy it all himself. Set in Maui, Hawaii, The Unhoneymooners follows the pair as they pretend to be newlyweds—and they just might find those feelings aren't so fake.
While reading about Maui, make sure to sip on Short Pants. This lemon shandy from Minneapolis's Bauhaus Brew Labs is a citrus beer made with natural lemon products. This lemony ale will serve the same sour and sweet ups and downs as Christian Lauren's plot.
Calypso by David Sedaris paired with Peach Bum IPA from Indeed Brewing Co.
With his same sharp and witty voice, Sedaris's newest book Calypso tackles middle age and mortality. A self-proclaimed "beach read for people who hate the beach," this collection of essays will have you laughing up your beer.
That beer should be Peach Bum IPA from Indeed. The yeast used in this IPA makes peach-like flavors and the hops Mosaic, Citra, Azacca, and Centennial add even more of a fruity aroma.
Both Sedaris and Peach Bum have a very specific flavor, but those who enjoy them, will love them.
The River by Peter Heller paired with Blk Wlf Stout from Able
If you prefer something suspenseful, checkout The River by Peter Heller. This wilderness thriller follows two college best friends, Wynn and Jack, as they canoe the northern Canadian Maskwa River. A wildfire adds newfound urgency to what was supposed to be a laid back adventure. When they hear a couple arguing, they go to warn them about the fire. Instead, they happen across a mystery. Where did the couple go? And when a man appears alone a few days later, what happened to the woman? Is it even the same man?

Dark as the wilderness, Blk Wlf Stout from Minneapolis's Able Brewery will continue your curiosity. Dry yet hoppy with notes of nuts and a creamy texture, this brew contains elements from all kinds of stouts: Irish, American, oatmeal, and even milk stouts. A mystery in and of itself, Blk Wlf will be a perfect accompaniment to the dark and twisty tale of The River.
---
Find all of these pairings at Cream and Amber or discover new ones. I'm sure you'll find something to your liking.
Facebook Comments