Rendering by Dan Gleeson; photo of Kevin and Melissa Dessart by Chad Novak Photography.
Thirty-four thousand square feet is a lot of room—think one Lowertown indoor parking ramp, to be exact. When husband and wife Kevin and Melissa Dessart transformed the massive parking space into an artists' hub, they fulfilled their dream of running creative community in St. Paul. Now the aptly named Creators Space not only encompasses collaborative and private studios—of wildly different media—but it also has a coffee house and large commons area open to all, as well as a meditation area and salt cave.
"Because the space came to us and provided all that room and all that opportunity, we said, hey, let's make it for everybody, not just specific for potters and painters," Kevin Dessart says. "If you're a photographer and maybe you always wanted to try your hand at pottery or painting, it's going to be available for you."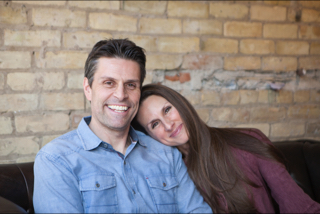 Creators Space isn't only for those who consider themselves artists, though. It's also for the dabblers, the passionate, and the curious. People who are monthly members get full access to studio space and tools such as electric kilns, photography lighting, video microphones, and easels, but non-members can experience the space through the coffee shop, 4,000-square-foot lounge/commons area, and classes.
"It's a place for anybody to come and participate in kind of nurturing their own creative spirit—we say that Creators Space is [also] for the just-beginner," Melissa Dessart says.
The coffee house is already open with its lattes, cold brews, and Americanos. Mother's Day weekend saw a huge leap of momentum for what is looking to be like a very robust class calendar. The Dessarts are looking to offer anything their instructors are interested in, which so far includes classes in watercolor, felting, Gaga dance, spirit dolls, yoga, herbal skin salve, and more.
Artists have already locked up the eight private studio options in Creators Space, but those aren't the heart of Creators Space to the Dessarts—the huge, collaborative studios are. The full building doesn't open until June 8, but one quick look at the floor plan promises a hive of activity with a Clay Chamber, Flow Studio, Shutter Box, Learning Lab, and more. Now, the walls are the simply painted or have exposed brick or limestone block accented by lighting, but as Creators Space grows, the Dessarts look forward to the artists' work lining the walls as well as the energy and community that will fill the rooms. 
The Dessarts have even more dreams in the pipeline for Creators Space, including a regular live entertainment schedule, an in-house creative agency, and resources to help artists develop professionally. It's a lot on top of their already ambitious space, so can they do it? Given their ability to go from idea to reality in two years with some help from "the right people [who] have shown up at the right time," as Melissa Dessart says, they have a pretty good chance.
Creators Space, 218 Seventh St. E., St. Paul, creatorsspace.com

Photo courtesy Creators Space
---
Nurture Your Creativity
The Creators Space is the newest of an abundance of creative spaces around the Twin Cities area. Some are more niche than others, but all offer classes and space. Below are a few options to explore, but our artists cover everything, including glass blowing, aerial silks, and playwrighting. 
The Chicago Avenue Fire Arts Centerhas almost anything you could want to get into the metalworking arts, including classes on jewelry making, blacksmithing, neon work, and kinetic sculptures. 
The Northern Clay Centeroffers classes, residencies, artist grants, and more, so whether you're completely new or want to go from hobbyist to professional, they have a program that fits. 
At the Minnesota Center for Book Arts, it's all things paper. Take single, casual classes or multi-day sessions and learn skills like book binding, paper making, and using the letter press. Then, when you know the ropes and want to play around, attend their open studio sessions. 
In Northeast Minneapolis, the Northrup King Buildingis open every Saturday from noon to 4 p.m. for visitors to wander the gallery's many artist studios, and you can also sign up for various art classes. 
Don't forget to check out resources like the MN Tool Libraryfor more than 2,000 shop tools, some classes, and workshop space as well.
Facebook Comments