Open your refrigerator, and if you have any of these, really look at them: Minute Maid apple juice, Diet Coke, Fresca soda, Summit beer, a Jimmy Dean frozen breakfast, a Starbucks double-shot espresso, a Chobani smoothie.
They came from Minneapolis. Duffy, a design firm in the North Loop, designed their containers, among many others from producers around the world. Not just for food: Logos and packages for Fisher-Price, Aveda, Susan G. Komen, Baby Einstein, Mall of America, Qatar National Library, Meals on Wheels America, the Islands of the Bahamas.
In October, Duffy celebrated year 35, marked by an exhibit at Concordia University that runs through today. We asked founder Joe Duffy about changes in the design industry, highlights from his career, and the meaning of Duffy's tagline, "Designs to enrich everyday life." (After all, how many of us think about the ramifications of our near-constant exposure to ads and design?)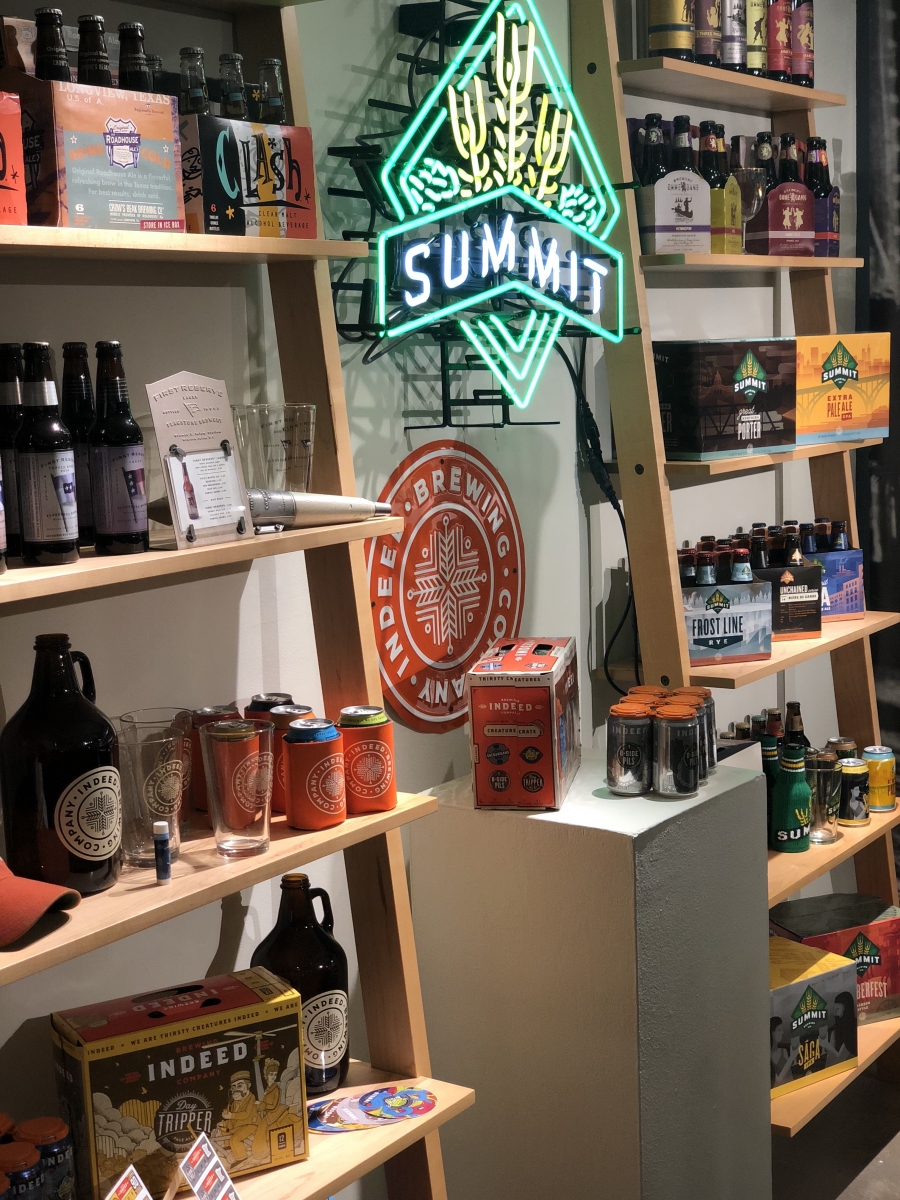 Photo by Natalie Howell
To start, a brief history: Joe Duffy graduated from the Minneapolis School of Art as a painter. He wasn't making money selling his work, so he reluctantly sidelined the fine arts and up the applied arts instead. First, he did commercial illustration, then worked as an art director for area ad agencies.
"I became frustrated with the politics of the business side of advertising," he says. "I really couldn't create the art that I wanted to create." So, he decided to start his own design firm.
Turns out, it would make history. In 1984, Duffy partnered with Minneapolis ad agency Fallon, McElligott & Rice (later just Fallon). Duffy knew the late Pat Fallon from college, and they knew Duffy wanted to start his own firm.
"It was a first at that time," Duffy says. "There weren't any advertising agencies that were doing both the design side as well as the advertising side." Duffy could navigate the ad world from his previous experience, and he continued to approach his work as art, not as a mere business tool. Finally, design and advertising didn't just butt heads.

Photo by Natalie Howell
For the retrospective, Duffy employees ransacked their closets for posters, shirts, anything they could find from the last three decades of the resulting partnership, says Bridget Duffy, general manager and Joe's daughter.
They found copies of a Duffy-designed poster for the Memphis Chicks baseball team. You might recognize it, even subconsciously, from Jerry's apartment on Seinfeld. "I'll never forget it," Joe says. "It was my favorite show, and there it was."
Duffy-designed food items stand on small shelves against blown-up, black-and-white photos of typical grocery-aisle inventory. The point is that good designs stand out.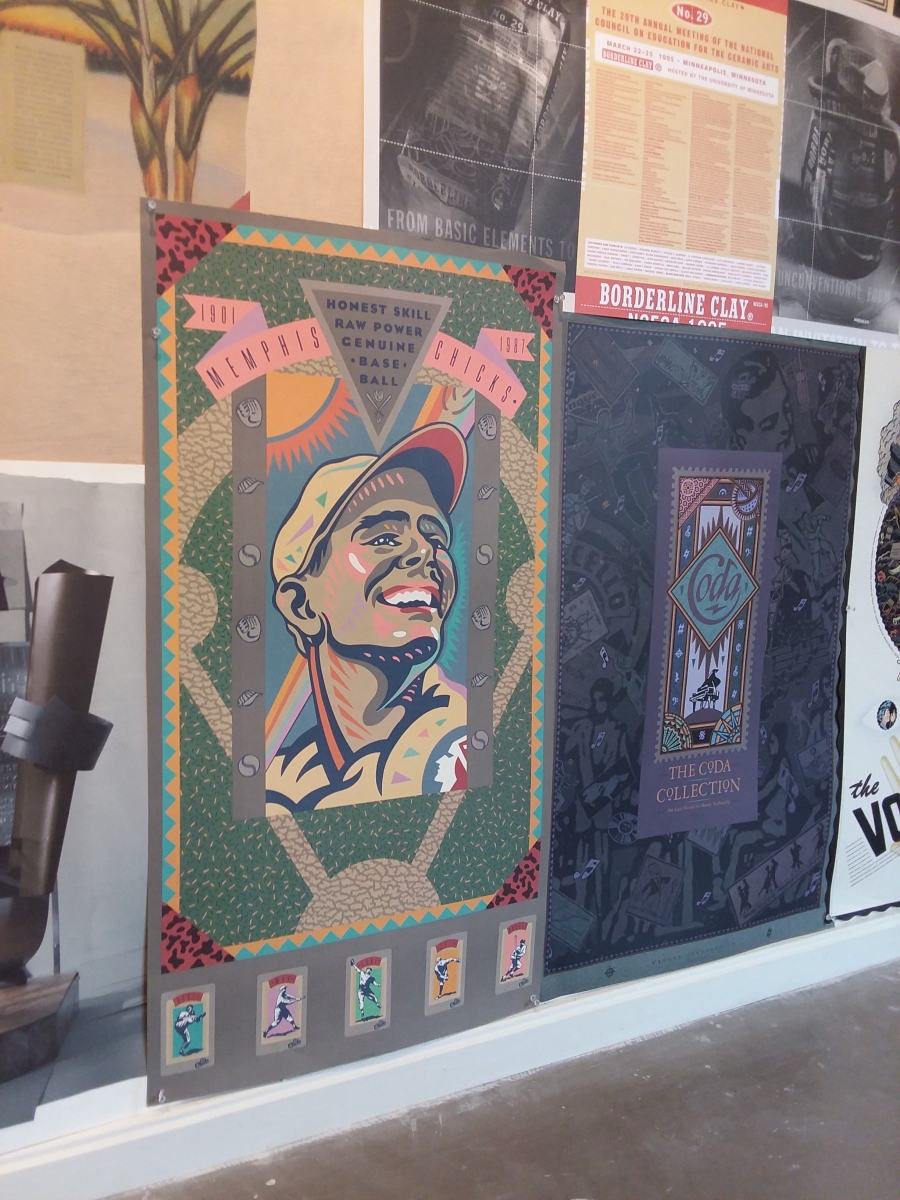 (On left) the poster for the Memphis Chicks that appeared on the wall in Jerry's apartment in "Seinfeld"/Photo by Erik Tormoen
"It's like my dad has always said: He tries to design his life," Bridget says. "In the past, you would go to the store and there might be two, three toothbrushes to choose from. They all do the same thing, and they all look pretty similar. Nowadays, you can find one of 500 toothbrush designs, in different colors and shapes. They still do the same thing, but they look different."
"More" can mean "more personalized"—but not necessarily good. "A lot of design is done simply to get it out the door," Joe says, "and follows old standards of how big the typeface needs to be, or where a logo has to go, what kind of colors to use."
Modern technology has worsened this, to a degree. Take the internet: It has, for sure, helped design—Joe can check on 15 projects in one morning, and designers draw from endless examples of typeface. But the internet has also democratized the craft. In art, that's not always good, Joe says.
"I think there is so much mundane design out there simply because it's not approached like art," he explains. "Because there are so many designers out there now, it becomes, well—'If we have 15 different designers bidding on this, we'll go with whoever's cheapest.'"
It's easier today for anyone to start up as a designer. But that's because it's also easier today for anyone to understand it. "Appreciation for design today—good design—is so much better than it was back when we started," Joe says. People want those 500 toothbrushes to choose from.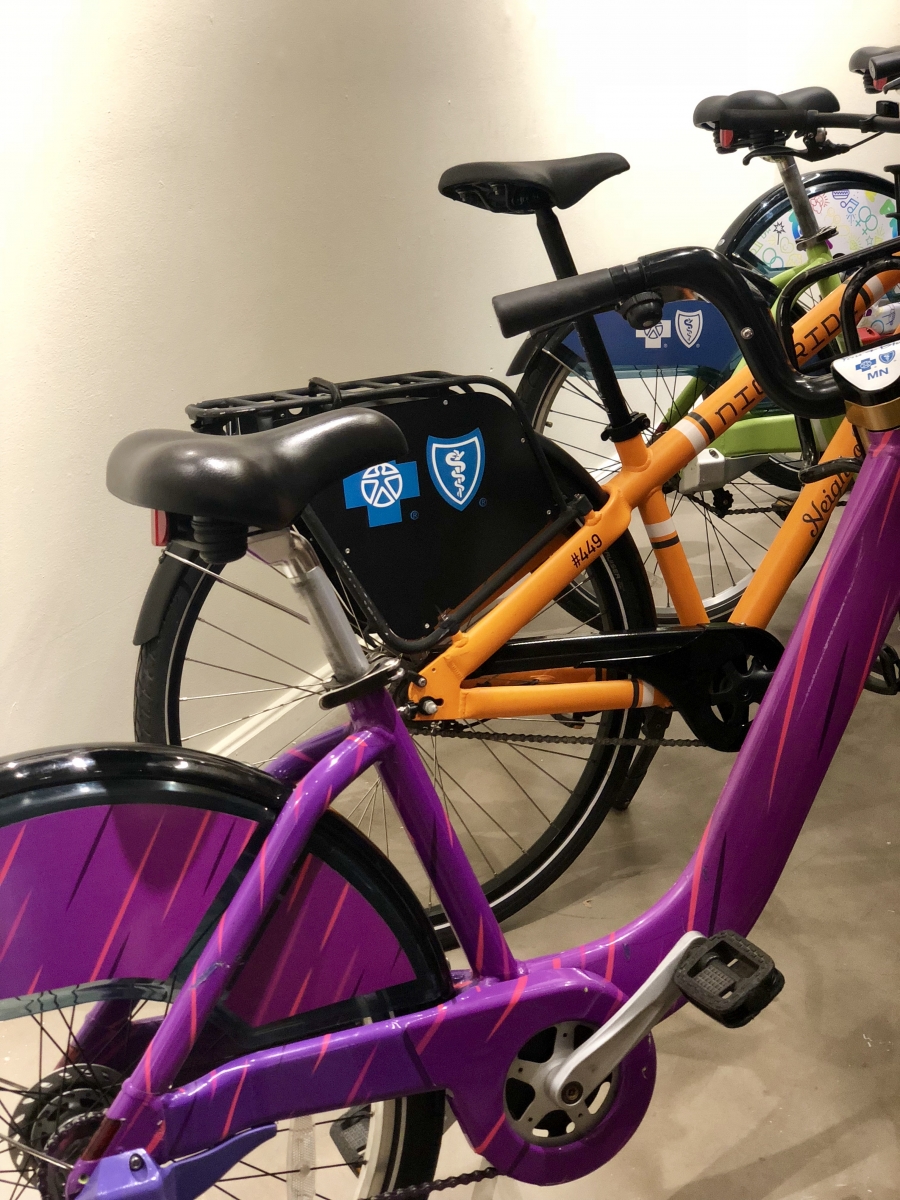 Duffy designed the old Nice Rides, including the prince-themed one/Photo by Natalie Howell
Duffy stays ahead by hiring designers with artistic talent, Joe says—they should be able to render their ideas with just paper and pen, like a fine artist. Given Joe's prestige (see: a Legacy Medal from the American Institute of Graphic Arts and recognition as a "Design Icon" by Computer Arts Magazine and as one of 20 "people to watch" by Graphic Design USA Magazine), another perk of the internet is that Duffy can retain its global clients while keeping talent in Minneapolis.
Why did he never pick up and move to New York or London, where Duffy has had offices? Joe has said that, for one, he grew up here, and our fine arts and applied art communities are actually pretty healthy. This is where "Minneapolis style" was born—a handcrafted aesthetic using old engravings and recycled paper.
That style doesn't characterize the firm today; Duffy has to stay versatile for wide-ranging clients. But one constant, Joe hopes, is that their designs come from the everyday, from the natural world, and that they don't repeat what's already on the shelves.
"I see a particular cactus or some desert plant, and it's so unbelievably beautiful—the color, shape—I know I'm going to be influenced by it," he says of the landscape where he currently lives in Arizona. Duffy employees in the '80s found inspiration rummaging through boxes of photocopies. Today, Joe snaps about 50 pictures a day on his smartphone.
Another reason Duffy can't repeat what's on the shelves? Duffy is what's on the shelves.
"When I walk down the street, and all of a sudden a truck is coming, and I see the International Trucks design on the front of it, it brings back the memory of actually doing that design so many years ago," Joe says. "I never get tired of it."
Facebook Comments