Erik Madigan Heck has shot Adele for Time magazine, Nicki Minaj for The New York Times, and fashion editorials for Harper's Bazaar and Vanity Fair. Now, the renowned photographer and Minnesota native— known for his painterly fashion photography and portraits—is having his first hometown show at the Weinstein Gallery in Minneapolis.
Old Future features more than a dozen works spanning the 33-year-old artist's career, from striking portraits showcasing the sculptural works of Comme des Garçons designer Rei Kawakubo for The New York Times, to his floral-drenched, highly patterned imagery for British designer Mary Katrantzou. His distinctive, eye-catching works combine traditional photography techniques with modern technology, and the resulting works look like futuristic versions of Old Master paintings.
Born in Excelsior, Minnesota, Heck attended Benilde-St. Margaret's in Minneapolis as a child. With the encouragement of his painter mother, he first picked up a camera as a teen and became immersed in the worlds of fine art and avant-garde fashion. Upon graduation, he headed east, attending school at Salve Regina University in Rhode Island and grad school at Parsons the New School for Design in New York.
Since then, Heck has worked with clients ranging from BMW, Levi's, and Sotheby's Diamonds to fashion labels such as Kenzo and Etro. In 2012, he became the youngest person to shoot Neiman Marcus' iconic "Art of Fashion" campaign, which has previously been shot by the likes of Richard Avedon and Annie Leibovitz. In the years following, he received an Infinity Award from the International Center of Photography and a gold medal from the Art Directors Club, and earlier this year, he published a book of his work with famed art book publisher Thames & Hudson and Abrams Books entitled Old Future, the basis of the Weinstein exhibition of the same name.
In advance of Friday's opening reception at the Weinstein, I spoke to the artist on the phone from his home in rural Connecticut.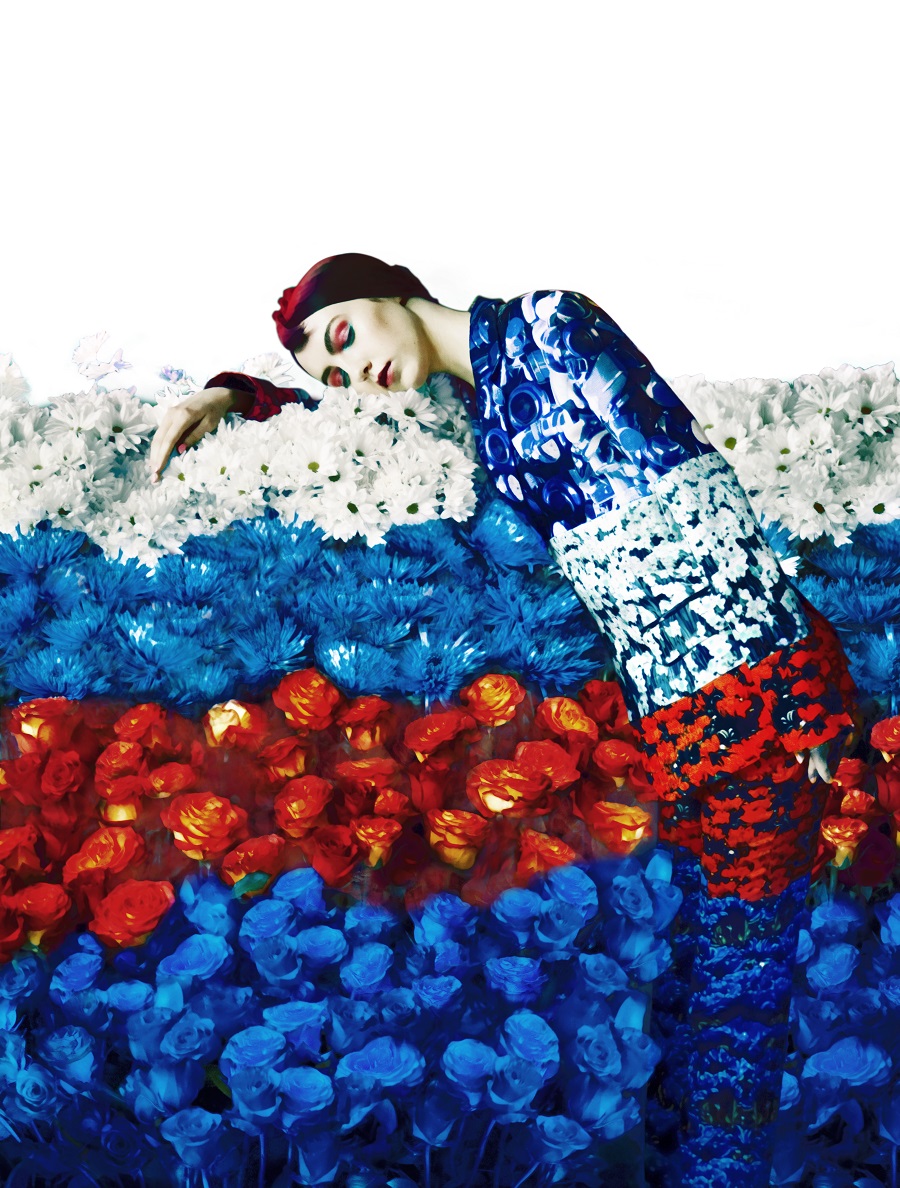 Florals, 2012 (Mary Katranzou) by Erik Madigan Heck
How did you come to live out in the woods? How does living in nature inspire your work?
"It was a choice when my wife and I decided to have children. Living in New York, we decided it wasn't the best place to raise kids. Then we found out about this town in Connecticut. It's kind of a community of artists, actors, creatives, and farmers, which is pretty cool. It's pretty remote, just farms and a lot of hiking. Most of my work is landscape or studio based, and a lot of my fashion work has become more about being in nature, so I do think it has an effect."
Do you think growing up in Minnesota affected your work in any way?
"I was in nature all the time. My dad, like all good Minnesotans, had a cabin we'd go to all the time. Both my parents were avid hikers."
Your mother was a painter, and your photographs have a very painterly quality. How do you think growing up with a mother who was a painter impacted your work?
"I grew up painting with her, and I probably learned all of my color from my mother. I think most of my foundation came from her painting. She painted landscapes and portraits, and those are the two things I do now. We have a lot of her oil paintings up in our house that are paintings of Minnesota landscapes, and they look a lot like the landscape work I do now."
How did you first become interested in photography? What were the first subjects you photographed?
"I think I was 14. I used to DJ, and all my time was spent buying records and sitting in my room with headphones just mixing. I think my mom really wanted me to leave the bedroom and get out into the world, so she bought me a camera and she'd make me go out with her every Sunday and take pictures. It started with taking pictures of downtown Minneapolis, shadows, buildings. I did that for a couple of weeks and I started really liking it. I think I knew immediately that it was something that I really loved doing and that it was what I was going to do. I remember going to university and knowing it didn't matter what i was going to study because i was just going to be a photographer."
Comme des Garçons, 2017, by Erik Madigan Heck
How did you decide to approach photography as fine art? Was there a specific moment of intention, or was it something that evolved organically?
"For the first 10 years or so, I only shot black and white, it was really graphic. Actually, I used to go to the Weinstein Gallery, and show Martin [Weinstein, the gallery's owner] my photos. And he'd always be like, yeah, come back later. I think it was maybe 2011 that I did a collaboration with Mary Katrantzou. She had been making these colorful, sculptural collections, and I remember looking at her clothes and thinking, these are outfits in a painting, and that it'd be sweet to create a style or approach that would look like a Édouard Vuillard painting—he was one of my favorite painters. My black-and-white work, which I had been doing at the time, was really good, but it was really difficult to do something new with the black and white format. The [Katrantzou] work was the first time where I felt like I made something that was entirely new. It was the result of noodling around 'til I found something. I started playing with different darkroom and retouching techniques, and found a way to flatten the space and soften the color so it looked like paint. I thought, let's see how far we can push it. It took a month of experimenting, but I found a formula. We put out the pictures, and people though they were pretty weird and didn't know how to react to them at first. Then after a couple of months, they were all over the internet."
What was your first high-profile project? Was there a moment where you can pinpoint the beginning point of where things really took off?
"Someone bought the creative director of Neiman Marcus one of my books I had self produced in 2011—we printed something like 2,000 copies. She booked me for the "Art of Fashion" campaign, a very historic ad campaign. They bought 20 pages in Vogue, and that helped get my work out to a larger audience. Plus, I kept working with designers I liked—Ann Demeulemeester, Haider Ackermann—small designers who didn't really have money but had collections that were really inspiring."
Tell me about the title of the exhibition, Old Future. Your work does seem to reference both the forms of classic paintings and futuristic vibrant colors and otherworldly shapes.
"It was a combination of many things. People had a hard time describing my work. It's like Old Master paintings but it's really futuristic. The phrase "old future" also felt kind of cheeky. We said it as a joke in the beginning, but I thought, it's actually kind of good. It says what the work is in two words. It's steeped in history but it's also something new using technology."
Mary Katrantzou, 2011, by Erik Madigan Heck
How did the opportunity to publish a book come about? How did you go about selecting the works to be featured?
"Thames & Hudson is one of the biggest publishers of art books in Europe. They had published a book four years ago called Fashion Photography Next, where curator Magda Keaney put together a book of who she thought was the next generation of 25 photographers, and I was in that book. Then I met the publisher, and they really liked my work. They've been my favorite publisher since I was a teenager. Two years ago, we met in London and he was like, I think we might be interested in putting out a monograph of yours, which is a big deal, they're a very old publisher and institutional art history textbooks. They don't really do a lot of young artists. I took about two years to put the book together. I worked with my friend Michael Aberman, who's also from Minnesota, and is a really great graphic designer. The book is about colors—it starts with blues, and goes into yellows and reds and ends in black and white, so it's kind of a colorscape."
What's your typical process for creating an image or series? Are you given any direction by the publications for which you shoot, or do they give you free reign? Where do you start?
For studio, I'll normally have a conversation with the stylist. One hundred percent of fashion now is dictated by advertisers. The stylist tries to find a thread throughout the clothing to tell a story that makes sense from a fashion perspective. I'll create a concept around that that makes sense visually. Recently in the last year or so, I've been creating concepts that we then pitch to magazines, so it's the other way around. There are a lot of projects that I want to do that don't have anything to do with clothing up front. For example, we just did a story that will come out in the November issue of Harper's Bazaar. I collaborated with Getty Images to use historic images from the 1890s to 1940s as source material. We photographed my friend, Gweneviere, and put her in the pictures in the place of somebody else, styling it similar to the period but with designer looks from the current season."
You often shoot backs of heads and otherwise obscure the subject's face. Why?
"It started out as a reaction to the fact that so much of fashion and the portraiture world was about celebrity and about who was wearing clothing, and I always felt like that was annoying, because fashion pictures should be about fashion, not about the models. I'm more concerned about color, composition—everything but the person. I just felt like to really drive that point home, it'd be better to not shoot people's faces and turn them around. 99 percent of fashion seems like it's about who wore it, all these things surrounding the actual piece of clothing, which makes no sense to me."
The Absorbed Tradition, 2014 (Etro), by Erik Madigan Heck
What do you enjoy about working with fashion?
"For me, fashion is a way do a lot of different types of work in one place but also monetize it. I wanted to make a living as a photographer, not as a hobby. Fashion is the most lucrative. That was an early decision. Once I decided to shoot color work, it really became about the color. Fashion became a way to put more color into the work and make it more decorative and create these worlds that were somewhere between the history of painting and this futuristic place. I also really love fashion as a medium. Since I was in high school, I always knew avant-garde designers, I had an encyclopedia of knowledge, and I respected fashion as a medium, so with my photography, I ended up sort of merging my interests into one place."
Why do a show in Minnesota, at this point in your career?
"The show is important to me because it's the first time I'm showing in Minnesota. Ironically, I had to leave for half my life to leave and come back to do a show. I'd be talking to Martin [Weinstein] about my show since I was high school, so it's a nice full circle to come back and show my work. I think my high school teachers will be there, my family will be there, so it will be a homecoming of sorts."
Weinstein Gallery hosts an opening reception with the artist on Friday, September 8 from 6-8 p.m. Erik Madigan Heck: Old Future is on view from September 8-October 20 at Weinstein Gallery, 908 W. 46th St., Minneapolis, 612-822-1722, weinstein-gallery.com
Without A Face, 2013 (New York Magazine) by Erik Madigan Heck
Facebook Comments