Eyebobs has developed a cult following for its stylish, colorful reading glasses geared toward the "irreverent and slightly jaded" since its 2001 debut. Now, local shoppers looking to get their eyebobs fix can shop at its first branded store. The company recently opened a "retail lab" located in the lower level of eyebobs' Minneapolis headquarters, where it is also offering prescription eyeglasses and polarized sunglasses for the first time. 
It all began 18 months ago when Michael Magerman, a consumer and retail industry veteran, joined eyebobs as its first CEO to help grow the company. One of the first things he noticed was a few tables littered with eyebobs product at the front of the company's headquarters. When he asked about them to Julie Allinson, the founder and president of eyebobs, she explained that people would see the eyebobs logo on the building when they were driving by and come in, wanting to purchase a pair of readers. "Instead of saying no, she set up tables and took orders," he says. "I thought, wait, we've got something here" and the idea to open a retail store was born. 
Another lightbulb moment came after Magerman met with associates from some of the brand's top retailers in the Twin Cities area, including MartinPatrick3, Allen Edmonds, and Hubert White. "To our surprise, I learned that about half of their shoppers were taking our reading glasses, knocking out the lenses, and putting prescriptions in them," he says. "We were already making optical-quality frame—why not offer prescriptions? It was a natural move."
The brand launches between 100 to 150 new styles and colors every year, designed by eyebobs' longtime eyewear designer, Jason Engelman. Those constant additions are part of what drive the eyebobs customer, which typically owns four to ten pairs of eyebobs frames. "They want to have ten different ways to express their personality," says Magerman. 
In addition to designing new frame styles, Engelman continually makes the brand's most popular designs fresh with new patterns and colors. "That's part of making a popular style stay popular," says Magerman. Recently, the brand has also debuted a limited-edition collection of Engelman's "greatest hits," bringing back many vintage eyebobs designs from its archive.
For its new prescription frames and lenses, the company decided on a simple pricing model, with a single price point across all 450 frame options ($89 for readers, $149 for polarized sunglasses, $199 for single-vision prescriptions, and $299 for progressives). Despite the reasonable prices, "we don't bait and switch—our lenses come from one of the best lens manufacturers in the world," says Magerman. "You're going to get a high-quality product that also looks great and has great style."
To bring eyebobs' "irreverent, slightly jaded" brand identity to life in a retail setting, Magerman tasked Engelman to come up with something that is artful but also "eyebobs-y" for the space. The result is a colorful mobile made out of the same acetate material used in eyebobs eyewear. "It's a great way to show the quality of the acetate as well as the color and patterns of eyebobs," says Magerman. "It's really a piece of art."
The new retail lab also includes an optical exam room, so shoppers can get their prescription and pick up a frame (or six) in one fell swoop.
Now open @ 1401 Glenwood Ave., Minneapolis, 612-822-0717, eyebobs.com
More images from the new eyebobs retail lab: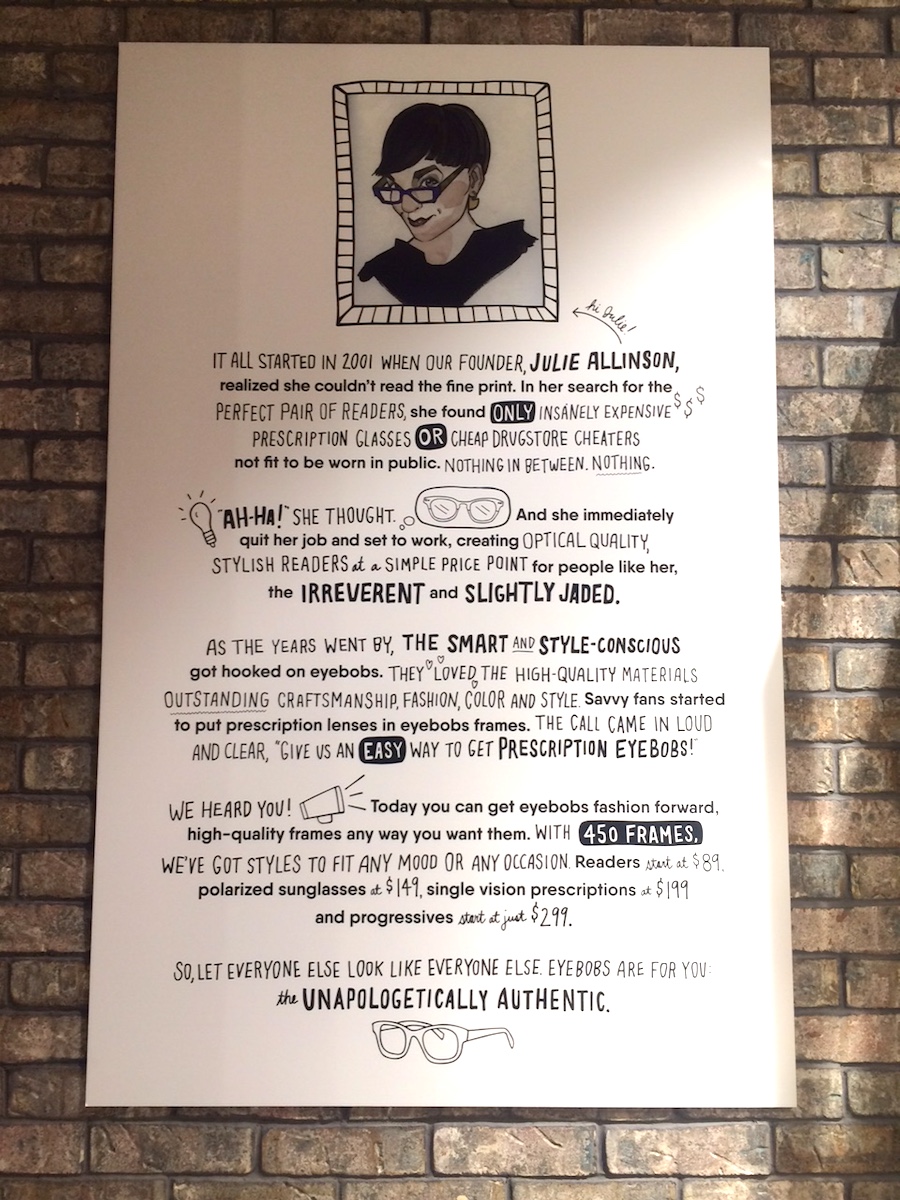 Facebook Comments