photo by walker art center
---
Art
Siah Armajani: Follow This Line
September 9 – December 30, 2018
Walker Art Center, Minneapolis
With the Minneapolis Sculpture Garden on one side, and Loring Park on the other, Iranian-American artist Siah Armajani's iconic Irene Hixon Whitney Bridge acts as a kind of gateway to downtown Minneapolis. It has been covered in plastic for much of this summer for renovation but now returns for the opening of the first career retrospective devoted to the Minneapolis-based artist, happening at the Walker Art Center. "Follow This Line," which the Walker co-presents with the Metropolitan Museum of Art, features work Armajani has created over six decades, including formal structures layered with poetic and cultural references, and subtle political commentary coaxed into sculptural design. There will be over 80 works on view, including pieces that have either never been shown in the United States before or are being shown publicly for the first time.
---
Digital Extra: Put to Words
A poem runs across the bridge between the Minneapolis Sculpture Garden and Loring Park. In honor of architect Siah Armajani's retrospective exhibit at the Walker Art Center, listen to poet John Ashbery recite it.
---
Aaron Squadroni: Mesabi Land Portraits
September 13 – October 28, 2018
Duluth Art Institute, Duluth
Iron Range-based artist Aaron Squadroni has explored the region's mines, picking up bits of metal and other materials—overburden rock, tailings, taconite pellets—to use for drawing. The results, whether abstract or stark snippets of landscape, tap into the "tensions" between nature and industry in mining regions.
The Decorated World: Asmat Art and Daily Life
Opens September 5, 2018
The American Museum of Asmat Art, St. Paul
Dedicated to art made by the Asmat people of New Guinea, this new exhibit features wood sculptures, shields, drums, bowls, and textiles.
Facing America: An Exhibition of Immigrant Portraits
September 6  – November 30, 2018
Capella Tower, Minneapolis
Minneapolis oil painter Joe Burns presents a portrait series of Minnesotan immigrants from various countries, including state representative Ilhan Omar.
Aquanesia
September 29 – 30, 2018
Reif Performing Arts Center, Grand Rapids
October 6–7, 2018
Rochester Art Center, Rochester
On a bike, ride along Rochester's Zumbro River or Grand Rapids' portion of the Mississippi, from one art pavilion to the next, while uncovering clues about the swampy environment scientists predict will plague Minnesota's future.

Alison Aune + Kirsten Aune: Colors from the North
photo by kirsten and alison aune
---
Alison Aune + Kirsten Aune: Colors from the North
September 22 – October 28, 2018
American Swedish Institute, Minneapolis
The Aune sisters' exhibit pays tribute to women's contributions to Scandinavian culture, with works inspired by contemporary and traditional textiles and paintings.
Looking Forward, Looking Back: 100 Years of Design Graduate Education
September 29, 2018 – January 20, 2019
Goldstein Museum of Design, St. Paul
This exhibition marks the University of Minnesota College of Design's 100th year, featuring about 40 works by alumni, graduate students, visiting scholars, and faculty.
Alexa Horochowski: Uprising
October 4, 2018 – January 12, 2019
Rochester Art Center, Rochester
This sculptural exhibit examines the global interdependence of markets. "Abstracted haystacks" represent the fiber yarn made by Sri Lankan women and shipped to the Midwest.
Mario García Torres: Illusion Brought Me Here
October 25, 2018 – February 17, 2019
Walker Art Center, Minneapolis
This Mexican conceptual artist employs video, installation art, photos, sculpture, and sound.
Egypt's Sunken Cities
November 4, 2018 – April 14, 2019
Mia, Minneapolis
More than 200 objects recovered from two ancient, now-underwater Mediterranean cities, most of them discovered within the past seven years, are on display.
---
Digital Extra: Egypt's Sunken Cities
Ancient artifacts from sunken Mediterranean cities are making their way to the Minneapolis Institute of Art. Check out the deep-sea collection process before seeing them surfaced and on display.
---
Dance
Solo
September 14 – 15, 2018
The Cowles Center, Minneapolis
Six extraordinary Minnesota dancers—all 2016 and 2017 McKnight Dance Fellows—perform six world-premiere shows spanning dance disciplines, from killer krump (a form of hip-hop) to spicy and sassy flamenco (ballroom dancing). Using McKnight fellowship funds, Lisa "MonaLisa" Berman, Christopher Hannon, Chitra Vairavan, Herb Johnson III, Krista Langberg, and Sachiko "La Chayí" Nishiuchi have tailored each original work in collaboration with a hand-picked choreographer, based anywhere in the world.
Ballet Hispánico
October 4, 2018
Northrop, Minneapolis
This New York-based troupe makes its Northrop debut with works by Latina choreographers Michelle Manzanales and Annabelle Lopez Ochoa.
Twin Cities Tap Festival
October 18–20, 2018
The Cowles Center, Minneapolis
This weekend features performances by national talents, both tap icons and up-and-comers, and the best rising dancers locally—all set to live music.
TU Dance
October 27, 2018
Ordway Theater, St. Paul
St. Paul's TU Dance celebrates 15 years of contemporary dance with a new retrospective and the Ordway's first commission, With Love (2011).
Pittsburgh Ballet Theatre with the Saint Paul Chamber Orchestra: Mozart in Motion
November 8, 2018
Northrop, Minneapolis
Diverse ballet styles—from comedic to classical—are paired with pieces from Mozart's thrilling repertoire. The three-piece performance includes choreographer George Balanchine's Divertimento No. 15, celebrated as "the most sublime choreography ever made to music by Mozart" by The New York Times.
Morgan Thorson and Alan Sparhawk: Public Love
December 6 – 8, 2018
Walker Art Center, Minneapolis
Choreographer Morgan Thorson and musician Alan Sparhawk (of Duluth indie-rock band Low) reunite for a new, meditative collaboration.

Compagnie Käfig: Pixel
photo by Agatha Poupeney
---
Compagnie Käfig: Pixel
November 3, 2018
Northrop, Minneapolis
The French-based troupe of Brazilian dancers, called Company Käfig and led by choreographer Mourad Merzouki, returns to Northrop with Pixel, a Tron-like, digitally spectacular dance performance. Employing a sheer, vertical screen and full-floor projections, designers Adrien Mondot and Claire Bardainne blur the line between real and virtual with larger-than-life visuals and dazzling optical illusions that respond to the dancers' hip-hop choreography. Expect 11 performers showing jaw-dropping flexibility, contortionism, and circus-inspired athleticism while executing gravity-defying lifts. Every move is amplified reality.
Theater

Frankenstein: Playing with Fire
photo by guthrie theater
---
Frankenstein: Playing with Fire
September 15 – October 27, 2018
Guthrie Theater, Minneapolis
A young Englishwoman named Mary Shelley anonymously published a little novel called Frankenstein; or, The Modern Prometheus 200 years ago. Written while Shelley and her not-yet husband, poet Percy Bysshe Shelley, were on holiday at poet Lord Byron's villa, the book altered the course of literary history by inventing a new genre: science fiction. This fall, the Guthrie opens its season with the 1988 adaptation, Frankenstein: Playing with Fire. A Guthrie commission, the play was written by Barbara Field, known for her long-running adaptation of A Christmas Carol. It imagines what would happen if a dying Dr. Frankenstein met up with his monster in the Arctic Circle long after the events of the novel. The original production toured nationally after its local debut. This version will be directed by San Francisco-based director Rob Melrose for the Wurtele Thrust Stage.
Noises Off
October 27 – December 16, 2018
Guthrie Theater, Minneapolis
This hilarious Michael Frayn play goes behind the scenes to capture the pre-show atmosphere and antics leading up to a stage production.
For Colored Girls Who Have Considered Suicide / When the Rainbow is Enuf
September 20–30, 2018
Penumbra Theatre, St. Paul
Father-and-daughter directing team Sarah and Lou Bellamy tackle Ntozake Shange's powerful theater piece—nominated for a Tony Award in 1977—which brings to light racism, sexism, and oppression as experienced by young women of color. The play is framed around a series of poetic monologues, written in Shange's distinctive, slang-inclusive style and accompanied by movement and music. Shange even coined the term "choreopoem" to describe the work, which has become a classic associated with the Black Arts Movement. The Bellamys, who are the current and emeritus artistic directors of Penumbra, respectively, collaborate with choreographer Ananya Chatterjea, of Ananya Dance Theatre, to bring this powerful work to life.
Prescient Harbingers
November 17 – December 2, 2018
Mixed Blood Theatre, Minneapolis
In anticipation of this year's midterm elections, Mixed Blood presents three full-length political plays by African American male playwrights. Black Lives Matter, the Second Amendment, gender and racial inequality, privilege, and hip-hop are all thrown into the fray. One of the plays, Gloria, is about an increasingly hostile work environment, written by Branden Jacobs-Jenkins, a recipient of the MacArthur "Genius" Grant, whose plays Neighbors and An Octoroon were previously shown at Mixed Blood. There's also Hooded, or Being Black for Dummies, a deadpan satire that investigates race relations in the U.S. Finally, the award-winning production HYPE MAN, a hip-hop-inspired "break beat play" by Idris Goodwin, rounds out the trio.
Irving Berlin's Holiday Inn
October 5, 2018 – February 23, 2019
Chanhassen Dinner Theatres, Chanhassen
Based on the 1942 Bing Crosby-Fred Astaire film, this Tony-nominated musical follows a couple who bring showbiz glitz to their farmhouse inn in Connecticut. It features "Cheek to Cheek" and "White Christmas,"  and hit Broadway in 2016.
Hamilton
August 29 – October 7, 2018
Orpheum Theatre, Minneapolis
Once
September 12 – October 21
Theater Latté Da, Minneapolis
Little Women
September 15 – October 21, 2018
Jungle Theater, Minneapolis
Music
Florence + the Machine
October 20, 2018
Target Center, Minneapolis
English rock titans Florence + the Machine released their fourth album, High As Hope, this past summer to widespread acclaim. Frontwoman Florence Welch's confessional lyrics and powerful voice are front-and-center on new hits "Hunger" and "Big God." But Welch's strength—somewhere between superhero and sorceress—really shows when she's onstage. Don't miss her. Intricate indie songwriter Perfume Genius opens.

Philip Glass and Dev Hynes for Third Coast Percussion
photo by nick harwood
---
Philip Glass and Dev Hynes for Third Coast Percussion
December 9, 2018
Ordway Theater, St. Paul
Chicago-based experimental classical ensemble Third Coast Percussion won a Grammy for their 2016 album Third Coast Percussion | Steve Reich and have built a reputation for pushing genre boundaries in their collaborations. For this performance, they play a new work by contemporary classical composer Philip Glass, who has scored countless films—winning a Golden Globe for The Truman Show—and built an ever-evolving body of work with a cast of collaborators including David Bowie and Allen Ginsberg. They'll also play a piece composed by Dev Hynes, who performs as Blood Orange—his fourth album, Negro Swan, arrived in August—and has become a vital pop songwriter and producer.
New Power Generation
September 13, 2018
First Avenue, Minneapolis
Prince's legendary band through his stretch of '90s smashes—"Cream" to "7"—makes a rare appearance at Minneapolis' legendary club, which will be filmed for a live pay-per-view event.
Meredith Monk and Vocal Ensemble: Cellular Songs
October 4–6, 2018
Walker Art Center, Minneapolis
Innovative singer and composer Meredith Monk, with her all-female Vocal Ensemble, perform a music-theater piece exploring how our cells form the basis of the universe.
Minnesota Orchestra: Celebrating Northrop's Restored Pipe Organ
October 12 –13, 2018
Northrop, Minneapolis
These celebratory concerts, featuring the Minnesota Orchestra, Music Director Osmo Vänskä, and organ virtuoso Paul Jacobs, mark the return of the Northrop's 80-plus-year-old pipe organ.
Low
November 2, 2018
Fitzgerald Theater, St. Paul
Duluth-based experimental musicians Low mark the release of an avant-garde masterpiece of a new album, Double Negative, and their 25th anniversary as a band.

Elvis Costello and the Imposters
photo by James O'Mara
---
Elvis Costello and the Imposters
November 15, 2018
Northrop, Minneapolis
After a health scare earlier this year, the multi-faceted English songwriter returns to the road to play his early hits—"Alison" to "Pump It Up"—and his extensive discography's deep-cut treasures. His latest album, Look Now, arrives in October.
Hippo Campus
November 23–24, 2018
Palace Theater, St. Paul
Twin Cities indie-rock crew Hippo Campus showed off an electronic side with their summer single, "Passenger." The local favorites will cap a national tour with two big shows at the Palace in downtown St. Paul.
Holiday

Nutcracker (not so) Suite
photo by dan norman
---
Nutcracker (not so) Suite
December 7–22, 2018
The Cowles Center, Minneapolis
This madcap version of the Nutcracker story once again finds a home at the Cowles Center, in a popular dance production put on by James Sewell Ballet. Nutcracker (not so) Suite is kind of like E.T.A. Hoffmann's classic holiday tale, only set in 1960s New York City, and with a bit more sass and spunk, plus Barbie and Ken thrown into the mix. Bradley Greenwald returns as Marie's narcissist mother, Mama Flow, while Steven Epp joins the cast in dual roles as Marie's uncle and Drosselmeyer. The show's creator, the unparalleled local theater legend Myron Johnson, takes on the role of the Rat Queen
Dr. Seuss's How the Grinch Stole Christmas
November 6, 2018 – January 6, 2019
Children's Theatre Company, Minneapolis
The all-ages holiday classic is loaded with music and the doctor's rhyming prose.
A Christmas Carol
November 14 – December 30, 2018
Guthrie Theater, Minneapolis
The annual Guthrie standby to chase away the season's "bah humbugs."
Dolly Parton's Smoky Mountain Christmas Carol
November 17 – 18, 2018
Ordway Theater, St. Paul
A world premiere, this new musical is scored by Dolly Parton and brings Ebenezer Scrooge to the Great Smoky Mountains of East Tennessee.
Moscow Ballet: The Great Russian Nutcracker
November 30 – December 1, 2018
Orpheum Theatre, Minneapolis
Some of the world's greatest ballet artists present Christmas in ornate detail.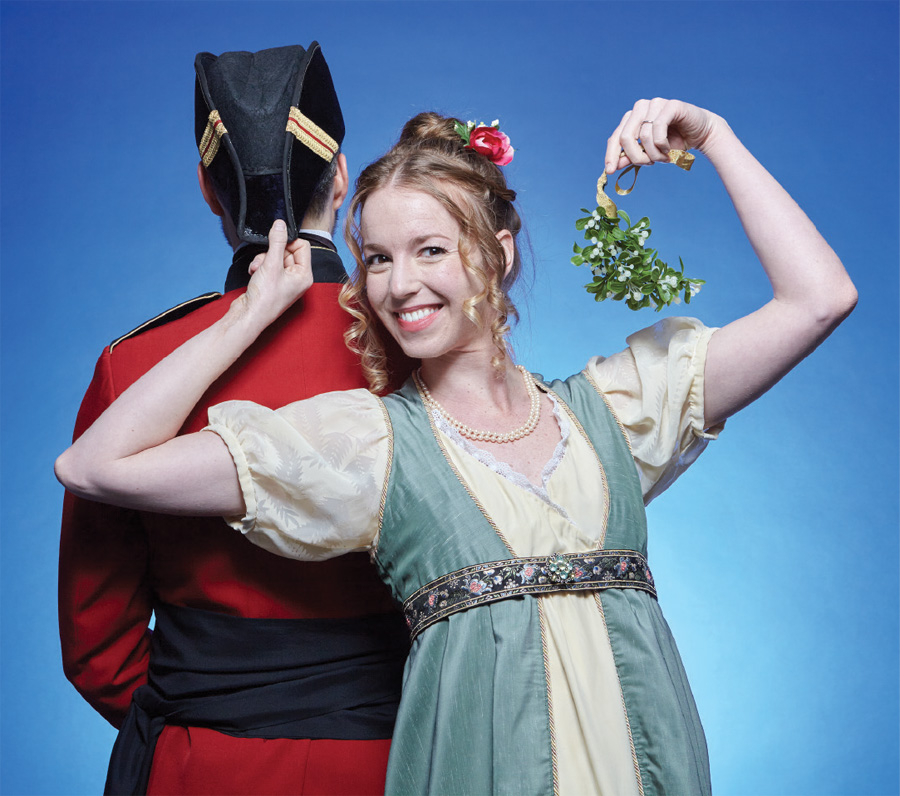 The Wickhams: Christmas at Pemberley
photo by william clark
---
The Wickhams: Christmas at Pemberley
December 1–30, 2018
Jungle Theater, Minneapolis
The Jungle follows up their smash-hit holiday show from last year, Miss Bennet: Christmas at Pemberley, with a sequel that takes its focus downstairs into the servants' quarters. In The Wickhams: Christmas at Pemberley, the staff of the Pemberley estate are all in a tizzy with the arrival of an untrustworthy visitor. Playwrights Margot Melcon and Lauren Gunderson have re-imagined the world of Jane Austen's famous novel, Pride and Prejudice, with a fresh perspective on the famous characters while introducing new ones. Local singer and actor Christina Baldwin takes a directing turn for this co-world premiere and co-commission (with Chicago's Northlight Theatre and the Bay Area's Marin Theatre Company), which counts among its cast Angela Timberman, Sun Mee Chomet, and James Rodríguez.
Elf: The Musical
December 5–30, 2018
Ordway Theater, St. Paul
Based on the hit film starring Will Ferrell, this musical brings elf misfit Buddy's heartwarming story to the stage.
Minnesota Orchestra: Bach's Christmas Oratorio
December 8 – 9, 2018
Orchestra Hall, Minneapolis
The Minnesota Chorale teams up with the Minnesota Orchestra for two performances of the finale of Bach's six-part Oratorio.
Minnesota Orchestra: Disney's The Nutcracker and the Four Realms in Concert Live to Film
December 22, 2018
Minneapolis Convention Center, Minneapolis
This holiday feature film—featuring the voices of Morgan Freeman, Mackenzie Foy, and Keira Knightley—gets a live, full-orchestra score.
Coming in 2019
St. Paul Chamber Orchestra: Songs My Mother Taught Me
February 15 – 16, 2019
Ordway Theater, St. Paul
The opening weekend of the Tapestry19 festival features premieres by vocalist PaviElle French and Syrian clarinetist and composer Kinan Azmeh, as well as works by Antonín DvoÅ™ák, Charles Ives, and Michael Abels. Additional performance on February 17 at Benson Great Hall in Arden Hills.
Elton John
February 21 – 22, 2019
Target Center, Minneapolis
These two nights from one of rock 'n' roll's greatest performers are part of his Farewell Yellow Brick Road tour, reportedly his last one ever.
Kim Gordon and Dimitri Chamblas
March 4 – 5, 2019
American Swedish Institute, Minneapolis
Musician and visual artist Kim Gordon (formerly of experimental rock group Sonic Youth and currently Body/Head) teams up with French choreographer and dancer Dimitri Chamblas for improvisational performance art.
Alvin Ailey American Dance Theater
March 12, 2019
Northrop, Minneapolis
This celebrated company turns the African American experience into groundbreaking dance, including the classic choreography of Revelations.
Meg Stuart and Jompet Kuswidananto/Damaged Goods: Celestial Sorrow
April 11 – 13, 2019
Walker Art Center, Minneapolis
The U.S. premiere of a piece combining dance, music, and hundreds of hanging light bulbs.
Metamorphoses
April 13 – may 19, 2019
Guthrie Theater, Minneapolis
Roman poet Ovid's canonic story is artfully updated—complete with an onstage pool of water—by Tony Award-winning director and playwright Mary Zimmerman.
42nd Street
July 23 – August 11, 2019
Ordway Theater, St. Paul
An Ordway original production, this update to the Broadway musical features showstoppers like "We're in the Money" and "I Only Have Eyes for You."
Local Venue Updates
The Armory
Downtown Minneapolis got a new concert venue when the 8,000-capacity spot opened in time for Super Bowl festivities this past winter.
Bell Museum
Minnesota's official natural history museum reopened in July in a brand-new building—featuring updated dioramas and a state-of-the-art planetarium—on the University of Minnesota's St. Paul campus.
Capri Theater
The north Minneapolis theater undergoes a $10 million renovation this fall, to add dressing rooms, a dance studio, and a public plaza with green space.
Norshor Theatre
The 108-year-old art-deco theater in Duluth reopened in January following a $30.5 million renovation and is the new home of the Duluth Playhouse.
Sheldon Theatre
The 114-year-old Red Wing theater took the summer off for its first major renovations in 30 years and is staging a September 29 grand reopening featuring Prince's old band The Revolution.
Soap Factory
The Minneapolis venue and art gallery closed for a $6.2 million renovation—adding new exhibition spaces, residency studios, a restaurant, and more—and is scheduled to reopen in September.
Summit Center for Arts and Innovation
Formerly St. Paul's Episcopal Church on the Hill on Summit Avenue, this 400-500 capacity venue opens this fall.
Facebook Comments