In this month's fall fashion feature, we showcase an eclectic array of looks—ranging from impeccably tailored to effusively romantic—from some of the state's top fashion designers against lush, organic backdrops. How very Minnesotan a pairing.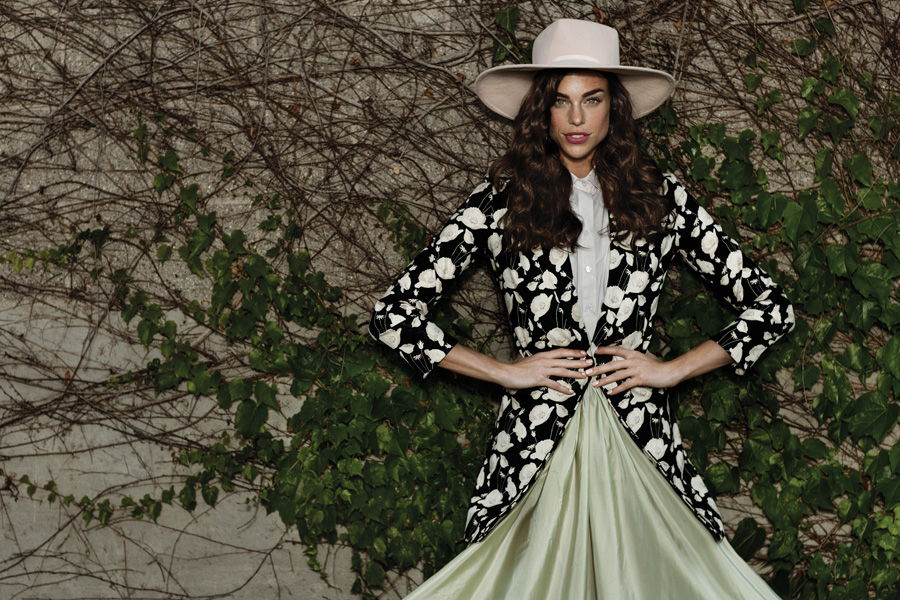 House of Gina Marie floral riding jacket, $178, pin-striped cotton blouse, $78, and one-of-a-kind taffeta skirt, $240 @ houseofginamarie.com; Hat Make custom rabbit-fur felt fedora, $385 @ hatmake.com
photo assistant: annabelle marcovici; hair and makeup: fatima olive; model: raina of moore creative talent
The Designer:
Gina Moorhead
Originally from a southwest metro suburb, designer Gina Moorhead studied fashion in Seattle and London before returning to her home state last year. A competitive figure skater as a child, Moorhead began her fashion career at the age of 9 designing her own competition costumes. Today, Moorhead's designs for her label House of Gina Marie blend tailoring, androgyny, and volume for a look she describes as "New York meets Nordic."
---

Hackwith Design House cotton-blend belted jumper, $200 @ hackwithdesignhouse.com; Ruby3 merino wool felt hat, $250 @ ruby3.com; Danielle Sakry leather clutch, $260 @ daniellesakry.com; Dominique Aurien leather studded gloves, $495 @ Mona Williams
The Designer:
Lisa Hackwith
Self-taught designer Lisa Hackwith began making clothing just six years ago when she founded her label, Hackwith Design House. The 29-year-old Wisconsin native has since become celebrated for her minimalist, easeful designs, created by a team of sewers in her St. Paul studio. The prolific designer debuts two to four new pieces online each week, in addition to creating capsule collections for boutiques around the country and a permanent line of basics.
---

Yevette Willaert one-of-a-kind tapestry dress, $220 @ yevettewillaert.com; Rox Jewelry Tibetan resin bead necklace and multi-stone bracelet, $750 and $125, both @ squareup.com/rox-minneapolis-jewelry
The Designer:
Yevette Willaert
For Yevette Willaert, creating socially responsible fashion is as important as creating beautiful, handcrafted designs. After graduating with a degree in business from the University of St. Thomas, the 25-year-old designed ethically made apparel for a handful of fair-trade companies. Willaert is now in the midst of starting her own label, which will pair socially responsible materials with classic tailoring, romantic silhouettes, and subtle details.
---

Winsome Goods silk jumpsuit and tencel jacket, $225 and $190 @ winsomegoods.com; Ruby3 Angora fur felt fedora, $250 @ ruby3.com; Stephanie Lake Design semi-precious mixed stone necklace with rhinestone starburst, $1,125 @ stephanielakedesign.com; Rox Jewelry tiger eye, citrine, and quartz bracelet, $125 @ squareup.com/rox-minneapolis-jewelry
The Designer:
Kathryn Sterner Sieve
While Minneapolis designer Kathryn Sterner Sieve finds inspiration in travel, people, film, and sculpture, the biggest influence on her designs comes from the textile itself. Finding a great fabric will usually inspire the entire garment, she says of the silk, linen, and wool wovens that form her garments. After two and a half years designing apparel for Target, Sieve recently left the company to fully devote herself to her line, Winsome Goods—a study of clean lines and tactile textures.
---

KOKOON peacock and burnout-velvet dress, $198 made-to-order @ kokoon.net; Stephanie Lake Design one-of-a-kind turquoise and lapis necklace, $735 @ stephanielakedesign.com; Danielle Sakry leather saddle bag, $480 @ daniellesakry.com; Topshop metallic sandals, $75 @ Nordstrom, Mall of America, Bloomington, 952-883-2121, nordstrom.com
The Designer:
Laine Sou Weinberg
Laine Sou Weinberg is one of Minnesota fashion's biggest success stories. In 1987, the Korean-born designer and her now-husband Richard founded KOKOON—the Twin Cities' longest-running, independent clothing label. The longevity of the line can be attributed, in part, to its unique business model, which sells through private trunk shows and appointments with independent stylists in addition to online—not to mention Weinberg's feminine, wearable, and figure-flattering pieces.
---

Joynöelle seamed cotton dress, $950 by appointment @ Joynoëlle Boutique and Atelier, 312 W. 42nd St., Mpls., 612-209-7822, joynoelle.com; Rox Jewelry irregular pearl necklace, $500 @ squareup.com/rox-minneapolis-jewelry
The Designer:
Joy Teiken
The romantic, sculptural designs of Minneapolis couturier Joy Teiken have helped define the Minnesota fashion scene since her namesake line, Joynoëlle, launched in 2004. Since then, her unique wedding gown designs—showcasing Teiken's knack for texture and eye for detail—have been featured in Women's Wear Daily and Real Simple Weddings. In her ready-to-wear collections, she has shown an ability to constantly evolve, with inspiration spanning medieval armor to her son's love of dinosaurs.
---

Samuel James faux-fur sweatshirt and matching clutch (shown on p. 8), $450 & $125 @ iamsamueljames.com; Baum und Pferdgarten silk pleated skirt, $182 @ Mona Williams; Ruby3 merino wool felt fez-style cap, $150 @ ruby3.com
The Designer:
Samuel James
The baggy clothing of the early 2000s never quite fit Samuel James's frame, so he did the only natural thing—he started making his own. The 24-year-old, who relocated to Brooklyn this fall, began his design career in Minneapolis three years ago after attending Parsons School of Design in New York and Metropolitan State University in St. Paul, where he gained a reputation for his innovative, genderless fashion designs.
---

Jenny Carle Designs bell-sleeve dress, $115, @ jenny-carle.squarespace.com; Rox Jewelry cobalt glass and Indonesian silver necklace with Tibetan silver pendant, amethyst chip collar necklace, and amethyst, tourmaline, moonstone, and Swarovski crystal bracelet, $425, $500, and $125 @ squareup.com/rox-minneapolis-jewelry
The Designer:
Jenny Carle
St. Paul designer Jenny Carle creates playful, feminine looks that are vintage-inspired yet totally modern—like this bell-sleeved frock from her fall collection.
---
Behind the Scenes at our Fall Fashion Shoot