The Winter Beer Dabbler in St. Paul
photo by Aaron Davidson
---
The Top 5
Ely Winter Festival 2/1–11
In the 18th century, French businesspeople known as voyageurs trekked into what is now Ely looking for furs to trade, but the eventual discovery of raw minerals there established it as part of the Iron Range. Similarly, Ely changed the name of its 10-day winter fête from the Voyageur Winter Festival to the less fussy Ely Winter Festival 10 years ago—more inclusive of the northeastern town's mining identity and Native American past. At the Ely Folk School, celebratory crafts range from Russian birch-bark baskets and beaver hats to Nordic wool needling. Anyone can sign up for the non-competitive Snow Sculpting Symposium, where teams transform icy fluff into architectural madness (less perilous than ice sculpting, with meals and housing provided to out-of-town artists). Meanwhile, players of Scandinavian game Kubb toss batons at wooden blocks ("kubbs"), and snowshoers venture into the Boundary Waters Canoe Area Wilderness to view the Hegman Lake pictographs, well-preserved Native American rock art.
---
Ice Bocce Tournament 2/3
Modern bocce dates back to the Roman Empire: croquet-size balls tossed underhand into a small field. Ice bocce is that, but on ice. Stump-like pucks replace  balls. And instead of underhand tossing, players use a shuffleboard-style sliding technique. Contenders at the Ice Bocce Tournament on Longville's Girl Lake—dressed as pigs, sharks, or Teenage Mutant Ninja Turtles—get on their bellies to send their pucks slipping along to the other end of a lake-surface lane. Winners earn a trophy-topped log, and participants afterward adjourn to Patrick's Fine Dining for lunch specials and Bloody Marys, because when in Rome…
---

Kevin Kling & Friends: The Love Show
Photo by Karen McCall
---
Kevin Kling & Friends: The Love Show 2/14
Minnesotans perhaps best know Kevin Kling, NPR-featured storyteller, for his heartfelt, witty narratives that never shy from the vulnerabilities that connect us. He embodies Minnesotan sensibility: Having grown up in Brooklyn Park and Maple Grove, he replaces anger with bootstrapping humor in the face of adversity. His take on love, then, is one to watch. Back again, he hosts a tender Valentine's Day show about different forms of affection, this year's musical romp taking St. Kate's O'Shaughnessy stage inspired by '80s camp-classic TV show The Love Boat.
---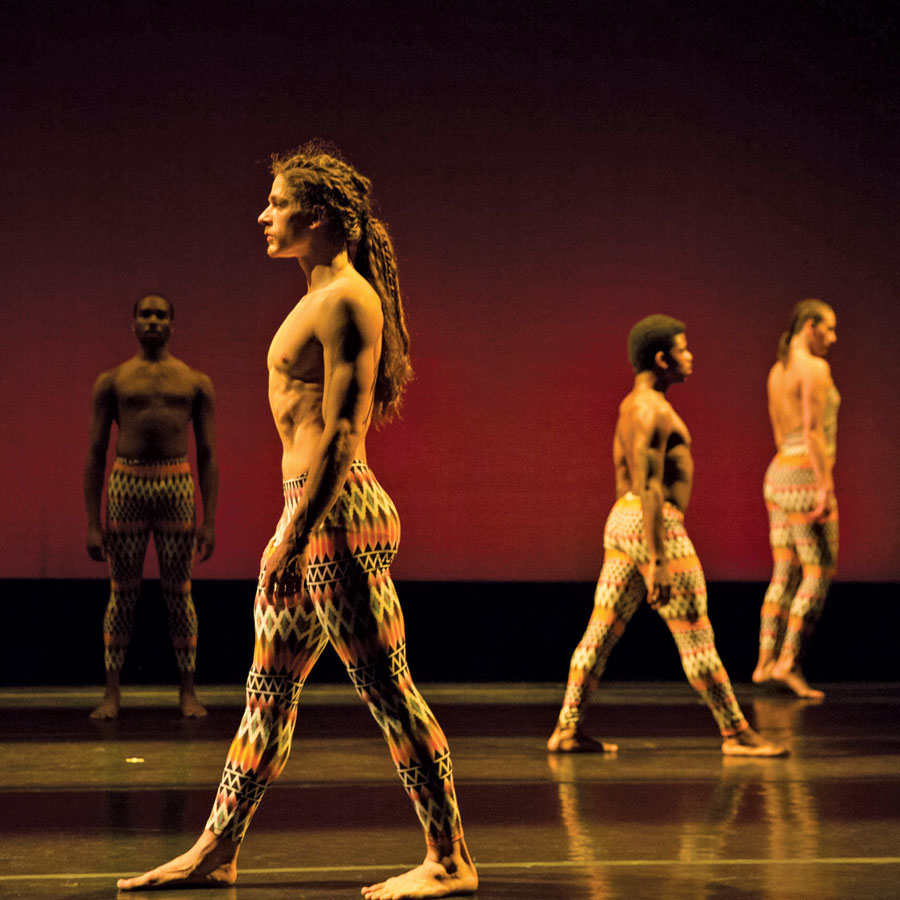 Contempo Physical Dance presents Vulcão
photo by Bill Cameron
---
Contempo Physical Dance Presents Vulcão 2/16–17
St. Paul dance company Contempo Physical Dance has a reputation for combining the limb-flinging power of Afro-Brazilian martial arts, the energetic offshoots of the African diaspora, and the blast-open-the-doors ethos of the contemporary world—which all erupt in Vulcão, at the Cowles Center this month after it premiered in 2015 at Macalester College. "Vulcão" means "volcano" in Brazilian Portuguese, but it's also slang for those who inspire either heated desire or deep repugnance. The dancers' bodies quiver like tectonic plates and slowly coil like lava flow. Their meaningful glances and regimented interactions onstage convey the bubbling undercurrents of a shifting social order—bringing to mind Igor Stravinsky's infamous The Rite of Spring.
---

The MN Twins: Bly & Roman Pope
Photo by Charles Walbridge
---
The MN Twins: Bly And Rowan Pope 2/17–10/28
Two famous works of photorealism hang in two Minneapolis museums: Chuck Close's huge self-portrait at the Walker, and another of someone named Frank at Mia. They're close-ups in acrylic, every hair and fine line etched into photo-esque likeness. The technique underscores the near-infinite details of the face. But photorealism tells a different, more twisted story when its subject plumbs fantasy—as if someone had actually snapped a black-and-white shot of this Wonderland-like scene of orchestral pomp surrounding an emaciated "starving artist" figure now featured at Mia. St. Paul-based twin brothers Bly and Rowan Pope set up their first museum show at the Minneapolis arts center after thousands of hours spent drawing photorealistic works in graphite. Bly sketches ordinary people and overlooked sights while Rowan dips into narrative tableaux. 
More This Month
Make Believe Neighborhood 2/2–25
Fred Rogers inspired everyone who values clean, no-nonsense living, neighborly compassion, and puppets. In The Heart Of The Beast Puppet And Mask Theatre, to that end, presents a Mister Rogers' Neighborhood-inspired musical puppet show celebrating south Minneapolis neighborliness—honoring residents who go out of their way to keep the community healthy.
---
Otter Tail County On Ice 2/3–4
Central Minnesota's Otter Tail County kicks off its 150th year with a party on Otter Tail Lake, featuring ice golf, a polar plunge, a snowmobile trail ride, drinks and food to accompany an evening of live music, and a tailgate party during the Super Bowl.
---
Socialice–Rochester's Ice Bar 2/9–10
Nine 12-foot ice bars—as in: bars literally made of ice, serving beer, wine, and more—transform the heart of downtown Rochester into a frosty, musical, magically lit outdoor fest, each bar with its own theme and selection of signature drinks.
---

Northern Fibers Retreat
Photo by North House Folk School
---
Northern Fibers Retreat 2/14–18
You can knit, sew, bead, felt, spin, and more—anything under "fiber arts"—at this five-day retreat with more than two dozen workshops for everyone from wool workers to tapestry weavers. This year, the Grand Marais retreat at North House Folk School features an expert on Scandinavian textiles whose presentation, "From Virgins to Spaceships: A Visual Journey through Norwegian Tapestry," is sure to be, at the very least, interesting.
---

Celebrating David Bowie
Photo by Daniel Robson
---
Celebrating David Bowie 2/21
Ground control to Major Tom. Rebel, rebel! Ashes to ashes, funk to funky. Fash-ion! Whatever your favorite David Bowie incarnation, you'll get a lot of them when this tour—studded with former bandmates and still-green musicians influenced by pop music's androgynous iconoclast—rolls into the Pantages Theatre In Minneapolis to honor his space-bound legacy.
Winter Beer Dabbler 2/24
A Minnesota winter: the perfect time for the state's largest outdoor beer festival. On the Mighty Midway at the State Fairgrounds in St. Paul, local musicians perform and more than 150 breweries convene to pour more than 400 beers.
Gobsmacked! 2/24
Singing a cappella—whether harmonizing or beatboxing—is about taking risks, but you're guaranteed an entertaining, professional performance when Gobsmacked! comes to the Ordway in St. Paul, featuring current World Team Champion of beatboxing BALL-ZEE among harmonizers and multi-track loopers recruited from across the globe.