It's been a busy week in North Loop retail. Only three short years after HAUS Salon's first location opened in South Minneapolis, the business—-which Minnesota Monthly dubbed "Best Salon" in 2013–has opened the doors to its second space in the rapidly expanding North Loop district.
When I previewed the space on Monday afternoon–a day before the salon would be taking its first appointments–the dust had yet to settle, and the space's designer and builder Jonathan Gomez-Whitney was still working on final touches. Owners Charlie Brackney and Jessica Reipke walked me through the sprawling 4,300-square-foot space in a historic warehouse: 24 stylist stations (eight more than the salon's original location), its custom-built pedicure station and manicure table, a full-service spa and waxing room, hair washing stations, and a retail area. "We even have an office for the first time!" Brackney joked.
For the design of the space, the salon's owners worked to maintain the integrity of the industrial space while bringing a high level of functionality to it. "Our name Haus is based off the Bauhaus movement of the 1920s," Brackney says. "One of their main tenants was form and function, so things should be beautiful as well as functional."
As Reipke explains, "We gave our big-picture wants to Jonathan, and he would make it happen, and make it look really beautiful at the same time." For instance, the salon stations feature thin, rectangular overhead mirrors that serve their purpose without obstructing the view afforded by the expansive space, including its long stretch of windows that line Washington Avenue along one side. Original design elements such as time-etched concrete pillars and floor, tall ceilings, and exposed brick are complemented by reclaimed wood, brass, and steel accents, and minimal white styling stations.
The new space also serves the company's goal to engage with the community. Brackney says, "We felt like passerby could be engaged by looking in to see the inside of the space, and everyone getting their hair done can watch what's happening on the streets."
The salon celebrates with a grand opening party slated for November 8 that includes DJ sets from Adora Tokyo.
Now open. 730 Washington Ave. N., Mpls., 612-827-4287, haussalon.com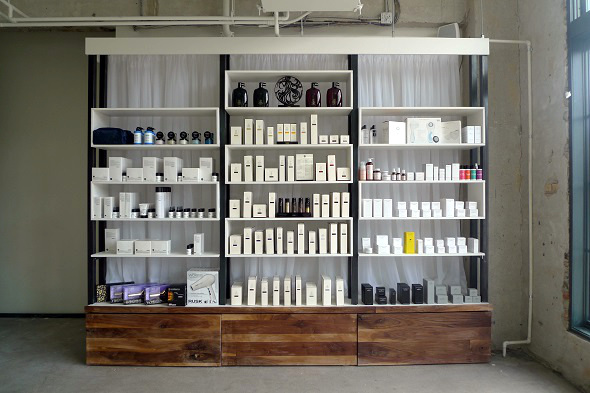 [Photos by Jahna Peloquin]
Facebook Comments