The low-cost, wide-reaching nature of e-commerce has made it more possible than ever for independent designers and makers to produce and sell their lines. Yesterday saw the launch of yet another: clothing line Lily Stan Studio by Minneapolis designer Lily Harris.
The new line is part of a growing trend of limited-edition, handmade goods, from limited-edition, Minneapolis-based clothing lines Martha McQuade and Hackwith Design House—which we recently featured with a Q&A and studio visit–and locally-based, e-commerce sites like Ship & Shape and A Mano, which feature artisan-made products from local and national makers.
Harris, 25, posted the first piece for sale this week: a distressed, pale pink denim, one-size-fits-all v-neck top, available in a limited-edition quantity of six, with the full collection launching soon after. The limited quantity nature of the line, inspired by "the clothing [Harris] wish she had," lends a certain specialness and buy-it-now urgency, while keeping costs low.
On her website, Harris said she created "each style to be easy to wear and layer with one another as a uniform" and that "the intent behind this ongoing collection is to create a group of garments that can be worn together interchangeably, creating a small yet extensive personal closet made up of specialty basics." The seasonless collection is "meant to become an everyday staple, remaining in your closet season after season," with styles released on an ongoing basis.
I chatted with the designer about her design background, her aesthetic as a designer and why she opted for the limited-edition, e-commerce model.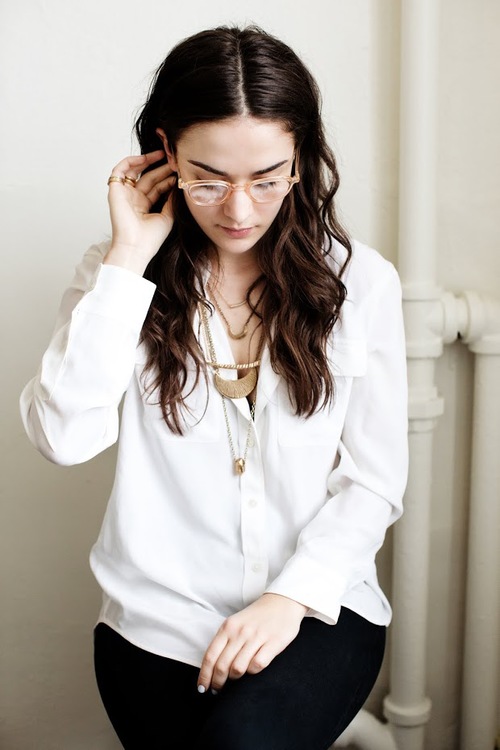 Lily Stan Studio designer Lily Harris
What's your design background?
I graduated from RISD (The Rhode Island School of Design) with a BFA in Apparel Design. The program there is extremely construction based, so I sewed collections throughout college. I interned at Vera Wang during college. When I graduated, I was a freelance designer for Kate Spade in New York. I currently design childrenswear for Target by day, and design, create, and sell my own collection by night, early mornings and weekends. I am a busy lady! Good busy though.
Why did you decide to start your own business?
As a young design oriented woman, I was purchasing a lot of disposable apparel, on the cheaper end, which is never exactly what I wanted to be wearing, so I decided to create a uniform for myself. I also missed the creative process of pattern drafting, draping, and sewing from college, so I decided to start selling my clothing on the side. Minneapolis is a brilliant place because it allows young designers and artists to be able to afford creating new work.
Your designs have a very clean, minimal, architectural, textural feel. What inspired this collection, and your aesthetic in general?
My collection was inspired simply by the clothing that I wished I had. It consists of my personal color palette, I gravitate towards neutrals. My collection consists of easy pieces that I designed to be worn interchangeably to create an easy, cool wardrobe.
Your collection is available on a made-to-order basis. What drew you to this process?
Made to order is nice because it allows me to continue creating. It allows me to sew every order, buy fabric locally in small batches, and then move on to new ideas or new materials.
Your first item went on sale on Monday. How will you roll out additional pieces?
I plan to roll out the rest of the collection online in small bundles as I work through orders. Not necessarily on a weekly or monthly basis, but on a basis of newness and order completion.
Where will your designs be available for purchase?
For now, I sell online at lilystanstudio.com and ship directly to customers. I love collaborating, so I definitely see potential for working with boutiques or other online retailers in the future. There's more to come, as I am starting small.
Distressed Denim Top by Lily Stan Studio, $225, now available at lilystanstudio.com
View a selection from the line's debut collection lookbook below, as modeled by Minneapolis style blogger Madelynn Hackwith Furlong of Wide Eyed Legless.
Lily Stan Studio designs are available exclusively at lilystanstudio.com.
Photos by Wing Ta/Canary Grey Photography