Walking into the front door of Shinola–the Detroit watchmaker, bicycle and leather accessories brand–I'm struck by just how much the North Loop district, tucked away in the northeast corner of downtown Minneapolis bordering the Mississippi River, has blossomed in the past couple of years alone. Kiddy-corner across Washington Avenue North are women's boutique Roe Wolfe and bike shops Handsome Cycles and One on One Bicycles; across the street on 3rd Avenue North are retailers MartinPatrick3, Statement Boutique and Grethen House; and down the block on 3rd is women's fashion co-op D.NOLO. All this goodness, within earshot.
Shinola's first Minneapolis shop (its third brick-and-mortar) carries much of what you'd expect if you're a fan of the e-store, or visited any of the company's other locations: Shinola's beautifully-crafted bicycles, leather-bound journals and leather accessories, watches galore, and quirky-cool giftables like a brass coaster set and bottle opener, and wood-handled jump rope. And then there's the Shinola-branded cola and coffee bar, brewing coffee from Chicago roaster Intelligentsia.
A doorway connects Shinola to Filson, which opened today in conjunction. (Both brands share a parent company, Bedrock Manufacturing.) Established all the way back in 1850, the Seattle-based brand Filson has a long history as an outdoors outfitters–already a go-to for Minnesota hunters and fishers. The shop carries reclaimed waxed-canvas bags, outfitted with new leather straps and hardware, as well as new bags, sturdy wool and flannel shirts, jackets and other essentials that are both timeless and au courant, thanks to the recent trend toward heritage style.
In honor of their opening weekend, the shops are teaming up with their North Loop neighbors–Askov Finlayson, Arrow, Handsome Cycles, Roe Wolfe, MartinPatrick3, D.NOLO and the Foundry Home Goods–for noon to 2 p.m. this Saturday for a North Loop shopping crawl. Highlights include a jacket and bag re-waxing demonstration by the Filson Restoration Department and Detroit-inspired cocktail from the Marvel Bar called "The Last Word" at Askov Finlayson, plus discounts, refreshments and gifts with purchase.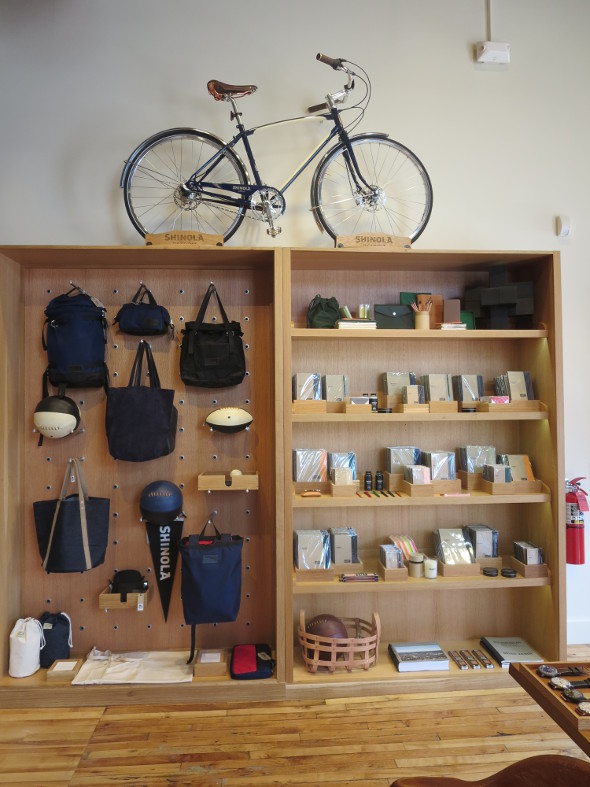 A display at Shinola
Shinola's coffee bar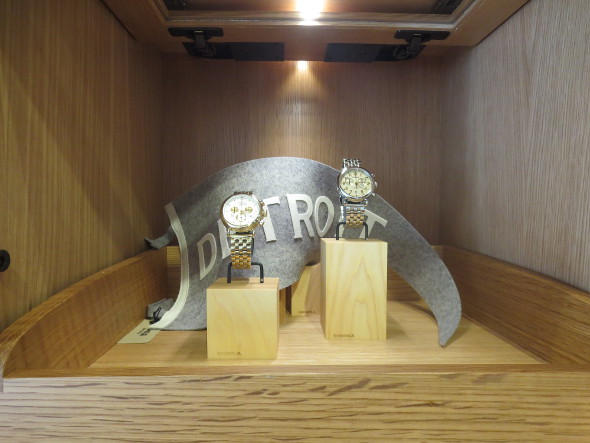 A display of Shinola watches
Filson's interior
Filson's interior
A display of handcrafted paddles by Winona, Minnesota-based Sanborn Canoe Co. at Filson
Now open. Shinola and Filson, 228 Washington Ave. N., Mpls., 612-338-5493, shinola.com & filson.com. Store hours: 10 a.m.-6 p.m. Monday-Saturday, 11 a.m.-6 p.m. Sunday.