Earlier this month, the University of Minnesota's College of Design hosted its 50th annual Apparel Design Fashion Show, a showcase of original fashion designs by 19 graduating students from the apparel design program. The fashion show provides an opportunity for students to show off their design skills and their own point of view. Some designers opted for wearable, retail-ready looks, incorporating spring 2018 trends such as sheer fabrics, pastels, fringe, and PVC material, while others took the chance to make a bold statement and offer memorable fashion moments.
Some statements were socially conscious ones. Several of the designers wore "Black Lives Matter" t-shirts while they presented their collections on the runway. Inclusivity was at the center of designer Wren Tilbury's plus-size collection of party-ready looks, and both Kelsey Lee and Qingkang Charlie Cao showed collections with a unisex vibe. In their bios, several designers mentioned the importance of the slow-fashion movement, sustainability, and representation for LGBTQ+ people in fashion.
Designer Quinessa Stibbons (who is pursuing a social justice minor and hopes to eventually explore socially conscious design) took social consciousness to the next level with her collection, "Not About Angels." Instead of a traditional runway, her collection was presented through a dance performance. According to her artist statement, the collection is intended as "a commentary on racial violence and the trauma it inflicts on black youth." 
That being said, here are some individual collections that stood out from the pack.
Designer: Caitlin Hartman
Caitlin Hartman wowed with a collection that struck a balance between structure and softness, and between artificial and organic. Her architectural silhouettes were tempered with gentle sloping curves, while what appeared to be real fauna added a natural touch to the collection. PVC detail combined with moss-covered shoulders—how's that for a bold shoulder?—while plant life decorated a cocoon-shaped top with cutout details that lent the look an airy, textured touch. Hartman's use of synthetic materials such as vinyl, neoprene, and mesh made a surprisingly beautiful combination with the fauna on display. It was conceptual and beautiful, and perhaps even wearable if some of the plant modifications were tempered. 
---
Designer: Qingkang Charlie Cao
Qingkang Charlie Cao, a recent immigrant to the United States, says in his artist statement that his collection was intended to be an inclusive statement for all kinds of identities found in society, not limited by gender, race, or nationality. While many designers tend to play it safe when presenting their senior collection, Cao went as far the opposite direction as one could with his collection of unconventional, gender-fluid separates inspired by the bright colors found in nature. Traces of nomadic and streetwear elements combined effortlessly with oversize rope ties to give the collection an avant-garde, high-fashion look. While the collection certainly isn't intended for a mainstream audience, the boldness in presentation and uniqueness of the silhouettes gave the collection real runway appeal. (Plus: The orange sweater is to die for.) 
Designer: Julie Anderson
With her bold, oversized polka dots paired with pastels, Julie Anderson was spot-on (literally) when it came to the spring 2018 trends. But thanks to her use of exaggerated silhouettes and unusual color combinations, the designer was able to avoid creating a collection that was overly fixated on trends and forged her own unconventional path. While not a lot of it was everyday-wearable—at least not by the average person—the fabrics were well-chosen, the colors were eye-catching, and the overall effect was fun, irreverent, and playful. 
Designer: Kelsey Lee
Combining elements of knitwear, patchwork, fringe, and distressing, Kelsey Lee's senior collection was inspired by the motifs of consumerism and waste in the movie, Labyrinth—and making something beautiful out of what others might consider garbage. The designer counts David Bowie and K-Pop boy bands among her muses, and accordingly, her line was equal parts rock 'n' roll and avant-garde. Lee has a background in knitting, and its showed in her funky, eclectic collection—particularly in a shaggy navy-blue knit cardigan and a multi-color knit poncho. She also played with tone-on-tone and distressing in a plaid jumpsuit that was both rugged and chic. 
Designer: Stephanie Wang
For her whimsical, sweetly detailed collection dubbed "Rainflower," designer Stephanie Wang drew inspiration from the styles of ancient China, incorporating loose fits, layering, and pleats within the collection. Wang added a modern touch by mixing prints, combining juicy colors with soft pastels, and adding quirky touches. The collection was designed with the intention of layering, so pieces could be added or removed for versatility as the weather changes. The most impressive piece on display: a pale green rain jacket with a pleated, caped back and intricate pleating details at the shoulder.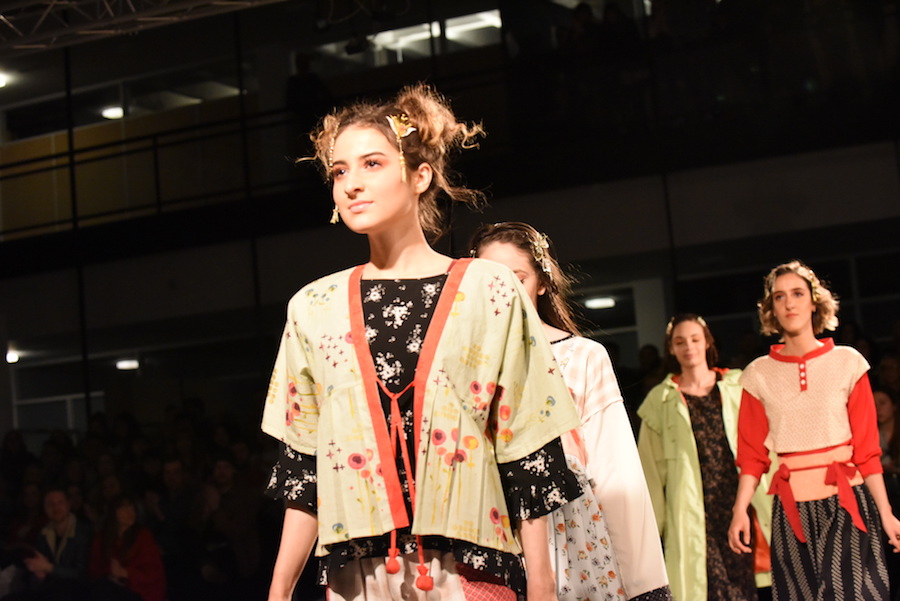 More designer collections from the Apparel Design Fashion Show: 
Designer: Quinessa Stibbins
Designer: Spencer Versteeg
Designer: Rachel Oestreich
Designer: Lexine Schumm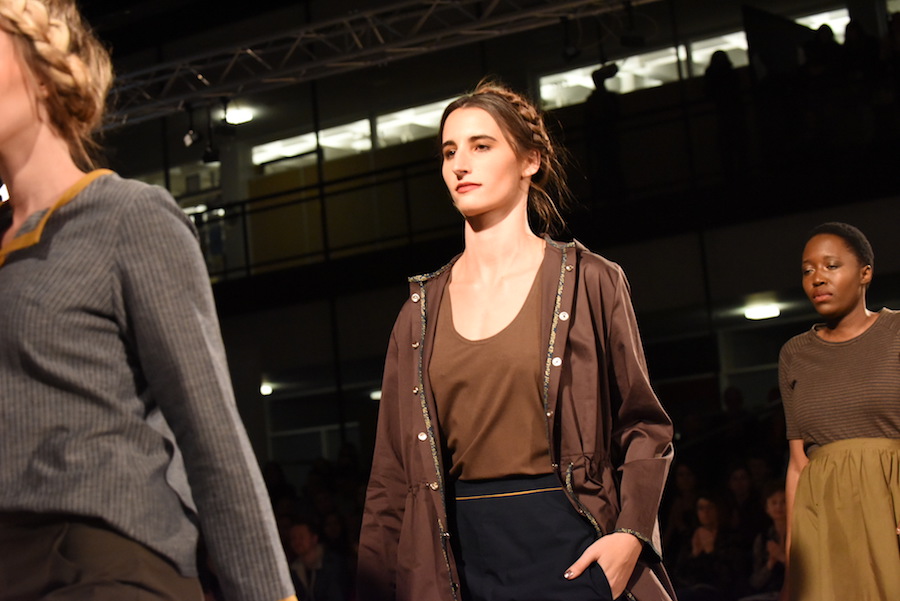 Designer: Wren Tilbury
Designer: Holly Carota
Designer: Evan Inde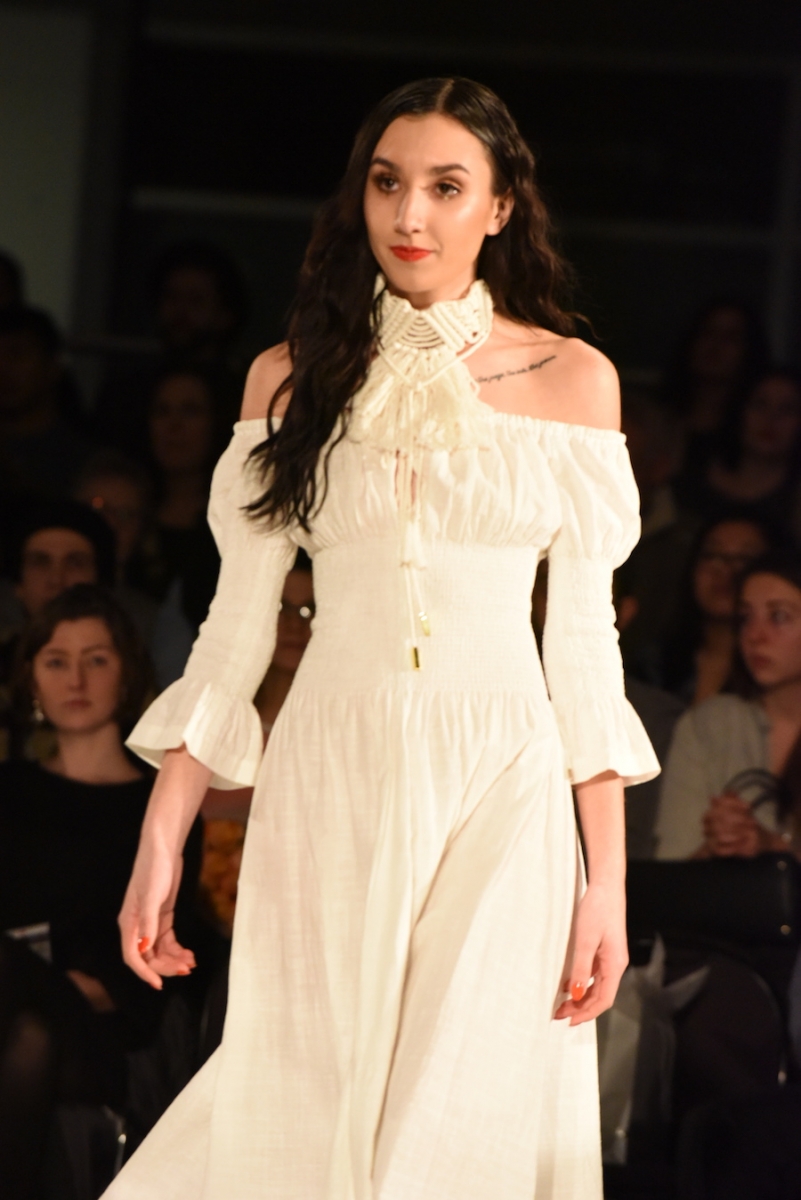 Designer: Alyssa Johnson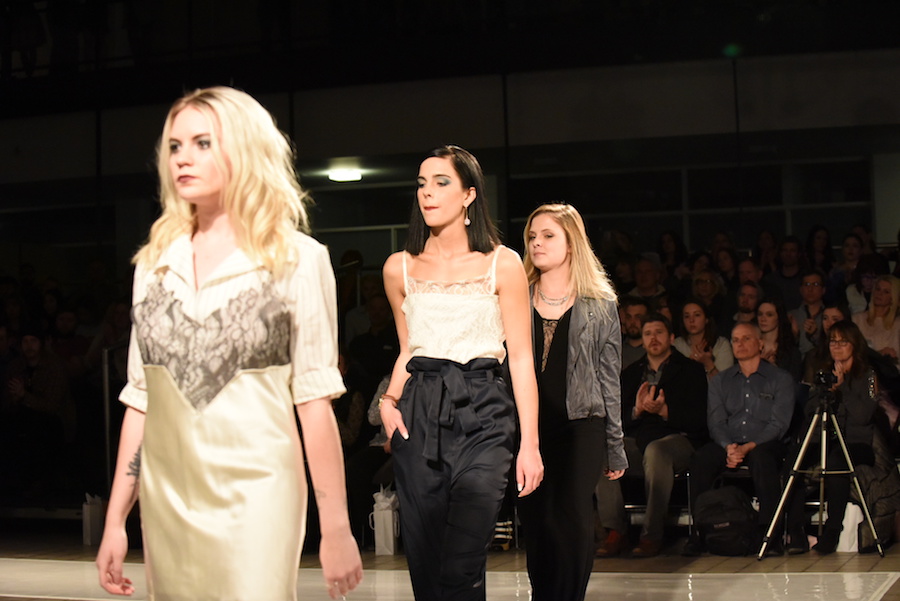 Designer: Bebe Namnakhone
Designer: Emily Laurich
Designer: Ray Myers
Designer: Emily Seifert
Designer: KaYing Lee
Designer: Julia Adamson
Find out more about this year's designers at fashionshow.design.umn.edu.