Thanks to a growing number of do-good businesses, from major national brands to small local startups, it's become easier to give back and check off our holiday shopping lists at the same time. For example, every December the Minnesota-based American Refugee Committee launches its Maker's Collection, a selection of handcrafted products by local artisans created exclusively for the project. This year's line includes a baby blanket by modern quilt brand Louise Gray, a wool-blend scarf by Hackwith Design House, and ceramic tumbler candles by Fringe & Fettle with soy wax poured by Minneapolis Chandlery. Not only does a purchase from the collection invest in a local business, it also supports global humanitarian solutions for those in need. North Loop retailer Askov Finlayson, which offers a stylish selection of men's clothing and accessories geared toward the outdoors, is in the midst of its "Keep the North Cold" campaign. For each product sold from its line of "North" products—including its iconic knit pom beanie—the store makes a donation to Climate Generation, which fights climate change through education and policy reform. 
Other companies donate things, instead of money, to important causes. For every product sold, Minnesota brand Woodchuck—known for their wood-covered flasks and notebooks—plants a tree. TOMS, best known for its iconic canvas slip-on shoes, has a one-for-one policy in which the company matches every shoe purchase with a shoe donation to a child in need. It recently launched lines of eyewear, handbags, and backpacks—sales of which provide prescription glasses, sight-saving surgery, safe drinking water, and more to those lacking these necessities. These inspiring brands prove that giving back is always in style.

Products from local and national charitable brands
Photo by TJ Turner
---
Clockwise from top left:
Beanie: Minnesota brand Love Your Melon donates half of its net proceeds from sales of its knit hats to nonprofits fighting pediatric cancer. $45
Boots: For each pair of rain boots sold, Roma gives a pair to a child in need, and 10 percent of all proceeds funds educational initiatives globally. $93 @ Spoils of Wear
Eyeglasses: For every pair of glasses purchased, Warby Parker distributes a pair of glasses and helps fund training for eye exams in developing countries. $95–$295 @ Warby Parker at Askov Finlayson
Scarf: Every purchase from The Maker's Collection, such as this Hackwith Design House wool scarf, benefits the American Refugee Committee. $90
"North" hat: Through its partnership with Climate Generation, each North product sold by Askov Finlayson helps support the fight against climate change. $29
Flask: For every Woodchuck product sold, the Minnesota wood-oriented brand plants a tree. $50
Backpack: For every bag purchased, State Bags delivers a backpack stocked with school supplies to a child in need. $95
Leather slipons: TOMS matches every pair of shoes sold by donating a pair to a child in need. $98 @ TOMS Mall of America
Flannel shirt: For every item sold, outdoor apparel brand United by Blue removes a pound of trash from area oceans and rivers. $78
S'well water bottle: Reusable water bottle maker S'well teams up with Unicef to provide clean drinking water. $35 @ the Container Store
Bamboo sunglasses: For each purchase of its eco-friendly sunglass and watches, Swell Vision gives a portion of sales to a scholarship program for the Green School in Bali. $99 @ Lake Effect
Leather tote: Every one of FEED Projects' products, from leather bags to T-shirts, has a number stamped on it that signifies the number of school meals in developing countries provided by its purchase. $195
"Stop Traffick" baseball tee: For every shirt sold, Minnesota brand My Sister donates an item of warmth to a youth or child in need. $38
---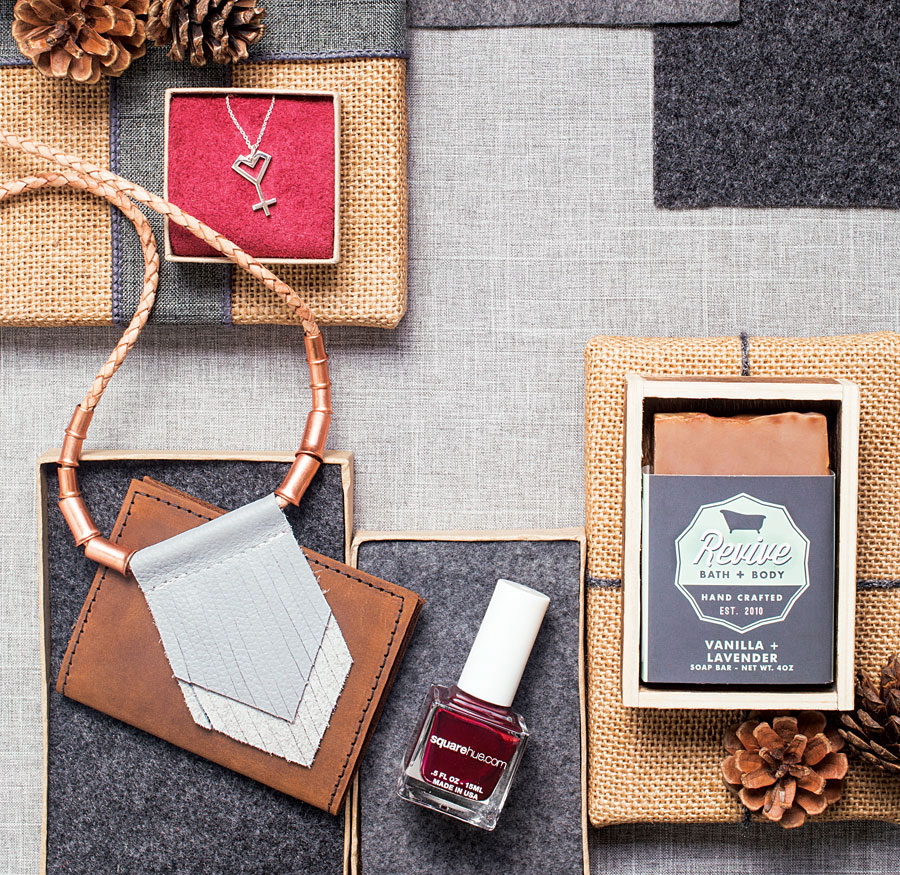 Photo by TJ Turner
---
A portion of proceeds from these goods at My Sister's retail store help combat human and sex trafficking.
Clockwise from top left:
Hardt Jewelry Women's Equality Day necklace, $65
Revive Bath + Body soap, $7.50
Square Hue nail polish, $10
Dear Survivor necklace, $50, and Dear Survivor wallet, $36
Facebook Comments