In February, when semi-annual fashion show Envision announced its designer lineup for its spring edition, I discovered two new names to the Twin Cities fashion scene: Jess Laakso Rodysill and Gina Moorhead. The pair of designers turned out to be recent Minnesota transplants—Moorhead is a Minnesota native who recently moved home from Seattle, and Rodysill is a native New Yorker whose husband is originally from Minnesota. Based on what I saw of the designers' work online, my interest was piqued. So when I heard that both designers would be involved in last weekend's Circle of Design fashion show at the Westin Galleria Edina on Friday night, I had to check it out.
Now in its second year, Circle of Design is a production of Lakeville designer consignment shop Dressing Room Dojo and its owner, Shelly Gensmer. Hosted by local designer Christopher Straub and Miss Minnesota 2015, Jessica Scheu, the show explored the cultural roots of fashion history through a runway show and dance performances from JLW Productions. Along with Moorhead and Rodysill, local designer Stacie Vanags of surfing-inspired line Fir Sur Fin and University of Minnesota designer students Marina Qualey and Sinéad Kelly showed collections inspired by cultural design concepts such as the Scottish kilt and the Mandarin collar.
Under her label House of Gina Marie, Moorhead showcased her wearable collection of breezy, chic summer separates rendered in patterned Vietnamese fabrics. Though the runway styling was on the minimal side, one could imagine the collection amped up with bold accessories and head scarves—or pared down for summer festivals.
Rodysill impressed with a collection of couture silk dresses, gowns, and jackets under her label Mien Kielo, which incorporated bold, embroidered patterns and intricate knife pleats.
In an ingenious bit of planning, guests were able to see and shop the garments following the show in a pop-up sale. In person, I was even more impressed with the impeccable construction and fabrics of Rodysill's handmade collection, as well as Moorhead's ready-to-wear pieces, which she has manufactured in Vietnam. I even ended up going home with a couple House of Gina Marie pieces for myself that were so reasonably priced, they were a steal. The pop-up shop also gave guests the chance to place orders for garments. Giving designers the chance to meet prospective customers following a runway show—and giving guests the chance to shop—is a model I hope we see more of in local fashion shows.
Moorhead and Rodysill will debut a collaborative collection at Envision on May 2; get tickets and more information at envisionmpls.com.
Looks by Mien Kielo
Look by Mien Kielo
Look by Mien Kielo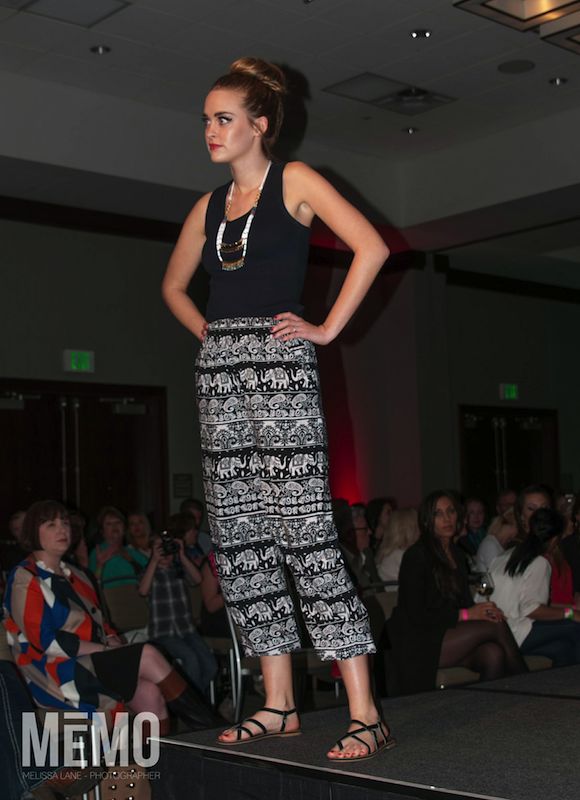 Pants by House of Gina Marie
Shorts by House of Gina Marie
Look by Sinéad Odessa
Dancers from JLW Productions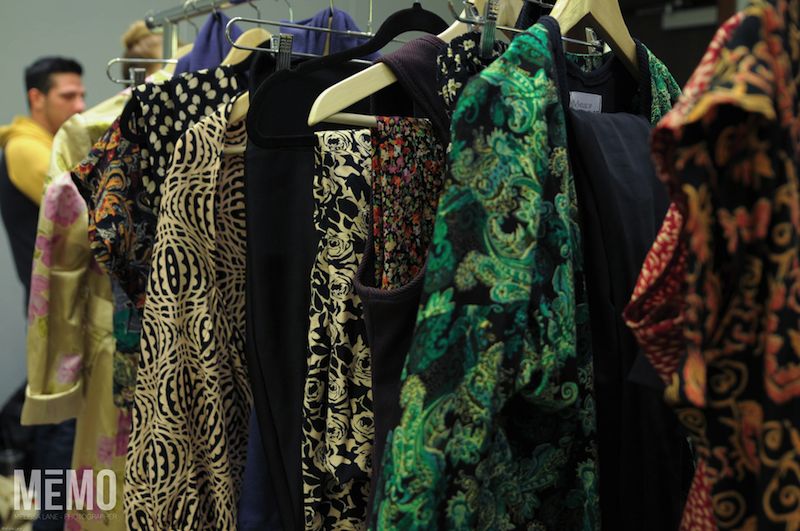 Garments by House of Gina Marie at the pop-up sale following the show
[Photos by MeMo Foto]
Facebook Comments