Museum gift shops began as a way to offer keepsakes for visitors to take home with them, often tied to or inspired by their collections and exhibitions. Over time, many major institutions have evolved to become centers for high-design retail goods, from glossy coffee table art books to artful jewelry.
The Minneapolis Institute of Art's gift store, dubbed The Store at Mia, recently upped its retail game with a stylish renovation along with its first foray into e-commerce. The museum unveiled the updated shop last weekend, which revealed a colorful, graphic mural by local artist Ashley Mary, a modern layout—the big, red, traditional cash-wrap is gone, replaced by a more welcoming, informal check-out process—and custom-built shelving to house the store's broad selection of design and art books, plus furnishings from Minneapolis companies Blu Dot and Danish Teak Classics, plus iconic designs from Herman Miller, Isamu Noguchi, and Alvar Aalto. While The Store's broad selection of books remains a focal point of the store, it also carries home décor, stationery, jewelry, accessories, and children's goods from brands including Rifle Paper Co., Polka Dot Club, and Candy Labs, and local label, Annika Jewelry.
The changes were spearheaded by Rita Mehta, the store's new head of retail strategy. Mehta is known for her popular blog, The American Edit, which tells the stories behind American-made brands and champions ethical, sustainable goods (not to mention the fact that it boasts 44.5k Instagram followers). Last fall, she was tapped to lead the transformation of Mia's museum store. Mehta also brings with her seven years of experience working in global sourcing and merchandise strategies for Target, and has done independent consulting for stores such as Wilson & Willy's in the North Loop.
Judging from last Thursday's relaunch party—which featured cocktails from Marvel Bar GM Peter Schweigart and live custom embroidery by local brand Dinosaur Hampton—Mehta will no doubt be inserting her modern, craft-oriented brand of cool to the institution.
I spoke to Mehta about her new role with the museum, what she plans to continue to bring to the museum going forward, and what's up with The American Edit.
When you took the helm in fall 2016, what was your vision for The Store at Mia, and how has it evolved since then?
Mia's goal is to engage our communities, fuel curiosity, and celebrate creativity, and the store should reflect those values. We're continuously working at this. When I joined the team, the focus was already on making the store a destination within Minneapolis. Entrance to Mia is always free and we wanted to create a store that people wanted to visit, even if they didn't have plans to visit our galleries. That continues to be our goal.
What about the position as head of retail strategy for The Store at Mia appealed to you?
I like to learn, to travel, and to people watch, so visiting museums has always been one of my favorite activities. In addition, I obviously love to shop, so to me, great museum stores have always felt like the cherry on top of a fun excursion. We try to re-create that feeling for every visitor through our design and through our products. Sometimes when you leave a museum, you just want to touch things, and at The Store, you can!
For the shop revamp, you tapped Ashley Mary Art for a mural inside the store and built out bookcases. What are some other changes shoppers might notice at the new store?
It's funny—the Ashley Mary mural came about in the month leading up to our debut, and it's been the most talked-about part of the new store! That's how it always happens, isn't it? Our GM of Retail Operations, Ryan Ross, had previously worked with Ashley, who is an MCAD alum, and suggested it. Mia and MCAD have a long relationship and we try to support students and alumni whenever possible, so this was a natural extension. We're in love with the mural and had so much fun having Ashley here painting. We've also built out a library, and I love nothing more than seeing customers paging through books with a cup of coffee in hand.
What was your design approach?
We worked with Siri Knutson of Siri Knutson Design Studio on the build-out, and the approach was always, How do we work within these constraints—a limited budget, nonexistent natural lighting, a broad assortment of products that is constantly changing, accessibility—to create a place we'd all love to spend time in? Siri was amazing and guided us through removing our 1980s cash-wrap, creating flow, effective merchandising, and designing areas that felt livable, like our kids' space with custom-built activity tables. Those bookcases were designed by Siri and Al Silberstein, who is an incredible carpenter on our facilities team, and then built in house by Al and other members of the team. It was so fun to watch them come to life. We'll continue to make improvements. Stores are like your home: ever-changing.
What do you look for when buying for the store?
The best stuff! For Mia, this means products that complement our collection, our exhibitions, and that resonate with our visitors. We strive to carry a broad range of prices and to be accessible, but we aren't selling mass-produced product here. We have high standards for everything that comes into our store, and we expect them to be made well, and to last. We also love to work with local designers and makers and carry their products. The thing we're always on the lookout for, in addition to just generally awesome stuff, is diversity—of course in terms of our vendors and partners, but also in the items we sell. This is an ongoing endeavor—within the industry, not just retailers—but I'm particularly proud of the progress we've made in our children's books category. It's so important that all of our little visitors see themselves within our covers.
One major project you helmed was launching an e-commerce site for The Store at Mia. How did this relate to your vision for the store?
E-commerce is important because it's often the first way a visitor experiences your store, or at least becomes aware it exists. In our case, we were fulfilling multiple orders by phone during our peak seasons, so it also just made sense from a business perspective to streamline the process. We're excited to further refine and differentiate our online shopping experience, but launched with a very small percentage of our assortment just to get started.
How does working at the Mia gift store connect with your work with The American Edit and with your passion for sustainable, ethical retail?
In addition to my passion for sustainable, ethical retail, I also have a passion for art, and for non-profits that support our community. So working at Mia is really the best of both worlds for me. Not everything we buy is made here in America, but a lot of it is, and even more is made in other high-wage countries, and we work to make sure that everything else is made by responsible companies.
Do you have any plans to return to your work with The American Edit or your Why Do We Have Things podcast?
Yes! Let's call 2017 (and part of 2016) a pregnant pause. [Mehta recently welcomed a new baby to her family.]
Anything else in the works with The Store at Mia? Do you plan to have more events incorporating craft-centric brands?
Not to be coy, but we have so much in the works. The Minneapolis retail community really supports our own, which we love and will continue to do, but we're most excited about finding ways to deliver experiences that fit within Mia's overarching goals.
The Store at Mia is open during regular museum hours. The Store at Mia will be open early on Friday, Nov. 24 from 6–10 a.m. for a Black Friday shopping event. Shoppers will receive 20 percent off all purchases, and My Mia members will receive an additional 10 percent off, plus there will be free admission to Mia's exhibition, "Eyewitness Views: Making History in 18th-century Europe" on a first-come, first-served basis. Complimentary coffee and treats from Agra Culture will be served. For more information, visit new.artsmia.org. @ Minneapolis Institute of Art, 2400 3rd Ave. S., Minneapolis, 888-642-2787, artsmia.org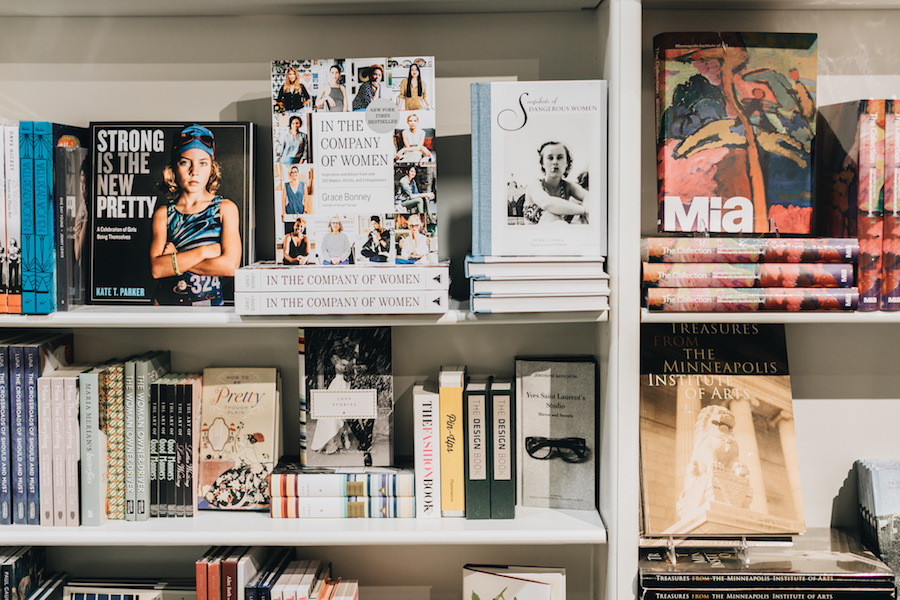 Facebook Comments