In the November issue of the magazine, I write about the new Italian Style exhibit that made its U.S. debut at the Minneapolis Institute of Arts this month–an impressive claim, especially as it's also the first major fashion exhibition to be hosted at the museum. The show, which opened last weekend, features a stunning array of Italian-made fashions: from WWII-era day suits made of fascist-approved, rationed fabric; to the first Italian fashion shows produced by Italian businessman Giovanni Battista Giorgini in the 1950s (which conclusively put Italian fashion on the map); to the emergence of Milan as Italy's fashion capital in the '70s with then-emerging labels such as Versace, Armani, and Pucci; to the quirky anti-couture of ready-to-wear lines including Moschino, Fiorucci, and Bennetton; to today's gorgeous red carpet gowns, epitomizing Italy's signature romantic, classical style. (Not to mention Gucci, Etro, Prada, Fendi, Max Mara, and Schiaparelli.)
The extraordinary show was compiled by London's Victoria and Albert Museum, and makes it was to Nashville and Portland, Oregon, following the MIA's run. The museum's gift shop also features a similarly stunning array of Italian-made vintage items (sourced from estate sales and local vintage-designer boutique Mona Williams), modern Italian goods, and gorgeous coffee table books on Italian fashion for sale–just in time for holiday shopping.
Depending on the success of the show, it could very well be the first of many major fashion exhibitions to come–thought the fact last weekend's food-and-fashion "Taste of Italy" event is sold out offers an optimistic indication. I'm crossing my fingers that a show on French style to come next.
Related events include "Third Thursday: Italian Style" on November 20 and a series of screenings of films noted for their Italian costume design, Bellissima, Barefoot Contessa, and Le Amiche, as well as the documentary Valentino: The Last Emperor.
On view during museum hours through January 4, 2015, $16 (free during Third Thursday), Minneapolis Institute of Arts, 2400 3rd Ave. S., Mpls., 612-642-2787, artsmia.org
Bonus: Here's a peek of some of the great Italian-themed giftables available for sale at the MIA's museum shop:
Fornasetti: Designer of Dreams, $39.95
La Dolce Vita: The Golden Age of Italian Style and Celebrity, $59.95
Italian Style: Fashion Since 1945, $60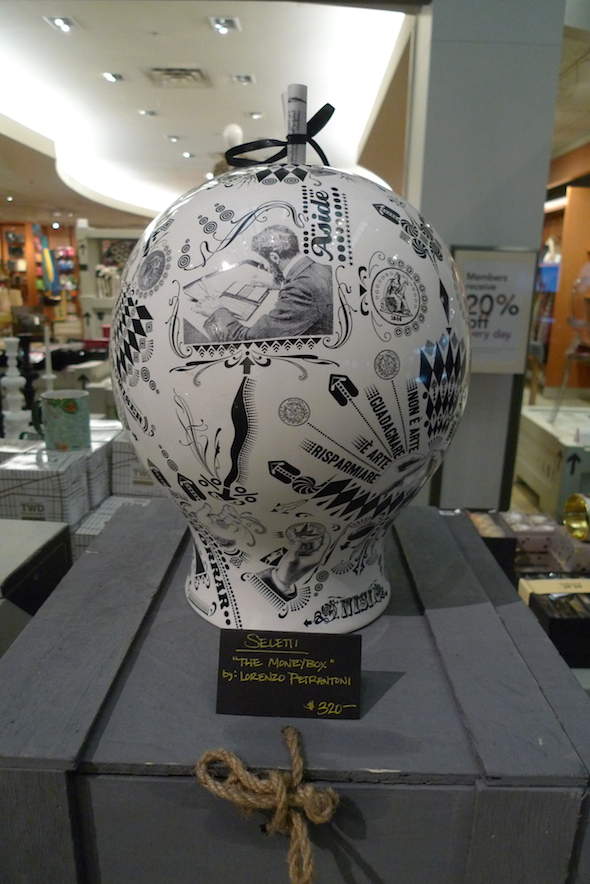 Fashion vases
Vintage 1960s Missoni beaded mini dress from Mona Williams
The Fashion Book: Mini Edition, $12.95, Roberto Cavalli, $85, and Gucci: The Making Of, $85
La Dolce Vita: The Golden Age of Italian Style and Celebrity, $59.95, and La Dolce Vita: 60s Lifestyle in Rome, $75
I Am Dandy: The Return of the Elegant Gentleman, $58, and fashion vases
Vintage Italian-made Marni and Missoni items for sale
Vintage Italian-made jewelry for sale
[All photos by Jahna Peloquin]