Chicago
photo by jeremy daniel
---
Chicago 6/5-10
Since 1996, the revival of Chicago has been "razzle-dazzling" audiences around the world, and this summer it arrives at the Orpheum Theatre in Minneapolis. The story of two vaudevillian murderesses, featuring showstopper "All That Jazz," won a Grammy for Best Musical Show Album and six Tony Awards, and has become the longest-running American musical in Broadway history, surpassing Cats in 2014.
---
Winona Steamboat Days 6/13-17
For five full days, Winona Steamboat Days offers family-friendly fun in Winona. Think: boat races, live music, a carnival, parade, and fireworks. For children, add a fishing competition, kiddie parade, and a tractor-pull qualifying contest for the national competition. Adults can sign up for several sports tournaments, including cornhole, volleyball, golf, softball, and tennis.
---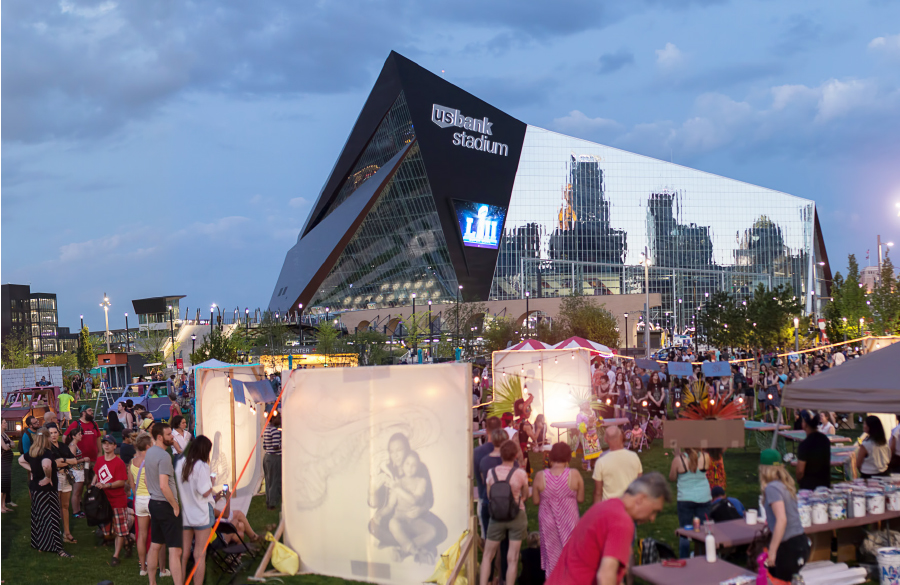 Northern Spark
photo by bethany birnie; courtesy northern spark
---
Northern Spark 6/15-16
The Twin Cities' vibrant art community comes together annually at Northern Spark, an interactive outdoor art festival that begins at sundown. Featured artists include Laura Brown, who uses construction signs to research social and political upheaval, and Tiffany Carbonneau, who uses projection mapping to transform buildings and objects. This year's theme focuses on finding commonality in diversity. Northern Spark expands to two nights of discovery this year at The Commons, Minneapolis Central Library, and Nicollet Mall.
---
Stone Arch Bridge Festival 6/15-17
The Stone Arch Bridge Festival is a Father's Day weekend well spent. The free event features the best in local music, 200-plus art vendors, a car show, food, and family activities lining the Mississippi River near St. Anthony Main in Minneapolis. See if you can find a few of the "Festival Favorite" artists, with selections from categories such as painting, photography, jewelry, and more. New in 2018, the festival's "Art in Action" initiative will feature four commissioned art installations/murals from local artists scattered throughout the grounds.
---
Rock the Garden 6/16
Music and art converge at Rock the Garden, in and around the Minneapolis Sculpture Garden outside the Walker Art Center. The cultural critic and folk-rocker Father John Misty, who released Pure Comedy last year, headlines. The day also includes Canadian singer-songwriter Feist, saxophonist (and Kendrick Lamar collaborator) Kamasi Washington, alt-country singer Nikki Lane, Philadelphia rockers Low Cut Connie, and British post-punk act Shame. From the local ranks, rapper P.O.S and singer-songwriter Chastity Brown will perform.
---
Walker Rocker
Relive the opening of Bon Iver's set at Rock the Garden at the Walker Art Center last year before looking ahead to the Father John Misty-helmed show this month.
---
Moondance Jammin' Country Fest 6/21-23
Sing and dance along to music by Cole Swindell, Brett Young, Cam, and Gary Allan before sleeping under the stars at Moondance Jammin' Country Fest. The festivities take place Thursday to Saturday in Walker. Arrive a night early on Wednesday for a Chris Hawkey show, as well as a Burger Battle and a beer tasting.
---

Twin Cities Jazz Festival
photo by chris mcduffie
---
Twin Cities Jazz Festival 6/21-23
Set in St. Paul's growing Lowertown arts district, the Twin Cities Jazz Festival returns for its 20th year. More than 20  venues will accompany Mears Park in hosting jazz events throughout the weekend. Headliners Dee Dee Bridgewater, Tia Fuller, Nayo Jones, and Houston Person will fill downtown with music, as well as 100 youth jazz performers on other stages, too. Food will be plentiful, so you'll hear jazz on a full stomach.
---
Water Ski Days 6/22-24
Every summer, Lake City commemorates the Land of 10,000 Lakes' 1922 invention of the popular water sport with Water Ski Days. The three-day festival includes skiing exhibitions on Lake Pepin, an arts-and-crafts show, and a Grand Parade, where neighboring towns like Stockholm and Pepin join the festivities. Stick around for live music, human foosball, a street carnival, and a beer garden.
---

Twin Cities Pride
photo by Mike Madison
---
Twin Cities Pride 6/23-24
Created decades ago by the LGBTQ community, Twin Cities Pride claims to be one of the largest free pride celebration in the country, with about 350,000 visitors, 400 booths, 40 food vendors, and four music stages. Along with Sunday's Ashley Rukes GLBT Pride Parade on Hennepin Avenue in downtown Minneapolis, Loring Park hosts music headliner Brandy on Saturday night. The Rainbow Run 5K and the Pride Awards fill out the weekend.
---

Bubble Run
photo by bubble run
---
Bubble Run 6/30
The Bubble Run 5K in Blaine is more like a giant bubble bath than a race. Untimed, participants can run, walk, or dance through the course while wearing a Bubble Run T-shirt or other bubble-inspired gear. Different-colored foam stations at each kilometer allow for maximum suds collection. A DJ and final foam station await at the finish line, for those who aren't quite ready to leave the bubbles behind.
---
Digital Extra: Suds in Your Running Shoes
Soak in highlights of last year's Bubble Run 5K, and see why it's the cleanest, most heart-racing fun you'll have all year.
Facebook Comments