Well, attendees of last night's installment of the MNFashion Shows got a treat.
CounterCouture showed their first collection of upcycled/repurposed clothing, with much of the material provided from Ever After Gowns. Love the idea of repurposing a frumpy bridesmaid dress or out-of-date prom dress into something chic and dramatic, rather than letting it languish in a landfill or the back of a closet. I particularly loved the cocktail dresses and pencil skirts. Loved the graphic black, white, and red pairings and the attitude it conveyed—confident, chic women at a sexy cocktail party. Here are a couple of my favorite looks from the runway show.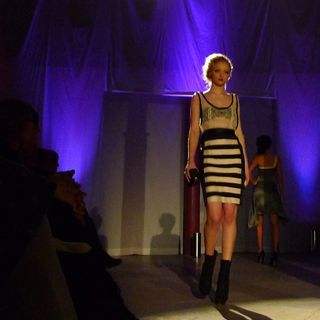 George Moskal has long been known for his polished, elegant designs. It's clear to see why he's a critic and fan favorite. I imagined wearing all of his impossibly chic pieces in the Hamptons, hobnobbing with Ralph Lauren. I also loved the slightly '50s feel—so ladylike and flattering to a female figure—and small twists on classic shapes. Here are a few looks I loved.
Tonight's show promises to be wild and wonderful, with designs from Emma Berg and Kevin Kramp. Same time, same place: Doors at 7 p.m. at the MNFashion Atrium, 79 13th Ave. NE., Mpls.
Facebook Comments