If you've passed through the beauty aisle at Target this week, you may notice a colorful new addition: A new line of brushstroke-patterned cosmetic bags. The two sets of patterns were developed from a series of four watercolor paintings by Minnesota artist Ashley Barlow, whose work I first became familiar with through Excelsior boutique Golden Rule Collective, of which she is a member. The ten-piece line, branded as Ashley Mary, were produced in collaboration with Allegro Creative, the soft-line division of Conair (the same folks who put the Orla Kiely collection together). Barlow says she worked with a local sales agency and Allegro to pitch concepts to Target. Target's buyers clearly loved the concept.
For now, Barlow says it's a one-off collaboration, but that it's helping to lead to other potential collaborations. "It's fun to think about all the ways my art could translate in a surface design setting," she says.
You can see Barlow's work during this weekend's Art Attack open studio event at Northrup King Building in Northeast in the studio of ceramicist Louisa Podlich and jeweler Britta Kauppila (5-10 p.m. Fri., Nov. 6, noon-8 p.m. Sat., Nov. 7, noon-5 p.m. Sun., Nov. 8, 1500 Jackson St. N.E. #252, Mpls., northrupkingbuilding.com/artattack). She'll also participate in the Golden Rule's Holiday Pop-up Shop on December 3, during which she'll showcase a new series of paintings and at Soo Visual Art Center's holiday shop coming up in December.
Shop all ten styles of Ashley Mary cosmetic bags below at Target.com and Target stores nationwide.
Ashley Mary Daydreamer Weekender, $29.99
Ashley Mary Daydreamer Train Case, $24.99
Ashley Mary Daydreamer Pencil Case, $9.99
Ashley Mary Lucky in Love Small Valet, $19.99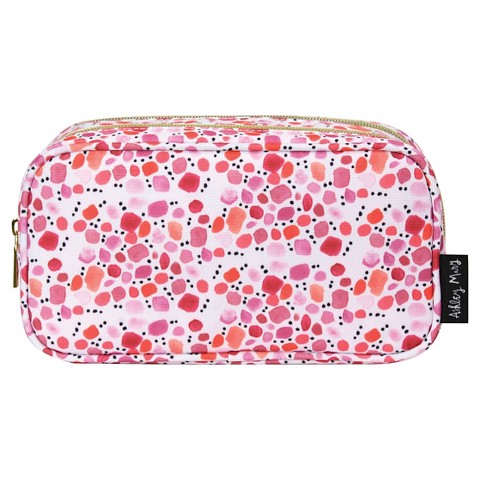 Ashley Mary Lucky in Love Double Zip Organizer, $16.99
Ashley Mary Lucky in Love Round Top Clutch, $9.99
Ashley Mary Daydreamer Organizer, $16.99
Ashley Mary Lucky In Love 2pc Clutch Set, $16.99
Ashley Mary Lucky In Love Train Case, $27.99
Ashley Mary Daydreamer Double Zip Organizer, $16.99
Facebook Comments