Recently, Minneapolis indie designer and screen printer Rhys Jones ignited a small firestorm when they accused popular streetwear label, Supreme, of ripping off a design from their apparel label, Lowwbones. (Indeed, the similarities are uncanny.)
Now, Jones is forging ahead with a new business in collaboration with fellow designer and screen printer, Kara Faye Gregory of KFG Apparel. Ritual Print Co. is "a queer artist-owned-and-operated" custom screen printing shop that has been printing tees and other merch for clients including Five Watt Coffee and Modist Brewing since May. The company has a focus on printing for fellow artists, makers, craftspeople, performers, musicians, tattooers, small businesses, and community organizations and projects (including the Trans Assistance Project), in addition to their own apparel lines. Jones and Gregory have about a combined 11 years of screen printing experience under their belts—both studied fine art with a focus on printmaking in school (Gregory has a BFA from MCAD and Jones has a BA in Fine Arts from the University of Minnesota), and over the years, they have worked as print shop assistants and teaching artists for Free Arts MN, MCAD, MCTC, and poster printing giants, Burlesque of North America.
To help get the business off the ground, Jones and Gregory have launched a crowdfunding campaign to help them raise $15,000 to lease a space and secure the necessary equipment, with donor incentives ranging from patches and pin packs to live printing for events.
I chatted with Jones about the new business, why they (Jones's preferred pronoun) love screen printing, and the Supreme controversy.
How did you and Kara meet and decide to partner on a print shop?
"Kara and I recently tried to figure out where and how we met, and the simplest answer seems to be the 'art world.' We'd participated in a few of the same shows and got to know each other through our work. I've admired Kara's print work from day one, so I reached out to her back in the spring to meet up and talk business. We found that we were both in a pretty similar place personally and professionally. We were both wanting to branch out and start up our own shops, but the idea of doing it solo was way too intimidating, so we teamed up to make it happen. It's a really awesome and well balanced partnership."
Why is screen-printing t-shirts your chosen artistic medium and craft? What do you love about it?
"T-shirts exist in this really rad space between 2D and 3D work—a printed t-shirt itself is flat and stationary, but the moment it's placed on a body, it becomes something more like a moving sculpture. We're especially excited to be printing for fellow artists, as t-shirts offer a whole other way of getting an artist's work out into the world in an accessible and affordable way. I also recently realized that I collect t-shirts, and that many of them are tied to people, events, bands, and places that mean a lot to me, and wearing those shirts makes me feel connected to them. I collect shirts in some ways the same that I collect tattoos: They're added to my collection when I find something I want to memorialize, capture, or represent. They're something I'm proud to carry on my body and speak to my own story."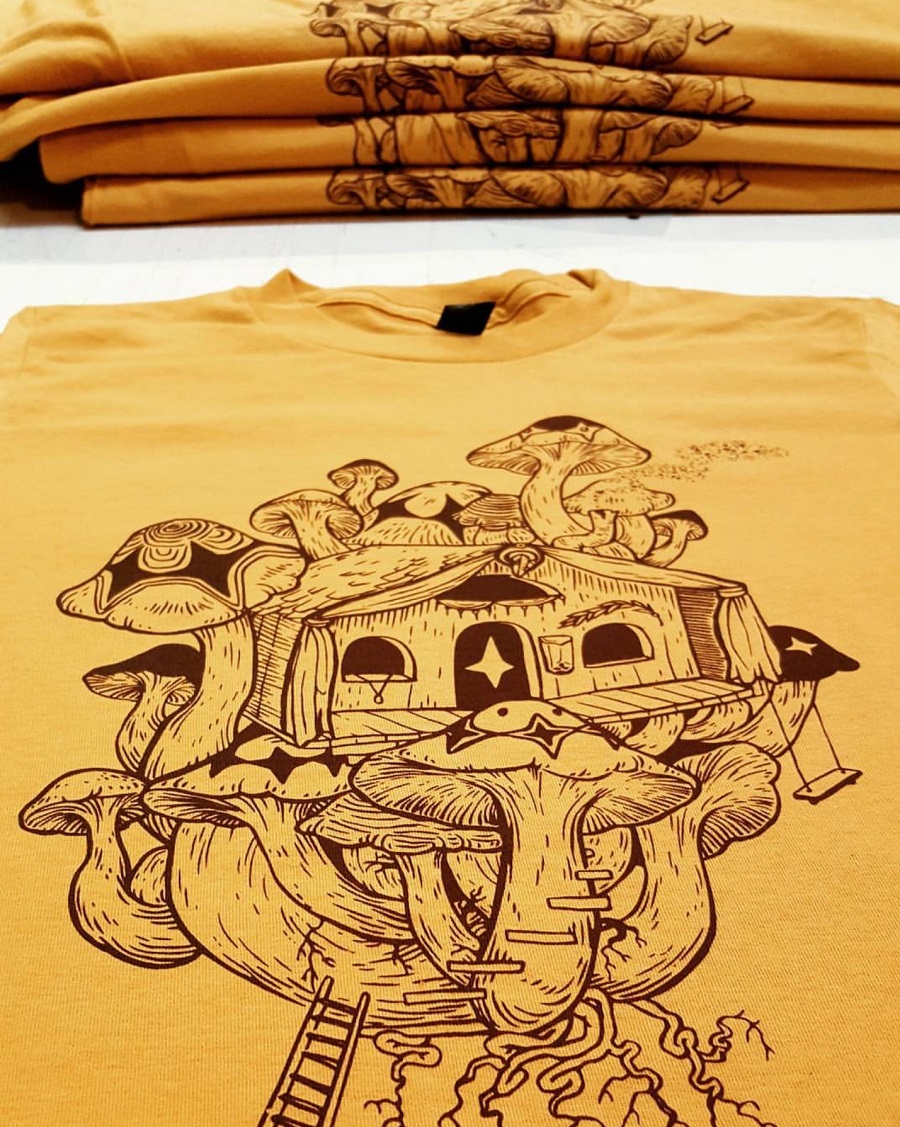 design by Junko Osaki, printed by Ritual Print Co., image Courtesy Ritual Print Co.
What inspires your designs for Lowwbones?
"I like to think that my designs through Lowwbones are such that you can take one look at them and know exactly what the f*** I'm about. The absolute best compliments from customers are being told that they feel badass and empowered when wearing something I designed and printed. Many of my designs have pretty blatant queer and feminist underpinnings, and I think it's really important that those things be very visible in a world that would often prefer to look right past us. I'm deeply inspired by badass women and queers as well as queering pop culture imagery and references. The aesthetic is heavily influenced by punk and low-brow culture, and by counterculture in general."
What kind of reaction did you receive when you posted about Supreme copying your t-shirt design? Did anything good come out of it?
"To be totally honest I'm a little hesitant to say much about Supreme at this point for legal reasons (i.e., I have zero legal resources) and because of their seemingly bottomless pool of irritating fanboy trolls. I got a lot of support when I posted about it and some backlash, though honestly most of the backlash missed the point entirely, and just proved why big companies ripping off little guys works. I wish it came as a surprise that a brand and its fans who are part of what's supposed to be a counterculture just participate in the same capitalist trash they think they're better than. I ended up having a lot of interesting and useful conversations with folks about issues around copying and ripoffs, especially in the context of pop art, which itself often borrows heavily from existing imagery and design, and the sometimes-enraging catch-22 of putting your work out on the internet for the world to see. Beyond the dramatic part of things, I'm just resolved to keep doing me and putting in work. I feel solid as ever in my mission and ethics and am proud of what I've built thus far. The whole experience also just encouraged me further in what Kara and I are doing with Ritual, in helping artists and other little guys get their original, genuine work out into the world."
Learn more about Ritual Print Co. at ritualprintco.com, shop Lowwbones apparel at lowwbones.com, and donate to the Ritual Print Co. crowdfunding campaign at indiegogo.com.
Facebook Comments