The weather may be playing tricks on us, but Mother's Day is right around the corner (this Sunday!). Don't fret—we've got deals and gift ideas that are sure to help you secure your spot as "favorite child" on May 12!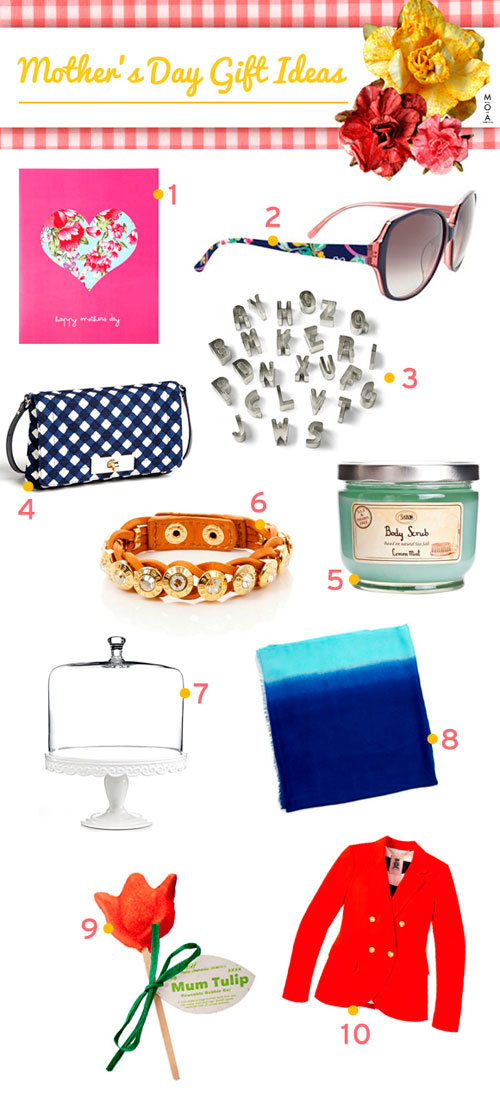 Also, enjoy these many special deals when you shop for Mom! (See individual stores for details and exclusions.)
Receive a free Aerosoles tote with your purchase of $75 or more! Valid May 11-19.
Don't miss your chance to make memories with your daughter! American Girl stores are offering three special events: "Just Mom and Me," "Mother's Day Card Craft," and "Mother's Day Brunch" for you to enjoy together. View the schedule online.
Athleta is celebrating Mother's Day with a giveaway that will inspire all mothering spirits to pursue their long-awaited fitness goals. Share your own or a friend's goal, like running a half marathon. To participate, enter in-store at MOA by May 12. Five lucky winners will be drawn and outfitted with the goodies they need to accomplish their goals!
25% off one item from May 1-15.
25% off all hand-crafted jewelry from May 1-10.
Receive a free "Don't Worry, Bead Happy" t-shirt with a purchase of $75 or more from May 1-12.
Come in to Beadniks May 6-10 and make a gift for your favorite Mom. Table fee is free, you pay for supplies only!
25% off all massage and wine gifts.
30% off selected cases for iPad tablet.
Offers valid May 3-12.
Buy one drink, get a second drink free on May 12.
Enjoy a Mother's Day Grand Buffet from 9 a.m. to 3 p.m. on Sunday, May 12! Kids under five eat free. Adults: $29.95. Children under 12: $12.95.
Support Godiva & the FEED Project by giving Mom a gift that gives back! Each FEED 10 bag provides 10 school meals to children (while supplies last).
Purchase any FEED 10 bag for $40.
Pay just $50 when purchasing any $30 box of chocolate + $40 FEED 10 bag (save $20).
Pay just $70 when purchasing any $50 box of chocolate + $40 FEED 10 bag (save $20).
Receive $25 off every $150 spent from May 1-27!
Celebrate Mother's Day with 25% off one full-priced item from May 9-12.
Mother's Day Brunch served 9 a.m. to 11 a.m. on Sunday, May 12.
Special Island breakfast menu.
Free Island Lei for every Mom!
Mother's Day drink made especially for Mom!
Celebrate Mother's Day with a variety of Mother's Day gift sets at a special value now through May 12.
Delightful Hands Collection: $28 (regular $36).
Collector's Edition Fragrance Gift Set: $95 (regular $113).
8-Piece Best of Spring Collection ($20 with and $45 purchase).
Receive a voucher for a free in-store hand, neck or foot treatment with any purchase May 6-12.
$30 off all Maria Rivolta watches now through May 19.
Signature Cord necklace ($34) & Cord bracelet ($30) with single cylinder design. (Buy one full price, get second one at half price. Buy two, any combination, and receive one at half-price. Discount applied to lower priced style.)
Purchase the Mother's Day Bracelet Gift Set for $200, featuring a sterling silver Pandora clasp bracelet, two "Beveled" clips, one "Mom" charm, and a charm of your choice valued up to $35. Includes travel jewelry case. (Retail value $250, valid through May 12)
Pandora Bear My Heart Charm – this limited edition charm is adorable and a truly special gift for your beloved mother! Available only while supplies last.
Receive a free Mother's Day gift with any purchase of $99 or more now through May 12.
Purchase any fragrance and earn triple Beauty Insider points on entire purchase from May 1-19.
Purchase the Mother's Day Gift Box for just $40! Gift Box includes Notre Dame Eye Shadow, Publicize Eye Shadow, Provoke Eye Shadow Base, E70 Medium Angled Shading Brush, face chart, instructions and Mother's Day card May 3-12.
Receive a crystallized card for Mom with any purchase from May 1-12.
Receive a "Treat Yourself" voucher with any purchase made during May 1-31! Redeem this voucher and receive a surprise gift with a purchase of $50 or more.
Take Mom to Mexico! Receive a postcard in-store to enter to win a tropical getaway for two in Mexico and a sparkling Swarovski jewelry package.
Mother's Day Special ($195): this gift set contains five Matryoshka dolls and three Swatch watches hidden within. These famous Russian dolls tell the story of three generations: mother, daughter, and granddaughter. While supplies last.
Spend $40 and get a 16 oz. Butterfly tumbler for $5 through May 12.
Tommy Bahama for Her, Tommy Bahama's newest fragrance, makes the perfect Mother's Day gift. Enjoy a special gift when you purchase the 3.4 oz eau de parfum from May 1-12.
Receive $20 off a Vera Bradley Convertible Baby Bag (print or Classic Black), Weekender (print or Classic Black) or Three-0 Tote from May 2–11.
10% off any purchase at Level 3, North location on May 12.
20% off select bakeware through May 12.
In-store Artisan Market (May 11, noon to 4 p.m.) – Williams-Sonoma will welcome four artisans from the Twin Cities: Sweet Ivy Cakes, Split Rock Coffee, Minnesota Nice Spice, and Gourmet Thyme. Artisans will offer in-store demonstrations and samples of their products, as well as products for purchase. Anyone shopping between noon and 4 p.m. will receive 10% off their purchase!
Large Jar Candles: buy one, get one 50% off through May 12.
Find more tips + trends from Mall of America.