It turns out that when you mash up the grunge of a cage match and the elegance of opera, you get a sold-out show. Back for its third year, Out of the Box Opera's Diva Cage Match-Tag Team Duets is a chance for opera singers, or talented vocalists commonly known as "divas" to compete with each other. A sing off, in other words.
On October 26, I was seated at one of Minneapolis Cider Company's hightops with a good view of the stage and a raspberry cider. No one threw punches in this cage match, but there was plenty of ferocity. Performers projected their fighting spirit into their voices and their body language—one singer even pounded on the judge's table until his glass spilled. Though this wasn't your typical cage match, the performers certainly put on quite a show.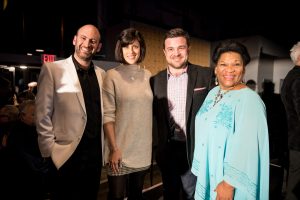 The Walk Out
Pink's "Get the Party Started" called out the line of 12 opera singers from the back of the taproom, and MC David Lefkowich from Out of the Box Opera introduced them one by one. More than the walk out song, Lefkowich set the tone for the evening by ripping off his tear-away track suit and tossing it into the audience, revealing a sharp suit. Then came the three celebrity judges, singer Dessa, Jazz and Gospel singer Jevetta Steele, and former Minnesota Opera conductor Michael Christie.
The Rules  
Round One had three battle categories—emerging artists, professionals, and masters—and each battle had two duet pairs competing against each other. After the judges pick the winners of each battle, Round Two begins, and the three winning duets from the first round all compete against each other for the overall title.
The Repertoire
The night's music ranged from West Side Story to the 1960 opera adaptation of A Midsummer Night's Dream and everything in between. There were several French operas that, despite their linguistic differences, host familiar tunes and storylines the audience could relate to. Take "Habañera" from the opera Carmen. You may not be familiar with either of these names, but you definitely know the melody (trust me—look it up). 
The Highlights
Before the first round began, Christie said, "When two voices come together our hearts pound." I am indeed left with a fluttering pulse when soprano master Jill Gardner shook the house with a single high note. Superb vocals aside, each pair's theatrics and delivery are on par with the drama of opera. 
Clenched fists and steely eyes spoke for themselves in Alissa Anderson and Kyle Albertson's story of a quarreling couple in Carmen. Additionally, in a rendition of Cendrillon or, Cinderella, Sarah Coit's whimsical and fluid body language changed into obvious panic as midnight approached. Whether a couple was falling in love or trying to kill each other, emotions were stirring both on and off stage.
As we progressed into the Round One masters battle, Gardner and her husband, Jake, left me breathless in their excerpt of Tosca. In a chilling rendition of an assault and murder scene, the pair brought us into the depths of the story with shocking projection and range.
In the final moments, Jill "killed" Jake and hovered over his body with a dagger in hand. She carried her emotions of revenge through the final note, causing the audience to remain in silence as the remnants of her voice lingered in the air.
Still in the Round One masters battle but taking a drastically different turn, Andrew Wikowske and Dennis Petersen dressed as a 1980s punk rock band emerged from the back. In contrast to the tuxedos and glittering gowns of previous rounds, the pair dressed in leather with long hair and sunglasses. They performed a piece from Ce N'est Qu'un Rêve while playing their electric guitars. Truly "taking opera to places we never thought possible," the judges affirmed the bold choice in repertoire.
The Winner
Choosing a winner of the first masters battle was especially difficult for the judges since both the Gardners and Wikowske/Petersen had phenomenal performances. While the Gardners won the bout, Wikowske and Petersen later received a chance at redemption.
After all of the Round One battles, Lefkowich welcomed back the losing teams to the stage and let the audience give one pair a second chance to compete in Round Two. Judged by applause from the crowd, Wikowske and Petersen were selected, and, with their follow up performance of "Mime/Alberich Duet," the pair ultimately won this year's Diva Cage Match. 
While we might associate opera with intensity and intimidation due to the often unfamiliar language and glass-breaking vocals, in fact opera is an expression of countless styles of music and storytelling. The proof is in this event. Opera novices can take away a new perspective of traditional opera, and more seasoned opera-goers discover and further appreciate opera's rising talent and creativity.
No matter which category you fall under, you'll want to check out these local opera companies:
Facebook Comments