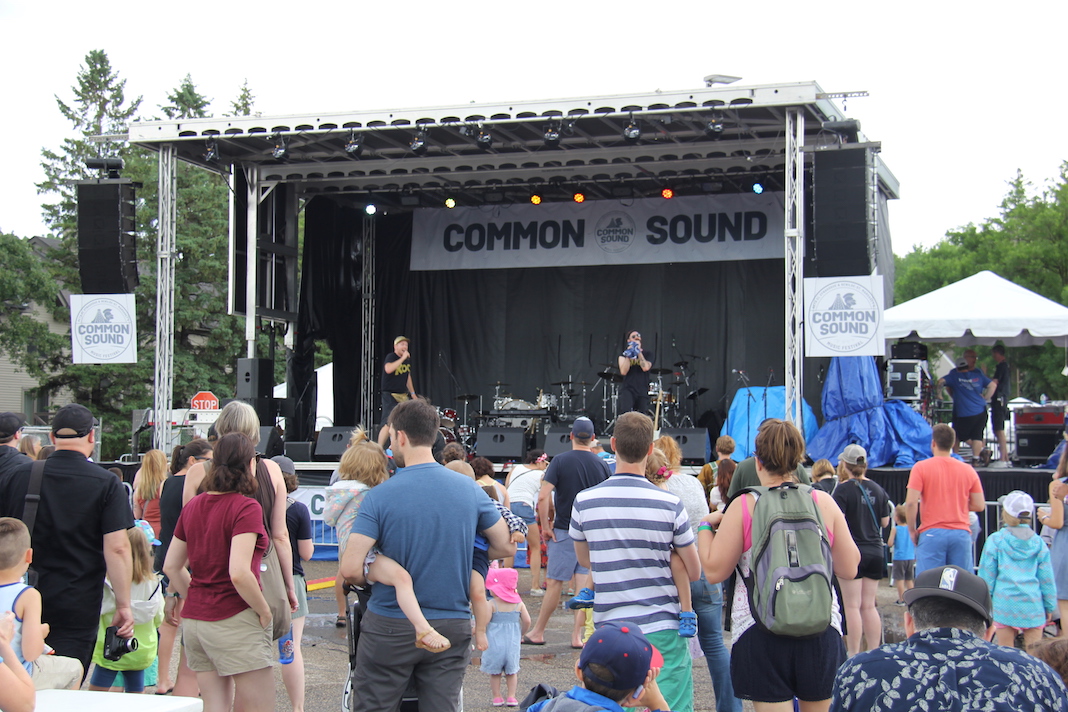 Common Sound Music Festival, as Go 95.3 radio host Auggie 5000 reminded attendees between acts, was a joint effort by Benilde-St. Margaret's School and neighboring Beth El Synagogue in the name of unity and love. Perhaps it's fitting, then, that in its second year, the festival felt like a celebration of kids. Who could better represent a hopeful future than the next generation to shape it?
When the storm cleared after DJ Hampster Dance's set, families rained down to see Koo Koo Kanga Roo. These parents and young kids danced adorably with crazed enthusiasm to their high-energy tunes about things like pizza, pirates, poop, and Panera Bread (a restaurant which they have an entire album about, Fast Casual).
Koo Koo Kanga Roo got the Common Sound crowd pumped up and laughing, dancing along with them and running among them. They had such command over the audience that they managed to convince an adult man to belly flop into a big puddle. And when they left, so did most of the audience, aside from some kids—now wearing Koo Koo Kanga Roo T-shirts—splashing in puddles.
Benilde and Beth El have been neighbors for decades, and they have always emphasized interfaith interaction and education through small collaborations. The religious institutions started Common Sound last year as an effort bring people together in a diverse, divisive world with universally enjoyable music. The rock, folk, and Americana bands of last year were chosen in hopes of stirring up nostalgia in their middle-aged target audience.
The festival changed to provide more for people of all ages this year, with artists catering to more adult audiences as the day went on. But Common Sound stayed true to its mission of fostering neighborly connectedness and continued to donate its net proceeds to financial aid for families at Benilde and Beth El.
The Plymouth music school Bach to Rock's three-song cover set was more grown up than the previous act's ("Say It Ain't So" by Weezer, "Just What I Needed" by The Cars, and "Song 2" by Blur). But the performers were themselves kids, and they put on a show as great as their lead singer and keyboardist's bright purple undercut. After them, the New Grey took to the stage with a unique and beautiful indie blend of genres, with smooth vocals over a strong backing band. Then, Stereo Kitchen presented some irresistibly dance-able rock songs, including one featuring a kids' choir from Benilde and Beth El.
The earlier artists in the day deserved bigger audiences than they got. Most of the sold-out festival's ticket holders seemed willing only to brave the excessive heat warning and risk of rain for the headliners.
The penultimate performer of the night, jeremy messersmith, was downright delightful from start to finish. Whether he was singing about dancing with an unrequited love or finding happiness in late-stage capitalism, messersmith's songs felt even more honest and vulnerable played live than through headphones. During his new single from this year, "Sweep Me Off My Feet," messersmith let out a nervous chuckle mid-song at his own lyric about getting to know his body, later explaining he wasn't used to people singing that back at him yet.
Ending the set was "Everybody Gets a Kitten," from messersmith's 2017 album 11 Obscenely Optimistic Songs For Ukulele: A Micro-Folk Record For The 21st Century And Beyond. In what was objectively the cutest moment of the day, kids emerged from backstage to dance along to the song with their grown-ups from the band.
When the swarm of Doomtree devotees descended upon Common Sound and pushed their way to the stage, after a slow and sweet day of kiddos, it was a big shift. But this new energy was infectious; it was impossible not to get excited about the music when you had seven extraordinary artists roaming the stage together in their first full-crew performance of the year. Their sea of merch-clad fans made the signature wings-and-teeth hand gestures and rapped along with the lyrics. If songs like "Get Down" and "Bangarang" aren't enough to get you to join in the fist-pumping (who even are you?), Mike Mictlan licking his pocket knife surely was. It was wild.
And it was unifying, to witness such collaboration between artists in such a crowd, in a parking lot between a Jewish and a Catholic institution, alongside kids who are crazy for Koo Koo Kanga Roo and adults who are diehard for Doomtree.
Here's hoping for better weather next time around.
Facebook Comments