With Minnesota's large Scandinavian population, it was only a matter of time before Swedish outdoor heritage brand Fjällräven came to town. The high-design, highly functional brand opened its first Minnesota store at the Mall of America this past weekend, featuring Fjällräven's full product line (except for its tents, which will arrive next spring), as well as gear from like-minded brands such as Brunten (portable power products), Primus (camp stoves), and Hanwag (a German boot company founded in 1921)—all of which are owned by Fjällräven's parent company, Fenix Outdoor. Other goods stocked include Stanley thermoses, Shywood wood-framed sunglasses, and Gransfors Bruk handmade axes. The store gets some Minnesota flavor with a pair of hand-painted canoe paddles by Winona, Minnesota–based Sanborn Canoe Co.
Fjällräven was founded in Sweden in 1960 with the intention of making the outdoors more accessible to more people, creating gear and equipment that could withstand harsh conditions while remaining lightweight and practical. Throughout the '60s and '70s, the innovative brand introduced condensation-free tents and functional sleeping bags as well as highly durable outerwear, including its signature Greenland Jacket designed with the brand's signature waxed G-1000 material, and down-filled parkas. Fjällräven later became well-known for its iconic Kånken backpack, which was originally designed for Swedish schoolchildren in 1978. The bag is as stylish as it is functional—made from the brand's durable, water-repellant Vinylon F fabric, it's available in 30 cheerful colors. Best of all, the brand has made a commitment to ethical, sustainable manufacturing standards, including the distinction of being the first brand to introduce traceable down feathers in production.
The brand's North American rollout has been swift: It opened its first store in November 2013, and the Mall of America location is its 11th in the continent (and 9th in the U.S.). And the brand seems to be a match made in Scandinavian heaven with Minnesota—I'm told they've already signed a lease for another Fjällräven store on Grand Avenue in St. Paul next to North Face, slated to open early this fall.
Now open, Mall of America, 128 South Ave., Level 1–S128, Bloomington, 651-255-3050, fjallraven.us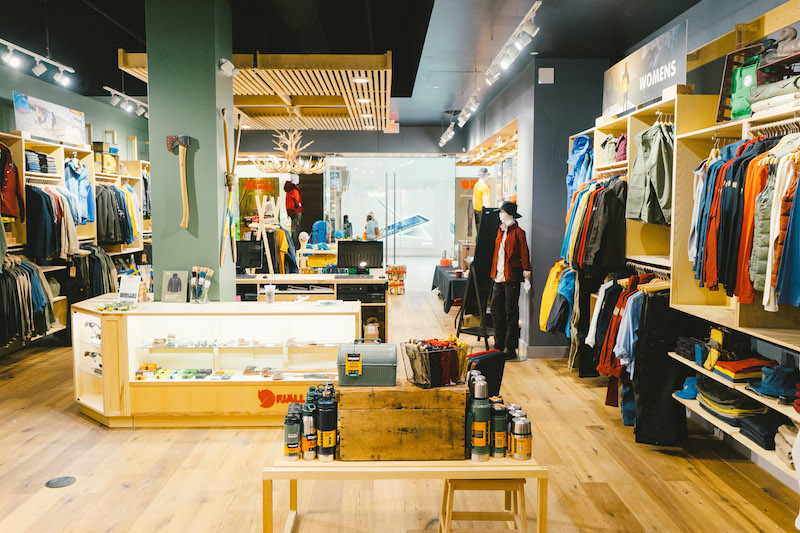 Fjällräven's store at the Mall of America
all photos Courtesy Fjällräven
Facebook Comments