Zombie Pub Crawl in Minneapolis' Warehouse District
photo by matt mead
---
Top 5

New Ulm Oktoberfest
photo by Groupcheers / fotolia
---
New Ulm Oktoberfest 10/7–8, 10/14–15
The Munich folk festival started as a royal wedding celebration in 1810 and has since morphed into lederhosen-wearing trombonists on parade, 120,000 liters of beer, and Germany's recently minted "quiet Oktoberfest" for people who prefer their fisticuffs without Schlager pop music. A little closer to home, New Ulm spends 11 months out of the year as a quiet Minnesota town, so there's no holding back the first two weekends this month. Check out its Midwestern take on a European tradition, featuring—yes, plenty of beer—plus a competitive grape stomp at Morgan Creek Vineyards, the Schell's beer wagon, celebrating the German immigrant heritage of the local Schell's Brewery, and so much food and oom-pah infiltrating a Best Western Plus.
An Evening of Fear 10/19
Northfield, the southern Minnesota home of St. Olaf and Carleton, enjoys an "arts town" reputation. So much so that to accommodate its strong drama-geek crowd, the Northfield Arts Guild this month debuts the NAG LAB alongside its regular programming, strapping local playwrights with small budgets to stage lo-fi, less-orthodox shows. The experiment opens with a double-feature of classic ghost-story one-acts: "The Monkey's Paw" and lesser-known "The Drop of Water." In one, an older couple tangles with death after wishing back a lost son. The other watches one mistake trickle toward horror. Lo-fi hasn't hampered first-time director Russ Paladin; staging his adaptaions, he's drawing inspiration from darkness—Audrey Hepburn's pitch-black scramble in Wait Until Dark and even the swathes of nothingness in The Blair Witch Project.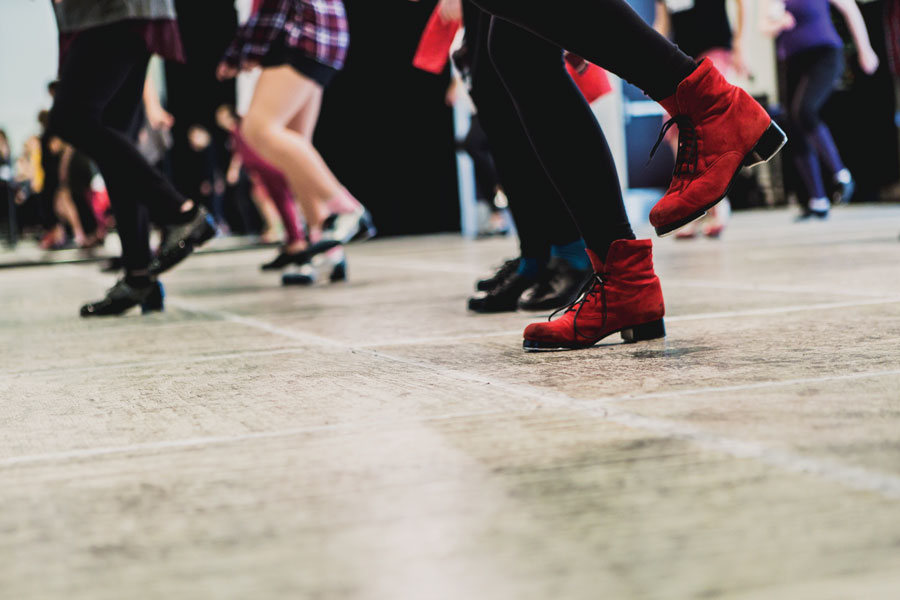 Twin Cities Tap Festival
photo by Calabay productions
---
Twin Cities Tap Festival 10/19–22
Many think first of Fred Astaire in top hat and tails, but tap dancing has grown generation to generation—up to last year, when an adaptation of the '20s musical Shuffle Along took steps from 100 years ago and set them to today's rhythms. Rich with dance studios thanks to its well-fed arts scene, Minnesota is a tap center, and at this Cowles Center event, four Minneapolis choreographers, among other renowned tappers, will challenge the lightly seasoned with syncopation and improv while beginners learn the basics (such as the shuffle—brushing your toe forward and back—or tap's national anthem, the Shim Sham). It's a form that adapts to any age. In one class, you could find a 13-year-old flapping his feet beside a late-40s paddle-and-roller.
South Central MN Studio Artour 10/21–22
Artists from three southern Minnesota towns—Farmington, Northfield, and Faribault—showcase capriciously executed, regionally flavored media, including ceramics, paintings, glass work, jewelry, and more. Consider potter Colleen Riley's vases, washed in Great-Lake blues and sloping patterns echoing cattail parallels. Or painter Mary Malone's rosy post-impressionist hues working their way into a duck still-life. Or woodworker Reid Hendershot's smoothed-down reuse of wood sourced from a community compost site and neighbors' yards—transmogrified into lathe-turned bowls, end tables, and other functional things.
Grand Day Parade 10/28
Anoka doesn't just call itself the Halloween Capital of the World. They've trademarked it. And they had to: Back in the early 1900s, youth relished the holiday as a chance to tip outhouses over, lather soap all over windows, and release the area cows. Good civic leaders used the old "Throw them a parade instead" technique. In 1920, parents tricked more than 1,000 Anoka children into costuming up on Halloween and enjoying themselves in a damn near civil fashion typical of today's kid-friendly, no-gore march down Main Street. While the volunteer board that organizes Halloween events considered barring candy distribution this year (which, thrown, prompts kids to run into the street), public consensus is: Uh, consider something else.
More This Month
Twin Cities Marathon, 9/30–10/1
A weekend of 5Ks, 10Ks, and more closes with "The Most Beautiful Urban Marathon in America." From U.S. Bank Stadium in Minneapolis, wind around the Lake of the Isles, Calhoun/Bde Maka Ska, and Harriet, then trek north along the Mississippi and finish at the State Capitol in St. Paul.
Scream Town, 10/6–28
In a secluded Chaska corn field, surrounded by knuckled 200-year-old trees, magician Matt Dunn has corralled zombies, pathologically amused clowns, and other slithering beasts for eight horror attractions that feed their guests to intense darkness, alone and close to tears. For more than a decade, the not-kidding-around Halloween experience has earned much critical praise.
Zombie Pub Crawl, 10/14
You don't understand America's recent fascination with the zombie apocalypse, but its macabre solution to today's social anxieties needs no explanation in the context of a beer-guzzling, bar-hopping Minneapolis street festival. Better to join the "World's Largest Gathering of Zombies," according to the Guinness Book of World Records, than lead the anguished life of the survivor at home.
"They Are Waiting For You," 10/12–2/11
French artist Laure Prouvost's voice, in seductive tones, addresses you while you wander through her new popping-with-color exhibit at the Walker Art Center. Prouvost instructs spectators to interact with moving-image and sound installations—hoping to conjure that preverbal state of infancy we've all forgotten, when the magic of learning language and meaning felt unadulterated and joyful.

Twin Cities Book Festival
jennifer simonson / minnesota public radio
---
The Twin Cities Book Festival, 10/13–10/14
The biggest literary convention in the Upper Midwest last year saw 6,000 readers from around the country crowd the State Fairgrounds to visit 100 publishers' booths. This year boasts plentiful speculative fiction, memoir-laden poetry, and local talent, including writers and artists celebrating the 40th anniversary of Duluth publisher Holy Cow!
Pumpkin Nights, 10/13–29
Three-thousand jack-o'-lanterns occupy the State Fairgrounds—but not your average triangle-eyed squashes. Think: totem poles, catterpillar-like chains, orange-glowing mandalas, artistically carved, variously grouped, strung from trees, and grinning along a half-mile path.
"The Holy Spirit Mass," 10/27, 10/29
It just makes sense that the National Lutheran Choir would call Minneapolis home. To recognize Protestantism's 500th anniversary, the choir fills the Basilica of St. Mary and the Ordway with a Norwegian composer's newly commissioned Mass, inspired by a call for Catholics and Lutherans to unite over what they hold in common. (So, lutefisk?)
Facebook Comments