As a kid growing up on the east side of St. Paul, Pao Houa Her loved listening to her grandma's stories about Laos—about the lush jungles concealing mysteries, about the sensation of a tiger's gaze as she walked to her garden, about how she found love. In Her's head, a fantasy formed around this country, from which many Hmong, including Her and her family, fled during the Vietnam War. 
Visiting years later, she felt disenchanted by what seemed like a modernized, ordinary place. As a Yale-trained photographer—in fact, as the first Hmong person to earn a Master of Fine Arts degree from the university—she decided to create her grandma's version herself, through the lens of her camera. These photos of Laos, she says, are "delusional." They boom with flowers and fog. But that actually makes good on some advice—really, a full artistic philosophy—that a photographer friend once gave her: "Be delusional!"
It seems to be paying off. This spring, Her was part of the Whitney Biennial, a New York survey of artists on the verge of making it big. Now 40 and based in Blaine, Her has presented over a dozen solo shows over the past decade, largely in Twin Cities galleries. She is known for high concepts: portraits and still lifes inspired by Hmong dating websites, or her mother's stash of silk flowers, or the forgotten legacy of Hmong veterans. She plays with artifice, blurring reality digitally, or posing refugees with fake plants and nostalgic backdrops—part of a Hmong tradition of staging idyllic Laotian scenes in studio settings. For one project, Her made a lenticular image of a tiger, so its stare stalked spectators around the room. It played off a ghostly story her grandmother told: Was it Her's grandfather who had shapeshifted into that beast, to visit after he died in the war?
Starting July 28, Her will show new work in her first solo exhibit at Minneapolis' Walker Art Center. The project examines land in northern California, where Hmong farmers have grown cannabis amid tight government oversight, ecological degradation, and racism. It started, simply enough, as an alternative to portraiture. "During the pandemic, I couldn't photograph anybody, right?" But now it broadens Her's mission, as described to the Whitney Museum: "to break down the larger story of what it means to be a Hmong American into discrete moments in time."
A Long Lens
I meet up with Her on a Sunday afternoon at Hmongtown Marketplace in St. Paul. She has photographed herself before, but never have I seen her smiling—breezy, friendly, with the self-possession you might expect of the eldest of seven kids. She wears a black T-shirt, strappy sandals, khaki trousers, and a black fanny pack, with coral-red on her fingernails and toes. After she insists on buying us lunch, we steer through the crowded indoor bazaar to a cozy, low-ceilinged dining area.
She cracks open the Styrofoam to-go box of beef ribs, black rice, and papaya salad. "There's something really unassuming about the work being in this space." Four light boxes, recently mounted on the walls, contain large-scale photos that Her shot over the past few years. They glow from within: a green tangle of Laotian jungle; a row of fake flowers; a smattering of poppies, which recall a time of economic and political power for Hmong people, she says. The Walker has two of these photos in its collection. But here, with kids chattering at the table beside us, she says with pleasure, "It doesn't feel like an exhibition."
On the one hand, I am catching Her in a time of triumph. She has left behind her fractious youth—bad grades, school fights—and has ascended in the rarefied art world, in contrast to the "survival mode" that limited her refugee parents' lives.
On the other hand, it is an incredibly difficult time. Her's husband, Ya Yang, died suddenly in March 2021 from a brain hemorrhage. The two met as teenagers, and he was the first person she would tell "anything and everything." When Her got a text from her gallerist about the Whitney Museum's interest in her work, she was lying in bed with Yang. Later, to celebrate, they popped a bottle of Champagne from his uncle's liquor store.
For Her's latest project, the two originally traveled to northern California on family business, taking Her's niece and nephew (whom she still takes care of) to visit their birth parents. She started photographing the area. She found a New York Times article about the region's "green rush"—a post-legalization boom of cannabis grown by Hmong farmers, echoing the Hmong history of opium cultivation. And she felt inspired.
But finishing the work has been hard. Her is used to reviewing photos on her computer at home with Yang's hand on her shoulder. "He's always a big-picture guy," she says. "He's always very much like, 'Just continue doing what you need to do to get where you need to get, and when you get there, you can find out what the next steps are.'"
In a sense, Her's life started out in exactly this place: needing to figure out her next steps.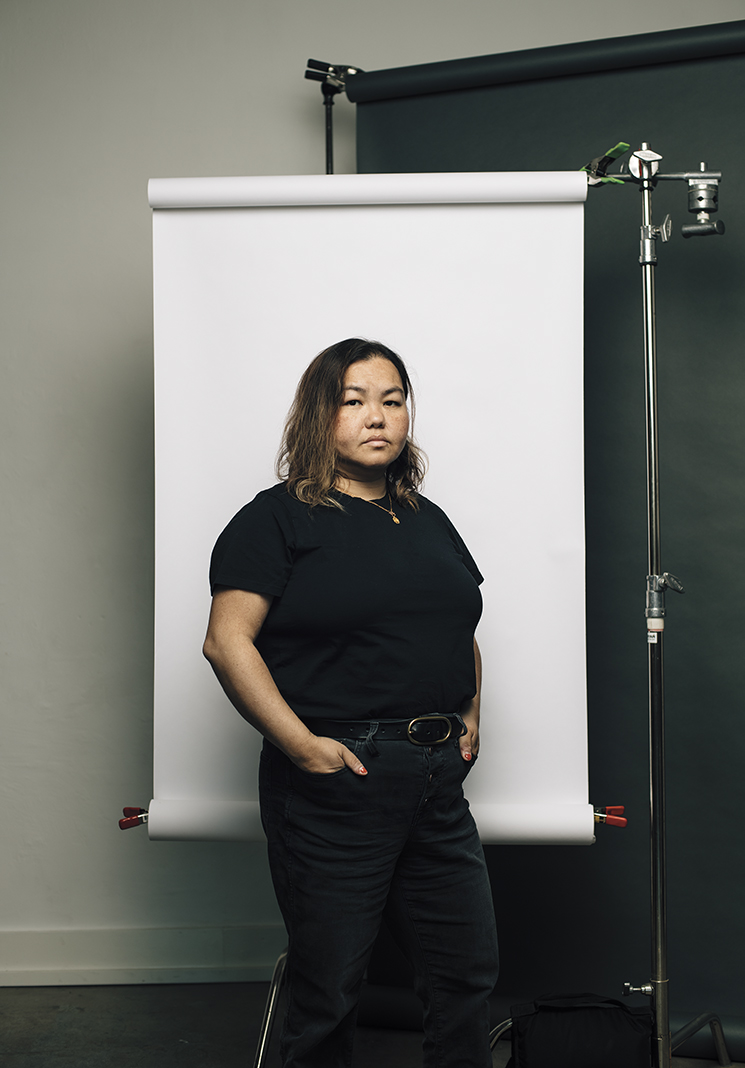 Her earliest memory is of a Thai refugee camp. She was lost. Her parents had dissolved into crowds of refugees. The dirt underfoot was orange-yellow and almost infinitesimally granular.
She has no recollection of Laos, where she was born in 1982. When she was 3, her family made it to St. Paul after time in three Thai camps. Her parents held many jobs and were rarely home, she says. When they oversaw the cleaning duties at the Civic Center, they wouldn't return until the early morning—although Her's father had recorded old Hmong folk stories on cassette tapes, so she and her sister could listen to them in bed.
The fables were fantastic, moral, and strange. Her favorite involved an unsightly bear that changed nightly into a handsome man. And they sparked something in Her; she wanted to tell her own stories. Writing was tough, with English as her second language. But, luckily, her father provided another method: He liked to buy expensive cameras, with instructions that sometimes came in Japanese. He passed them off to Her, who figured them out. At school, she used her lunch money to buy her way into the dark room. Photography was the one class she didn't skip.
High school, at Humboldt and Highland Park, was otherwise rough. "I had, like, an identity crisis," she says, "because I didn't want to be Hmong, and I wanted to be as American as possible, but I also didn't know what that looked like and what that entailed." She hung out with "not the best people." By the time she got expelled for fighting, she realized she was on a dangerous track. "There was a lot of expectation … that I would be this nobody, or that I would be like every other Hmong girl who dropped out of school." She got her GED instead. But later, after her best friend graduated from college, she had another dark thought: "I'm doing nothing substantial with my life."
Her enrolled in community college, planning to become a paralegal. As fate would have it, however, a photography class introduced her to the work of Wing Young Huie. The Minnesota-based photographer had captured images of St. Paul's Frogtown neighborhood, and in them, Her recognized family members. She had never seen Hmong people depicted this way. In one, her grandma eats with a gathering of other women at her cousin's kitchen table, empty Budweiser cans revealing that the men had already eaten. "I realized that the thing that [Huie] was doing was the kind of thing that I was really interested in as a storyteller."
She transferred to the Minneapolis College of Art and Design, then got into Yale. Influences arrived in the form of Diane Arbus, August Sanders, Nikki Smith, and Alec Soth. Rather than documentary photography, she would compose shots like poetry. And she would make her subject the Hmong community, going home from New Haven, Conn., on the weekends to complete her projects. The year she graduated, Huie curated Her's first solo exhibit, at the Gordon Park Gallery in St. Paul. He called her perspective "unique and unprecedented."
The prestige is lost on her parents, Her says. After Yale, her father even handed her a pamphlet for a dental hygienist program. But they are supportive—and "super happy that I wanted to stay in school," she adds.
Real Enough
For the Walker exhibit, "Paj qaum ntuj / Flowers of the Sky," Her has studied photography of the American West—full of promise and romance—by Ansel Adams, Timothy O'Sullivan, Eugene Smith, and Carleton Watkins. Using Google Earth, she will toy with the aesthetics of government surveillance. An image-and-sound installation will evoke "kwv-txhiaj," a Hmong form of sung poetry. And light boxes will emulate alluring advertorial displays, in the context of California's appeal to Hmong farmers.
Today, without the stability of her husband's job in tech, Her is hoping a tenure track at the University of Minnesota this fall will lend her the security to continue taking artistic risks. "Maybe I have a chip on my shoulder," she says. She spans genres, materials, and forms, even taking it as a compliment that The Nation described her pieces at the Whitney as "sometimes incompatible photographic idioms."
Does she feel like she has "made it"? As project-minded as she is, she has not felt the "high" of the Whitney. Nor has she had time to grieve. "He passed away, and then I just sort of continued with knowing that I needed to get things done."
After the Walker, Her has left life open for now. But she knows the future she would like to see: one where her target audience, Hmong Americans, embrace the privilege of art appreciation. "We're still developing a language to talk about the arts," she says. Although, at Hmongtown Marketplace, her light boxes may offer a midway point, conjuring something specially for them. "They're like windows, into something that's maybe not real," she says—or, like those stories of Laos, that's as real as anything.