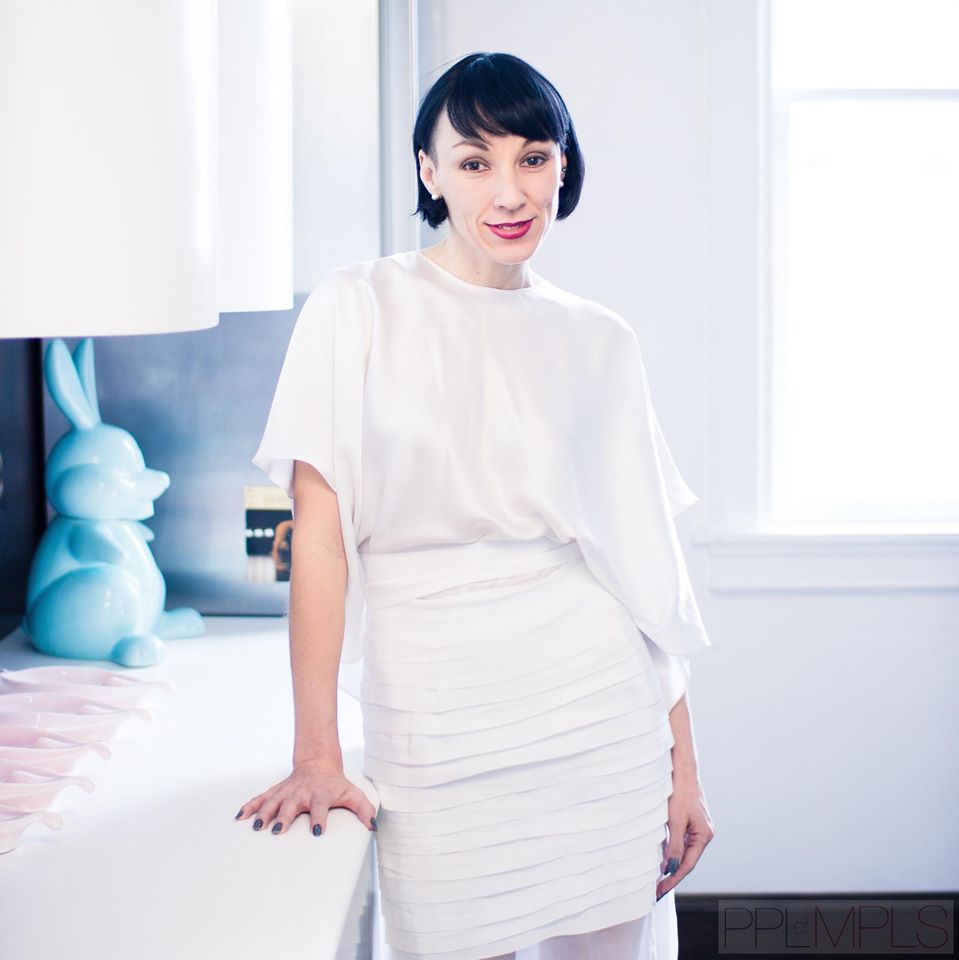 Fashion designer Emma Berg
chris mcduffie
When Emma Berg was named Best Fashion Designer at last year's Minnesota Fashion Awards, it came as little surprise to those who follow the local fashion scene. A decade ago, she was known best known as co-founder of independent visual arts calendar mplsart.com, an art curator, and one of the Twin Cities' most stylish people. Then in 2009, she made a pivot into fashion design—an unsurprising move for those familiar with her unique sense of style. Since then, she established herself as one of Minnesota's most celebrated fashion designers on the scene, creating consistent and solid collections and taking inspiration from visual arts and social issues alike—most memorably in her spring 2011 collection, "Tragicomedy," which touched on ten current event headlines of 2010 such as the Deepwater Horizon oil spill, the legalization of marijuana, health care reform, the earthquake in Haiti, and same-sex marriage through beautiful, thoughtfully designed garments permeated with a silver lining of hope.
By day, the designer had worked as a Human Resources Data Solutions Consultant for Target—until she became a casualty of the corporation's massive layoffs in April. But she found her own silver lining by taking it as an opportunity to move to New York and pursue her fashion career.
I caught up with Berg, a week following the runway presentation of her spring/summer 2016 collection at the Walker Art Center, to talk about the inspiration behind that collection, life as a designer in New York, and her hopes for the future of the fashion industry.
[See more photos of Berg's spring/summer 2016 collection and read a review of the show]
Berg, right, with her spring/summer 2016 collection at the "Pop Remix" fashion show at the Walker Art Center
A.J. Olmscheid
I hear you have some exciting news—what can you tell me about your new job?
It's a business analyst role in the HR space at J. Crew's corporate offices in the East Village. Kind of relative to where I was before [with Target]. I'm actually on the technology team and I'll be interfacing between the technology team and business team to help them with implementations of HR technology.
You were part of the Target layoffs—and instead of looking for another job in Minnesota, you moved to New York. What inspired the move? Had you been planning it at all before the layoff?
It was in the back of my head for a long time but there was no real plan for it. It seemed like a good time to grow and challenge myself. I felt I was plateauing a bit, so I wanted to find some new challenges.
What are you hoping to achieve in New York with fashion?
In the fashion space, I'm trying to better understand what can happen here via production, and I'm exploring a more disruptive model to the current production model that would better align with my aesthetic and ideals. So, Uber, for example, was disruptive to the status quo of taxis. It's about streamlining production without all the overhead in order to maximize my energy and audience. What I'm curious about is how to change the lexicon around my garments. Hopefully, the designers I and other designers can be looked at as originals instead of samples or prototypes. I'm currently taking a product management class General Assembly to help me with this. It's more about creating technology, so I'm trying to come to an understanding about what kind of business model I could put in place for myself.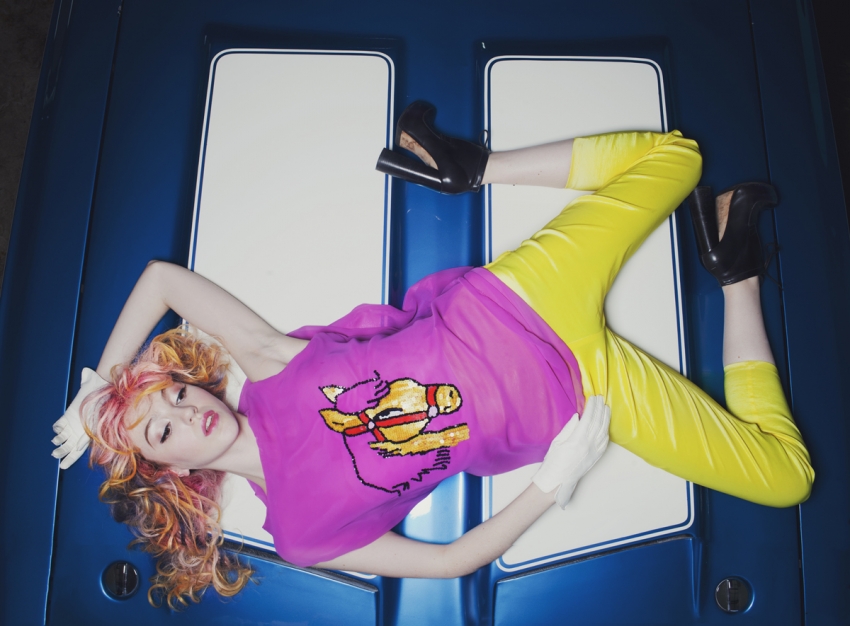 A look inspired by artist Frank Gaard from Emma Berg's F/W 2012 collection
brandon Werth
You have a lot still tying you to Minnesota—family, friends, you own a house. Are you planning on being involved with the local fashion community in any way while you're in New York?
Yes, I hope to. For me, it's not just about developing my own pieces, but also about helping other individuals and their work—moving toward looking at fashion as individual pieces instead of total collections. I can say that we'll do editions of one specific piece instead bringing these 15 garments to MAGIC and they all have to be sized and graded. There's so much overhead for a young designer to get their start. Minneapolis has an incredible amount of talent, and I hope to get to the point where I can help showcase other designers.
How did the Walker Art Center show come about?
Ashley Duffalo at the Walker talked to me about it last winter, and brought up that they were going to be doing some fashion nights tied to the International Pop exhibit. She thought I'd be good to reach out to because of my past involvement with the Walker (on its annual Avant Garden fundraising event) and the work I've done in the fashion community. We sat down and talked about what the layout would be, and I was able to reach out to (featured "Pop Remix" designer) Christian Joy and get her involved, which was exciting.
What was the inspiration behind the new collection?
The inspiration was the International Pop show, going through it and thinking about politics in pop art, especially in the '60s and '70s—this huge voice from artists around social change and social justice—were some things I wanted to look at. A lot of the voices at that time were very international. Looking at the current stage, where we are with humanity and as citizens of the U.S., it seems that people have become very siloed. People are definitely empathetic, but sometimes that doesn't extend beyond their immediate peers. With that, I wanted to build a collection that would provide some warmth—a broader feeling of community that would be very approachable. Instead of creating an armor for a woman to wear, it is instead something that is warm, that a stranger would want to come up and talk to you, creating a dialogue across communities, as well as a level of support—it seems silly to say that clothes give warmth and support—but the idea of the arm around the waist, maybe if you felt you had support, you might be more apt to speak up against injustice, and put yourself on the line even when it can be difficult.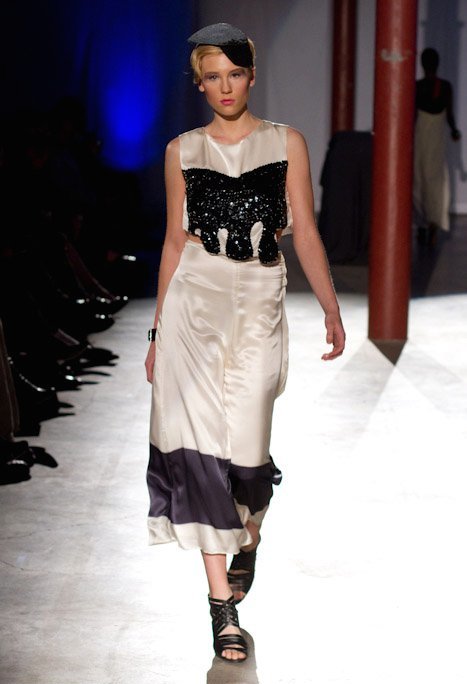 A look inspired by the 2010 Deepwater Horizon oil spill from Berg's spring/summer 2011 collection
Stephen Stephens
What's it like creating a collection in New York versus Minnesota? How is it different?
For me, it has been wonderful to have all the materials and notions all at my fingertips—everything is so close, and being able to feel all the materials, versus ordering online. Ginny's in Rochester, Minnesota, is great, but I couldn't drive down there often enough. A lot of the ordering I was doing was so I could have a consistency of a color palette, but the quality of the silks weren't always what I wanted. So it's great to have rows and rows of fabric in incredible quality and varieties.
It would have been difficult to have moved to Manhattan if [Minneapolis fashion designer] Max [Lohrbach] didn't come out and help me finish it—which he did, which was amazing. Max moved into my house several years ago with the understanding that he would help me with the collections, and that relationship continued even after he moved out. He's just been an incredible friend and so talented in helping me to complete the collections, especially [with this past collection]. And I have learned so much from him over the years on construction. He has helped me quite a bit, and hopefully it has benefited him as well.
Are you doing anything for New York Fashion Week?
That will be a presentation-style showing of the newest collection on September 16. There are several designers over three nights through an organization called the Set NYC, they've been doing shows since 2009, and they benefit a charity. They just reached out through Instagram, and I met with Pim [Shih], the founder. He's a really optimistic guy and has a great heart. He started it because one of his friends was having difficulty of finding places to show his fashion, which reminds me of why I started mplsart, so there was a great synergy there. I'm trying to figure out what does it mean to do [New York Fashion Week]. There's a lot of things I'm having to learn quickly, like where to find models. In Minnesota, I have a great network I can draw from. But it will all come together.
You just showed your spring/summer 2016 collection. Have you started to think at all about what you want to do next?
One of the things I'm looking at with this production idea, is, do seasons even matter anymore? Of course they matter if you're selling of Barneys, but from an individual perspective and how much is done on e-commerce, does it matter? So one of the things I'm trying to understand is creating based on current topics and the current mood–going back to social justice, there's a lot of things that happen, and I'd love to be able to create things to help people express themselves and be much more current and relevant so they can speak immediately to things. I want at some point to change from [creating collections] seasonally to things being very conversational.
See more of Berg's past work and shop her fall 2015 collection at emmaberg.com.
Facebook Comments