In today's precipitous retail climate, John Fluevog Shoes is a rarity. The Canadian shoe brand has not only weathered the storms of the 2008 recession and the so-called "retail apocalypse," it's expanding—the company is slated to open a new store in Victoria, British Columbia later this year, and recently opened a location in Edmonton, Alberta.
In 1981, designer John Fluevog founded his own shoe brand and storefront, John Fluevog Shoes. He opened his second store in Seattle in 1985, and later opened stores in Boston, Toronto, and New York. In the '90s, his shoes—particularly his iconic "Angel" boots—were popular among the grunge and high-fashion sets alike, spotted on the runways of Anna Sui and Betsey Johnson, and worn by pop stars Madonna and Lady Miss Kier.
In honor of the brand's annual International Fluevog Day on May 15—a day of discounts, special offers, and in-store events at all Fluevog stores across North America—founder and principal designer John Fluevog paid a visit to the Minneapolis store, his first local appearance since the store's grand opening in 2012. I had the opportunity to sit down with the designer to talk about the state of retail, how he keeps his brand fresh after 36 years, and his Minneapolis roots.
Why did you decide to visit Minneapolis for International Fluevog Day this year?
I thought, why not come to Minneapolis? I always go to other places. It's like when people ask me, 'What's your favorite shoe?,' I go, 'Well, they're all my children, right? I like them all.' I feel that way about my stores. I like my stores, and I like the way I put them together. They feel a bit homey, and reflect a bit of who I am, and so it's nice to come and visit. I guess I have a bit of a connection to Minnesota—I went to school with a lot of kids from Minneapolis when I was 19.
And weren't your grandparents from here, or meet here?
My grandparents immigrated from Norway. I don't exactly know where exactly—North Dakota, near the Minnesota border, I think. There were so many Norwegians in the community back then that they changed their name, which was Nielson, to Fluevog so the mail didn't get mixed up. It was very practical. My grandpa figured, I'll just change my name to Fluevog. And I'm happy he did that. I think Fluevog's a much better name than Nielson. No offense to anyone who's named Nielson, but I'm just saying, it's a great name. I was embarrassed a bit about it when I was a kid, but it all turned out well. So, they immigrated here from Norway, and then went up to Canada for free land.
Wasn't there a story that they met at the Uptown Theatre, and that's why you chose it as the location for your Minneapolis store?
Oh, I think somebody made that part up. I can't even imagine my grandfather going to the theater, I've got a feeling it was probably sin, you know, back then. They were staunch Lutherans. I grew up in a kind of Norwegian atmosphere. I went to a Norwegian-Lutheran church, we had krumkake and all those sorts of things.
John Fluevog Shoes' Minneapolis location
COURTESY John Fluevog Shoes
Unlike the Swedes, Norwegians aren't exactly known for their footwear. How did you get into designing shoes?
It was completely random how I got into the business, actually. I was really lucky that I did, because I'm not sure I could do much else, truthfully. I was never that good at school, I'm a little dyslexic, I'm a visual person. I didn't really understand it at the time, it wasn't something in my family that was celebrated or praised, so I had to kind of slowly find out about it on my own. When I started [Vancouver shoe store, Fox and Fluevog] when I was 21 or 22 with a partner, I would almost call myself a lackey. It wasn't until my mid-30s that I thought, well gee, I think I want to start doing my own shoes because not doing it seemed difficult. I thought, if I start doing my own shoes I'll have a reason for being.
How have you maintained growth in a time when many retailers are downsizing or filing for bankruptcy?
I was never really capitalized by anybody, so it really remained a boutique. I still consider myself a boutique business, and I think that's what's fun about what I do. I've based it on a boutique model, and just expanded because I needed more volume to give the factories and get my shoes made. It's been a very organic process to progress the company and the business. I always find it so crazy when businesses expand so rapidly. To me, it just doesn't make sense. Things have their own organic way of moving forward, I feel. I've never moved forward without it making sense. Are the shoes selling, and are the stores that I've opened working? If I make a profit, I put that back into the company. Of course along the way, I've learned different skill sets. In the beginning, I did everything, all the marketing, all the designing, I put stores together myself with saws and hammers on my own. So as it started to grow, I couldn't do everything myself, obviously, and now one of my kids is in the business and that's sort of a new experience for me as an entrepreneur. It took me awhile to learn that I don't need to do everything myself. I would have been better off learning that sooner than I did. Now, I'm older, and it's like, I've built this thing up, now I have to think about things like succession plans, and crazy stuff like that. Who would have thought? I didn't start out thinking that, you know?
How did you decide to open a store in Minneapolis in the first place? Did you know you had a following here?
I started a website way back before anybody did. I looked at who was visiting the website, and there were a lot of people from Minneapolis. It's kind of funny, when I started the website, I didn't know if my customers would shop on it. But it turns out they did and they do, and that's become an integral part of the business. Back when I made the decision to do my own shoes, I had no awareness of the internet or how having your own product and connecting my name to a product, and how important that would be. The internet was my friend as a retailer. It just sort of happened at the right time, and I was fortunate. I look back on it now and think, what a lucky bum I was to have done that.
Can you tell me more about how your business has evolved over the years?
I live in Vancouver, I opened a store in Seattle, and I thought, well, I wonder if I could open a store somewhere else, and so I picked Boston. It seemed like a crazy thing to do, right? Like, why would I do that? Because I wanted to see if I could do it, as simple as that. And fortunately it all worked out. That store is still there. We're opening a new retail store in Victoria, British Columbia, we just opened up one in Edmonton, Alberta. And as I look around at the state of the retail industry, that's quite rare–there's nobody expanding. There's a lot of closings and people are really struggling, so I'm really thankful for that, and I think it must have something to do with me being able to express my individuality, and people picking up on that. They can sense somebody is behind the brand, there's a real feeling. It's authentic, because it's me.
Your designs are so distinctive—you can look at any of your shoes and know they're yours. Where does that come from? How do you keep things fresh and your own, and not get overly influenced by what else is out there?
First of all, I would say it's almost a mystery. Secondly, I think we all have much more creative ideas than we think we do, and what we actually are thinking is okay. I started realizing that when I had a little thought sticking in my mind, to act on it. I remember walking down the street in Vancouver one day and seeing a girl wearing a pair of turned-up cowboy boots. So I was inspired and designed a shoe with a turned-up toe, because it just looked interesting to me. That's what I would say is what I end up doing when I design. Whenever I try to copy a trend, it never does that well and it's no fun. I don't enjoy it. I like the idea of doing things that just come to me, and sometimes they are what other people are doing, but I think in design, there's like a world breeze that comes through, and hits people at the same time. And even though they're in different places, they're thinking and feeling the same way, because they pick up on a breeze.
Have you studied shoemaking or its history? It seems like there are historical references in your designs.
That's not on purpose. I like the idea of dress-up, I think my shoes are a bit dress-up, they're not made to necessarily fit in, they stand out on their own. I like that idea. I also like things that are well-made, done well, and are striking. Otherwise, why bother? Why would I want to live in a beige house? I don't want to live in a beige house, it doesn't make me feel good. Things that make me feel good are things that are striking and so, I guess that's my personal aesthetic.
BONUS: Here are my favorite women's styles from Fluevog's spring 2017 collection: 
Bardot Pump with Elastic, $269 @ fluevog.com
Hermine Wide Strap Mary Jane, $259 @ fluevog.com
Lucienne Two-Toned Pump, $249 @ fluevog.com
Deee Knotted Platform Sandal, $289 @ fluevog.com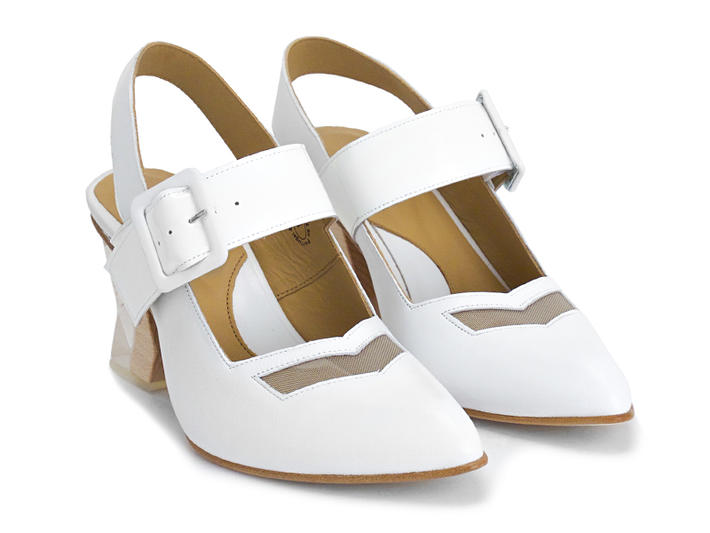 Bolt Geometric Slingback Heel, $315 @ fluevog.com
Gigi Pointed Patent Loafer, $279 @ fluevog.com
Tziporah Slingback with Applique, $299 @ fluevog.com
Nancy Knotted Slingback Heel, $279 @ fluevog.com
Moddotti Shoe, $315 @ fluevog.com
Engaging Braided Lace-up Shoe, $269 @ fluevog.com
Where to Shop: John Fluevog Shoes, 2900 Hennepin Ave. S., Minneapolis, 612-821-1970, fluevog.com
Facebook Comments