Well, I might finally be recovered from my girls' weekend at Bluefin Bay. This pregnant lady just can't do it like she used to, that's for sure! But it was so worth it. For the past few years, Minnesota Monthly has had the pleasure of partnering with Bluefin Bay on Girls Gone North, a weekend away on the North Shore, chock full of wisdom, wine, and women.
This year was particularly poignant, the theme being all about transition and transformation. I love this word, transformation. It gives us permission to change without having to say "I'm a disaster," "I'm a failure," or "I don't know what I am doing." How frustrating and defeating are those phrases? Instead we say, in a much more empowered way, "I've changed," "I'm growing," or "I'm ready for something new." NOW we're getting somewhere.
The idea came from marketing guru Lori Schaefer, who we made over earlier this year in the magazine. It was definitely one of our most drastic makeovers—Lori had lost more than 200 pounds and an astonishing percentage of body fat with the help of a personal trainer, O'Neal Hampton from The Biggest Loser, a counselor, and the support of her friends and family. That's right, she did it through diet and exercise only. I was so impressed, and excited to help her transition into her new identity!
So I wasn't surprised when I heard from Lori that she'd be the keynote speaker, and that she wanted me to assemble our crack team to do LIVE makeovers in front of the Girls Gone North audience. We were up for the challenge. Justine Hornick, who also did Lori's hair transformation for the magazine and is a Minnesota Monthly best-of stylist at Root Salon (and blogs for us here at TC Style), and makeup artist Ashley Kilcher, who is also the owner of Roe Wolfe boutique in Mendota Heights, joined me in planning and executing the surprise makeovers of Beth Probst and her friend, Jess Berg. (We're pictured above, right.)
I had each woman fill out an "intake" form about what their style preferences were, what they felt they were lacking, and how far they were willing to go with a new look. One thing I love to tell people is that a transformation isn't really powerful or useful unless you are ready and willing, so there's no point in a dramatic, high-maintenance haircut, for example, if you aren't going to keep it up. That just feels like failure, and what we're going for is confidence.
Saturday afternoon arrived, and we showed up with an arsenal of tools to create fun, manageable, empowering makeovers on the two ladies—finding the edge between pushing women into new frontiers, and making sure they also love and can replicate the results. Here are a few photos of us in action:
Before
Here are Beth and Jess when they arrived to the makeover. They were so brave and totally game to trust us—I know how hard that is, so I have to hand it to them.

During
We had two hours to provide haircuts and styling, makeup application, and fashion/final outfits. That's pretty quick! But we managed to talk through it all, and had amazing audience participation and questions to tackle too! Justine and Ashley even took on a few specialized questions and pulled audience members up into their chairs to demonstrate techniques and tips.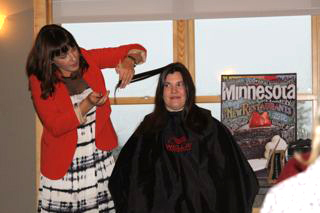 After
When all was said and done, the ladies came away with face-framing 'dos, natural-but-glamorous faces, and fun new fashion ideas. I was able to outfit them both with the amazing goods at Bombshell Boutique, which is located on Grand Avenue in St. Paul and caters to plus-size women. Here is an after shot of the ladies: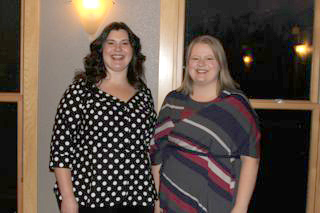 I think what I love most is seeing someone's face light up when they feel like what they feel inside is expressed on the outside. And when they realize that we've been able to see it all along—but who doesn't love a little pampering?
We followed up our session with Lori's touching keynote speech. I wasn't the only one wiping away a tear or two as she told her story of facing her fears and going for it anyway. After a lifetime of struggling with her weight, she decided she had had enough. Now she looks on the outside like how she feels on the inside—my heart melted when she happily exclaimed: "I"m awesome! Now I know I can rock anything!" She's a role model to anyone who is ready to take the leap and trust that the work is worth the transformation.
One of the phrases for the weekend was "Power to the She." I loved that the entire weekend was built around building each other up, celebrating our friendships and beauty, and making a safe space to take a risk. All with the crashing waves of Lake Superior in the background. Who could ask for more?
Facebook Comments