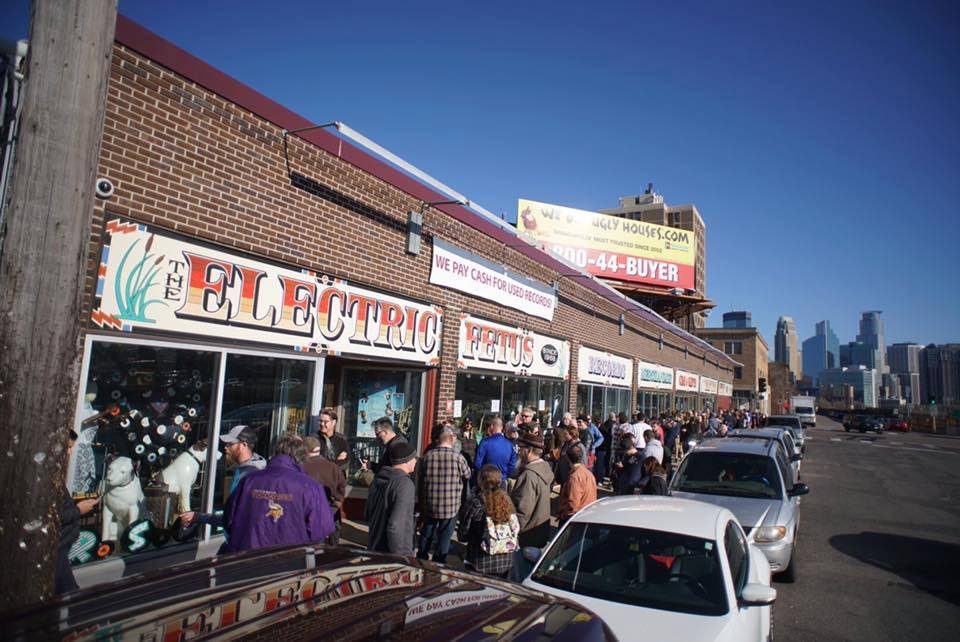 Note: OK, listen—I wrote this and chose that photo before our annual April blizzard, alright? As of now, outdoor portions of Record Store Day are dubious.
In 2018, vinyl record sales clocked their highest revenue in 30 years, according to a report released last month by the Recording Industry Association of America. That means, between 2017 and 2018, sales grew by double digits—from 8.6 to 9.7 million albums.
Remember who was killing it on the radio last time that number was so high, in 1988? Michael Jackson ("Man in the Mirror"), Whitney Houston ("So Emotional"), the Beach Boys ("Kokomo").
The appeal of vinyl is two-pronged, sinking into both nostalgia and a desire to experience recent hits in higher quality. Last year's best-selling 12-inch was Guardians of the Galaxy: Awesome Mix Vol. 1, followed by a phalanx of classics: Thriller, Abbey Road, Rumours, Purple Rain—before Amy Winehouse jogged the top 10 ahead a couple decades with 2006's Back to Black.
At numbers 17 and 20, Kendrick Lamar's DAMN. (2017) and good kid, m.A.A.d city (2012) make a bid for immortality. He's one of three acts, along with the Beatles and Fleetwood Mac, to appear twice in the top 25.
So, could we say that Record Store Day, this year on April 13, is in its prime? The first was 2007, and major labels still use it to reissue classics and dish never-before-scratched exclusives. (This Saturday, bag Green Day's live Woodstock 1994 recording; Courtney Barnett's brand-new "Everybody Here Hates You"; Prince's rare The Versace Experience cassette, from summer 1995; and—surprise, surprise—Queen's "Bohemian Rhapsody"; among a slew of others.)
But, at its heart, RSD is for salt-of-the-earth indie record stores, for hawking deals and hoisting flags.
Here's where to partake, in both the Twin Cities and greater Minnesota, with live music, discounts, and donuts thrown in:
---
Metro Record Stores
Coupons come with every purchase, good through June. And, at noon on the patio, hot dogs hit the grill. "The backyard is still plagued by melting snow and mud," they said on Facebook, "so we are postponing our usual spring concert/picnic combo until early June," when they'll celebrate the shop's 33rd anniversary. Learn more.
Down in the Valley (Golden Valley, Maple Grove, Crystal)
The largest indie chain in the Twin Cities, Down in the Valley hosts a special performance by Minnesota pop-punk singer Justin Courtney Pierre at the Golden Valley location. Go early for coffee, donuts, and free grab bags. Learn more.
The 51-year-old Electric Fetus has done RSD all 12 years. In Duluth, guzzle Duluth Coffee Company, down Pizza Lucé for lunch at noon, and chase it with Blacklist Beer. DJ Walt Dizzo, A Winter Downpour, and Timbre Ghost perform. In Minneapolis, find Peace Coffee, Glam Doll Donuts, nationally acclaimed hotdogs by Natedogs, and R.A. MacSammy's food truck. Wax Lead, 26 BATS!, and a murder of DJs take the stage. Plus, it's family-friendly: Kids learn how to recycle vinyl and design album covers. Learn more.
This indie hip-hop store is the official retailer of local label Rhymesayers, so you get Rhymesayers CDs 50 percent off, vinyl 20 percent off, and deals on apparel. Plus, they'll have live painting, live music (TBD), a food truck, and T-shirt pressing. Learn more.
Flashlight Vinyl won't carry any RSD records or merch this year. They're teaming up with online retailer Reverb for a treasure hunt of rare collectibles, each going for just $1. Learn more.
Caydence starts the morning at 9 a.m. with an acoustic set, gives the floor to DJ Blue Funk at noon, gets indie at 3 p.m., then gets metal at 6 p.m. Take advantage of the cafe, the art sale, and the vegan tacos. Learn more.
Hymie's teams up with Peppers & Fries for a block party of burgers, burritos, and brews—plus six musical acts, this year featuring Toki Wright & Big Cats, Mina Moore, and Little Fevers. Learn more.
The first 50 customers to spend more than $100 get a swag bag, but everybody can enjoy SK Coffee, "Legal Crackball" donut holes by Mel-O-Glaze Bakery, and the Food Trip food truck's meat and veggie lunch options. Learn more.
This is also Know Name's 42nd anniversary. Heavy Metal Grill Truck sets up, glass blowers craft knickknacks, and singer-songwriters Todd Michael Jameson, Sarah Morris, and Little Man perform. Learn more.
Southern MN
Tune Town minted an efficient RSD practice: Twenty shoppers at a time get to wander through, perusing for 10 minutes before checking out. Lola's American bistro food truck stops by. Musical acts include Good Night Gold Dust, Onion Bun, DJ sets, and the debut of supergroup Cicadakiller. Learn more.
The "album locator" service at Rochester Records is a fancy way of saying the employees do all in their power to hunt down the album you want. First come, first served for records and door prizes. Learn more.
Northwest MN
Live music includes Kwaician, G.dot, and Kody Gerard. Free coffee and donuts come in at 7 a.m., with free pizza at 2 p.m. This year, they say they topped 2018, ordering their most records yet. Learn more.
Facebook Comments