Minnesota's Red Dress Collection Fashion Show returned last weekend after a one-year hiatus to the Loews Hotel in downtown Minneapolis. Local notables, including singer/songwriters Dessa and Keri Noble, former Viking Ben Leber, and various TV news anchors, walked the runway in custom looks by Minnesota fashion designers, as did two survivors of heart disease. The show benefited the American Heart Association's Go Red for Women program, which shines a light on heart disease-the No. 1 cause of death in women. Hosted by event founder and radio personality Carly Zucker, the event told the stories of two heart disease survivors, and the exuberant runway show culminated with a live performance by Noble, during which the show's models walked out holding signs describing why heart disease awareness matters to them.
Like the New York Fashion Week show that inspired it, all the dresses were rendered in red—something that could become monotonous, if not for the group of designers' innovative use of texture and silhouette to help keep things interesting. Project Runway alum Christopher Straub, who modeled his own look, designed a quilted red sweatshirt with a hand-cut bee design, paired with shorts and leggings for an athleisure/streetwear vibe. While the designer is better known for his women's wear designs, his menswear designs tend to be the of-the-moment freshest. Samantha Rei, who appeared on the most recent season of the reality show, designed an adorable dress with a Little Red Riding Hood-esque capelet for child heart disease survivor, Esther Nelson. (Unsurprisingly, Rei is a natural with children's clothing. She should really look into making this a thing.) Tim Navarro, another Project Runway alum, designed a sleek gown topped with a dramatic, bold-shouldered cape for Fox 9 morning anchor, Dawn Stevens. 
Other runway highlights included a streamlined gown designed by Tessa Druley of Tessa Louise for Dessa, which featured red fabrics in varying shades seamlessly patch-worked together; a stunning silk-chiffon, slit-to-the-thigh, one-shoulder gown worn by WCCO morning anchor Kim Johnson by Thom Navarro; designer Rammy Mohamed's sequined jumpsuit with chiffon train worn by KSTP morning anchor Megan Newquist; and the velvet red-and-black-striped dress worn by Keri Noble by Tess Ross; and a dress featuring a hand-knit cowl by knitwear designer, Mary Pranica, worn by fitness blogger Lindsey Bomgren. A special shout-out goes out to a very-pregnant mommy blogger Melissa Saigh, who looked resplendent in a gown with a dramatic train by former Project Runway Junior contestant, Hawwaa Ibrahim.The show also featured the winning look from the recent Boston Scientific Hearts for Fashion Show (part of the American Heart Association's Go Red for Women Expo at the Mall of America) by student designer Victor Farmah, which was half tulle gown, half tailored suit. 
You can support the young heart disease survivor, Esther Nelson, as she participates in the Heart Walk on May 5. Learn more and make your donation at www2.heart.org/goto/teamjubilee.
(Disclosure: Minnesota Monthly was a sponsor of this event.)
Heart disease survivor Heather Peterson in a look by Jillian Fialko of FoxPack
Christopher Straub in his own design
Christopher Straub in his own design
Melissa Saigh in a design by Hawwaa Ibrahim
Dawn Stevens in a look by Tim Navarro 
Kim Johnson in a look by Thom Navarro
Lindsey Bomgren in a look by Mary Pranica
Ben Leber in a look from MartinPatrick3
Dr. Courtney Baechler in a look by MAI Movement by Lizzie Hillman & Emma Holcomb
Twin Cities Live co-host Elizabeth Ries in a look by Kindred Folk 
Fox 9's Tom Butler in a look by the King Brothers Clothiers
Dez of the KS95 Morning Show in a look from Luxury Garage Sale styled by Grant Whittaker
Mother-daughter philanthropists Katina & Charlie Gougeon in looks by Carolyn Maki
Dessa in a look by Tessa Louise
KARE 11's Laura Betker in a design by Cobilee West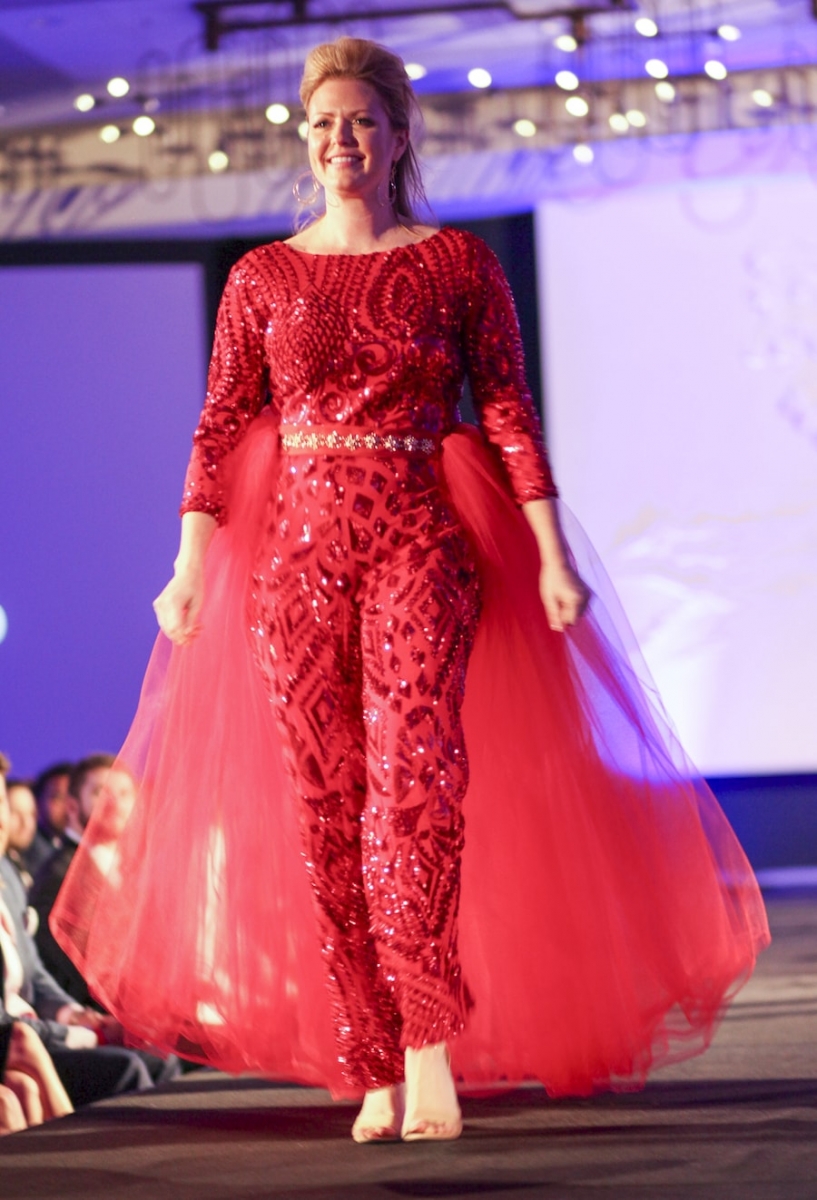 Megan Newquist in a look by Rammy Mohamed
Keri Noble in a look by Tess Ross
Child heart disease survivor Esther Nelson in a look by Samantha Rei
Look by Victor Farmah
Christopher Straub in his own look
Angela Davis in a look by Ariel Warne